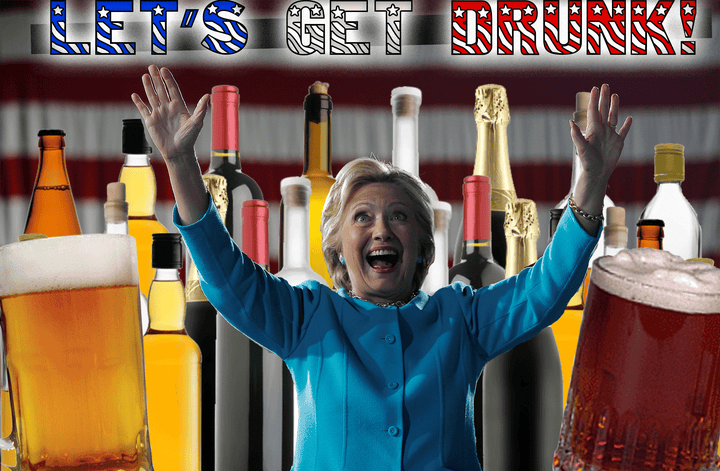 If you've let this election ruin your life as much as we have, you won't be remembering Tuesday night.
The best-case scenario? Your friend tells you Wednesday morning about the way you were hanging off a stranger, pounding your fist to "Fight Song" and screaming "I'M WITH HER!"
Worst case? The cops can't hold you in the drunk tank anymore because our nation has spilled into chaos.
Either way, it's been a long, hard election season. Every red-blooded American has earned the right to get obliterated after hearing who our next president will be.
These Election Day drink recipes promise to erase Nov. 8 and the last 15 years of this election cycle from your memory.
"Stronger Together"
Bourbon
Vodka
Gin
Rum
Whiskey
Scotch
Tequila
Malt liquor
Moonshine
Brandy
Baijiu
Sake
Beer
Wine
Hard cider
Spirits
Any other loose alcohol in the area
Mix in 10-liter bucket (or largest container you can find).
Chug.
"Make America Puke Again"
Fireball
Triple sec
Cointreau
Malibu
Henry's Hard Soda
Bitters
Clumps of Tang dust
Recycled candy corn
Pumpkin zest
Pig ear (garnish)
Bacardi 151
"Mazel Tov Cocktail"
Manischewitz
Goldschlager
Put On Jay Z's "No Church in the Wild."
Pour mixture into pimp cup.
Hang yarmulke off the side.
"FiveThirtyEight"
5 shots of Patron Silver
30-minute data-induced panic attack
8 shots of Espolon Silver
Refresh the FiveThirtyEight forecast page to taste.
"Me Llamo Es Tim Kaine!"
Warm milk
An uncomfortable amount of mezcal. 
Drink until you inexplicably speak perfect Spanish.  
"We Have Not Changed Our Conclusions That We Expressed In July"
1 part Tuscan white rum
Splash of crisp riesling 
3 mint leaves 
Soda
Fresh lime juice
2 teaspoons sugar
Salt rim of martini glass
Text your ex: "We're not done."
After you realize what you did, text: "Never mind. Forget I said anything. Lol."
Calling all HuffPost superfans!
Sign up for membership to become a founding member and help shape HuffPost's next chapter
BEFORE YOU GO
PHOTO GALLERY
Strong Election Day Cocktails