 WASHINGTON -- On Election Day, Leo Kim, 34, drove a group of elderly Korean Americans to the polls in Annandale, Va., a Washington suburb. They quickly found themselves in a scene out of the Jim Crow era.
After presenting proper identification, authorities demanded that the seniors say their names and home addresses out loud in English -- a tough proposition for some with limited English skills. The poll workers had made similar demands on the other voters.
The Korean American seniors "felt bullied," explained Glenn Magpantay, Democracy Program Director with The Asian American Legal Defense and Education Fund. He said multiple voters complained about similar treatment to his office. "They all had their IDs. They thought that would help."
When poll workers grew frustrated that the seniors didn't understand the instructions, they ordered all the Korean Americans waiting to vote to form a new line. "Korean people stand in a separate line," Leo recalled the poll worker calling out to everyone. Leo's group complied.
"Then they started taking the white voters," Magpantay said. "The Koreans had to wait."
Kim, who had volunteered to drive senior citizens to the poll, said the Korean Americans, just stood and watched. "I was uncomfortable," Kim said.
A younger Korean American, who did not comply, complained, Kim said. It's unclear if the lines ever integrated.
"What I've seen so many times is when you have a community that's growing and excited to participate in American democracy ... you often see a countervailing force that pushes them down or pushes them back," Magpantay said. "It's heartbreaking. These are Korean grandmothers. They want to vote. They are proud to be Americans."
Across the country on Tuesday, voters went to the polls expecting to exercise their civic duty. Most succeeded. But many came away frustrated by language barriers and invented rules, exhausted from standing for hours in long lines, and, in some cases, disenfranchised. In Pennsylvania, a voting machine changed a resident's vote from Obama to Romney. In South Florida, voters waited in excess of seven hours. In Virginia, Obama campaign workers documented the long lines in case voters were turned away once the polls closed.
By the end of election night, hours after victory was in hand, President Barack Obama had the voting problem on his mind. "I want to thank every American who participated in this election," he said in his speech to supporters in Chicago. "Whether you voted for the first time or waited in line for a very long time." As the crowd roared, Obama declared: "By the way, we have to fix that."
There's a lot to fix. Dena Iverson, a Department of Justice spokeswoman, told HuffPost that complaints may be investigated.
"The department will review voting hotline calls and election monitoring reports for potential federal law violations that warrant further investigation," Iverson wrote in an email. "If in the process of an investigation the department finds a violation occurred, we will take steps, potentially including legal action, to ensure compliance with federal laws."
Barbara Arnwine, president of the Lawyers' Committee for Civil Rights Under Law, told HuffPost that it's "likely" her organization will ask the Justice Department to investigate some of the 90,000 complaints and inquiries her organization received.
The complaints included a surge of calls after 4 p.m. from African American districts in Philadelphia and Pittsburgh, where voters were suddenly being told that they were not on rolls, even when they had voted at the same location in 2008 and 2010. "Our first thought was that it was a purge," Arnwine explained. "We are still investigating. We are not the only people who got those calls."
In South Philadelphia, there weren't enough interpreters to assist Vietnamese Americans, Magpantay said. The voters left after no one could assist them.
The lawyer's committee fielded 9,000 calls from New Jersey, where residents complained about problems with email voting and other Hurricane Sandy-related chaos. "The email servers in about three counties just totally crashed," Arnwine said. "Those counties informed voters at roughly 11 a.m. that they weren't going to accept any more email ballots." Others just didn't know where to vote. Precinct captains didn't know what to do with voters when they showed up.
Out-of-state first responders and utility workers who had rushed to help New Jersey recover from Sandy were also out of luck. No arrangements had been made to help them secure absentee ballots. "Unfortunately, state after state that sent people to be first responders did not make arrangements to vote," Arnwine said.
In other cases, voter ID laws -- or misinformation about voter ID laws -- created havoc. Along with the possible voter purge, Arnwine said African American Pennsylvania voters were allegedly required to show photo IDs at some locations.
Poll workers are allowed to ask for ID, but it is not required, Arnwine said. Those without an ID are supposed to be told to get one before the next election. Instead, some were sent home, Arnwine said. "That is against the law," she said.
In Hamilton County, Ohio, poll workers asked voters to show two forms of identification, Arnwine said.
Uzoma Nkwonta, a staff attorney with the Advancement Project, a civil rights group, said some Ohio voters were erroneously given provisional ballots if they showed up at the wrong polling precinct. They should have been directed to their correct precinct. In another instance, poll workers mistakenly gave out provisional ballots if the address on the voter rolls didn't match the address on their driver's license
"Poll workers were not adequately trained," Nkwonta said. "There was some different interpretations of the laws, many of which were wrong. There were a number of people who did not fully understand what the law required and were issuing provisional ballots to avoid conflict. It was pretty widespread."
Arnwine said she heard reports that Tea Party groups in Orange County, Calif., were disrupting lines outside polls. They tried to challenge voters in Atlanta and along the Florida panhandle, telling residents that they didn't have the right to vote, she said.
"When people were taking water and chairs to the long lines, the [Tea Party people] were interfering," Arnwine said. They argued "you can't help" the voters.
At least one first-time voter had a sour experience.
In the weeks leading up to the election, Son Ah Yun, 36, helped her mother-in-law prepare to vote. She registered her in Cobb County, Ga., before the deadline. Just prior to the big day, Yun said she checked the registration online. Everything looked fine.
Yun said her mother-in-law got up at 6:30 a.m. to get ready. She showered, got dressed and put on her makeup. "Who gets up and gets dressed to look nice and proper to go vote?" Yun joked. Her mother-in-law became a naturalized citizen in 2010. This was her first presidential election.
When they arrived at the poll, they found no line. A poll worker informed her that the computer system showed her registration was in "dispute." She pulled out her driver's license and U.S. passport. Those weren't good enough, Yun said. Her mother-in-law was told she could fill out a "challenge ballot."
After filling out the ballot, Yun said they were told to go to the county elections office to prove her citizenship. If they didn't, her vote would not count. Once there, the mother-in-law's ballot was approved. An elections office staffer explained to Yun that "the poll worker couldn't verify citizenship."
UPDATE: 12/11 -- Bruce Waxman, a voter advocate with the Obama campaign, emailed The Huffington Post to share his insights into the incident involving Korean-American voters in Annandale. He said he worked in that precinct and was familiar with what happened that day. He told HuffPost there had been problems in the past with Korean-American voters being disenfranchised and that he worked with Virginia Democratic party officials to ensure that wouldn't happen again. He explained that they were able to secure one interpreter but that it simply wasn't enough to meet the demand.
When the election worker pulled aside the Korean-American voters, Waxman asserted that it was merely to allow the interpreter to more efficiently help them. "Some people might have felt bullied or harassed," he said, adding that "what happened here was good intentions ... This was all based on the inability to communicate."
Waxman said the incident only highlights the need for Korean-Americans and other minority groups to volunteer to become local election officials. "Then there will be someone present who speaks the language of the voter and also who will be culturally sensitive to that voter's needs," he said.
Before You Go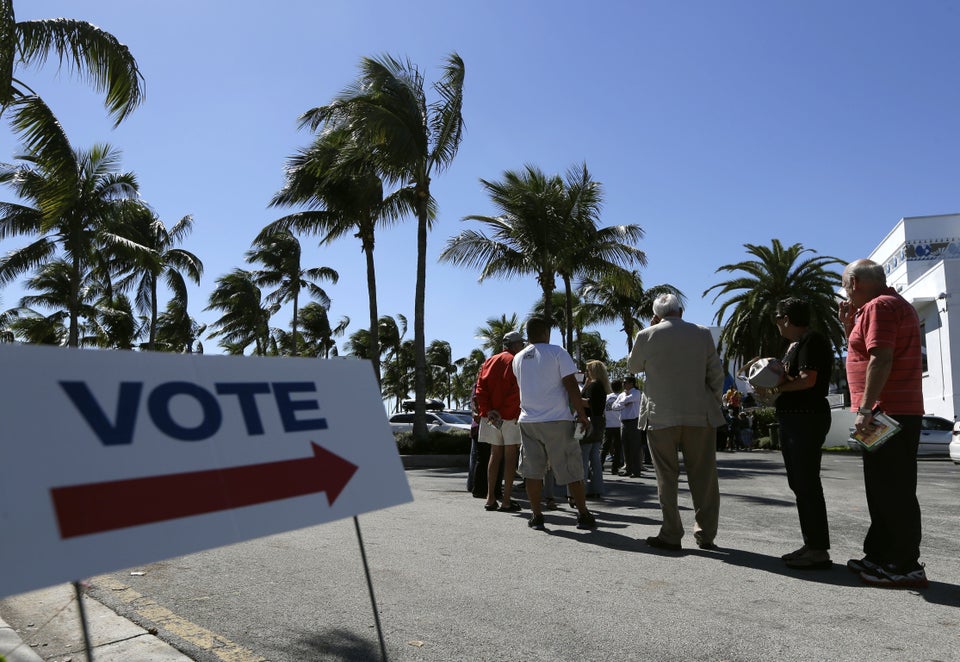 Long Lines For Miami Early Voting
Popular in the Community