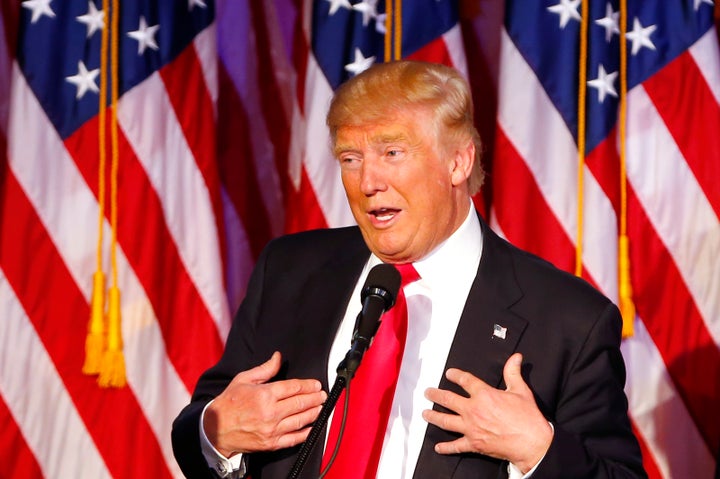 Forty-three percent are positive about Trump's victory: 26 percent are enthusiastic, while 17 percent are satisfied. Fifty-two percent are negative: 15 percent are dissatisfied, while 37 percent are upset.
Opinions are deeply divided along party lines. Eighty-seven percent of Republicans say they're at least satisfied with the election, while 86 percent of Democrats say they're dissatisfied or upset. Independents are split, with 44 percent reacting positively and 46 percent reacting negatively.
A plurality of the public, 41 percent, says having Trump elected makes them feel personally less safe, while 26 percent say they feel safer and 27 percent that they feel neither more nor less safe. A 55 percent majority of black Americans, and nearly three-quarters of Democrats, say they feel more unsafe, while 60 percent of Republicans say they feel safer.
FEW EXPECTED TRUMP TO WIN
Sixty-nine percent of Americans say they're at least somewhat surprised that Trump won, with 42 percent saying they are very surprised. Just 12 percent aren't at all surprised by his victory.
Democrats are by far the most shocked ― 65 percent say they were "very surprised" ― but even 60 percent of Republicans say that they're at least somewhat surprised that Trump won.
Trump's victory also came as a surprise to many pollsters. Surveys taken before the election systematically underestimated support for Trump among the electorate. (Read more from YouGov on their election polling here.) While pollsters are still examining why the industry missed the mark, however, one significant cause of error probably involved the way pollsters determine which voters are likely to turn out.
"Because we can't know in advance who is actually going to vote, pollsters develop models predicting who is going to vote and what the electorate will look like on Election Day," analysts at Pew Research wrote last week. "This is a notoriously difficult task, and small differences in assumptions can produce sizable differences in election predictions. We may find that the voters that pollsters were expecting, particularly in the Midwestern and Rust Belt states that so defied expectations, were not the ones that showed up. Because many traditional likely-voter models incorporate measures of enthusiasm into their calculus, 2016's distinctly unenthused electorate – at least on the Democratic side – may have also wreaked some havoc with this aspect of measurement."
Polls of Americans as a whole, by contrast, are certainly still vulnerable to other forms of error, but can be more easily tested against known benchmarks of the population. And Trump will be the president of all Americans, not just those who voted for ― or against ― him.
MODEST EXPECTATIONS FOR TRUMP'S PRESIDENCY
About one-third of Americans expect Trump to be a good or a great president, while 15 percent expect him to be about average and 42 percent think he will be poor or terrible.
Just 28 percent believe Trump will be able to accomplish most or all of his campaign goals, while 34 percent think he'll achieve just some, and 20 percent hardly any.
A 52 percent majority of Republicans expect Trump to accomplish most or all of his campaign goals and 71 percent think he'll be a good president, although only 27 percent expect him to be great. In contrast, two-thirds of Democrats think Trump will accomplish just some or hardly any of his goals and 61 percent believe he'll be a terrible president.
Independents are split: About one-third think Trump will be a good or great president, 20 percent that he'll be average and 34 percent that he'll be poor or terrible. Twenty-four percent expect Trump to accomplish most or all of his goals, but 52 percent believe he'll fail to do so. Another 23 percent are unsure.
The HuffPost/YouGov poll consisted of 1,000 completed interviews conducted Nov. 10-14 among U.S. adults, using a sample selected from YouGov's opt-in online panel to match the demographics and other characteristics of the adult U.S. population.
The Huffington Post has teamed up with YouGov to conduct daily opinion polls.You can learn more about this project and take part in YouGov's nationally representative opinion polling. Data from all HuffPost/YouGov polls can be found here. More details on the polls' methodology are available here.
Most surveys report a margin of error that represents some, but not all, potential survey errors. YouGov's reports include a model-based margin of error, which rests on a specific set of statistical assumptions about the selected sample, rather than the standard methodology for random probability sampling. If these assumptions are wrong, the model-based margin of error may also be inaccurate. Click here for a more detailed explanation of the model-based margin of error.
Popular in the Community