Over the past week we've seen much of the Northeast battered and bruised by Super-Storm Sandy. Interestingly enough the storm seems to have had a couple of unintended consequences for presidential candidate and former Governor Mitt Romney. President Obama received a great deal of praise for his response to the storm -- particularly when contrasted against the wide criticism President George W. Bush received in the aftermath of Hurricane Katrina. Even GOP stalwart Gov. Chris Christie of New Jersey couldn't help but sing Obama's praises. Could Obama's leadership during this weather crisis prove to be the nail in the coffin of Romney's presidential aspirations?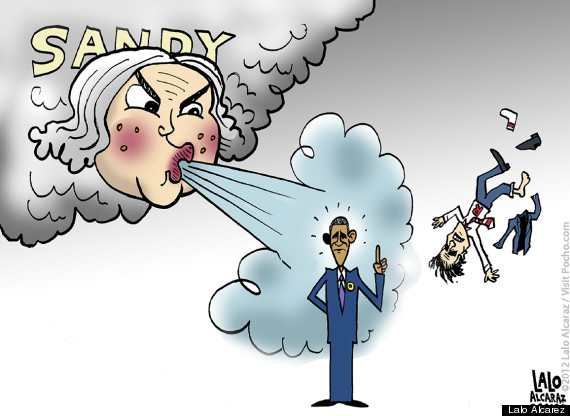 Today is one of the most important days of the year for many Americans -- Election day. Not only does this mean it's the day that Americans choose who will be the next leader of the United States, but it's also the day that ends all of the campaigning and politicizing of the past two years. During that time, no single bloc of voters has been more aggressively courted than Latinos. America's fastest growing demographic, it is widely believed that the Latino vote may decide who wins this election.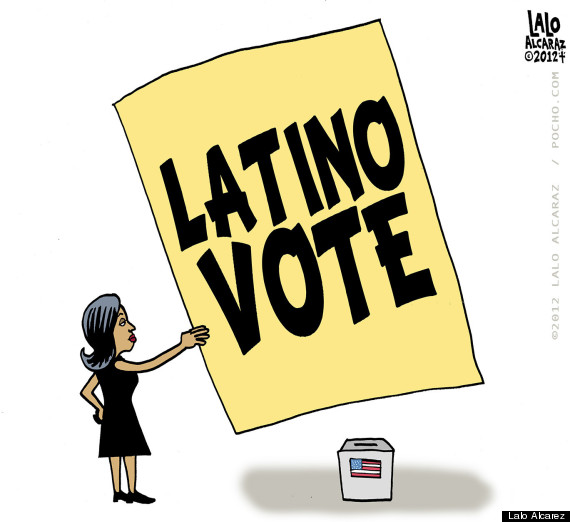 Scroll down to see more examples of Lalo Alcaraz's work.
About the artist:

Lalo Alcaraz is perhaps the most prolific Chicano artist in the nation, according to his own bio. Lalo has been busy for over two decades chronicling the political ascendancy of Latinos in America and vigorously pushing the boundaries of Chicano art in the Post Chicano Art Era.

An award-winning journalist and illustrator, Lalo is also an author, faculty member at Otis College of Art & Design in Los Angeles, and radio host. He is also the creator of the first nationally-syndicated, politically-themed Latino daily comic strip, "La Cucaracha."

Lalo's most recent project is a re-boot of the famed Pocho.com, his pioneering humor, satire and cerveza webzine/blog/news site.
PHOTO GALLERY
The Political Satire Comedy Of Lalo Alcaraz
Calling all HuffPost superfans!
Sign up for membership to become a founding member and help shape HuffPost's next chapter
BEFORE YOU GO