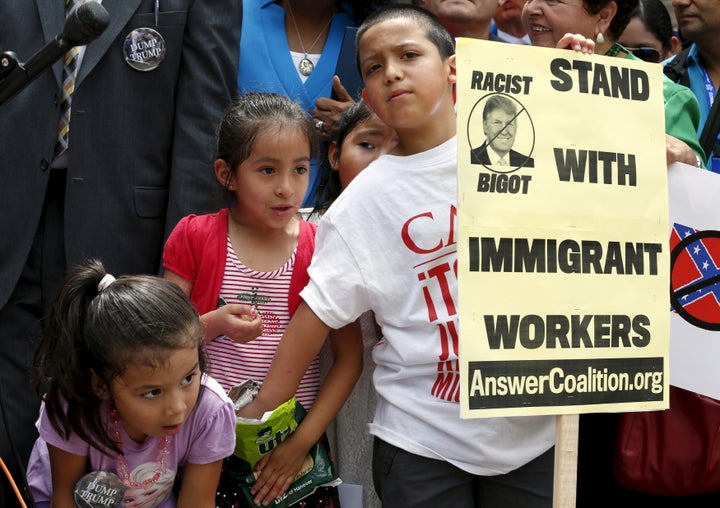 WASHINGTON ― The past few months have weighed heavily on Walter Barrientos.
The 32-year-old former undocumented immigrant, who has relatives and friends who remain without legal status, has seen the harsh anti-immigrant rhetoric from GOP nominee Donald Trump's presidential campaign spill over into everyday life. A relative of his was in the process of buying a home. But she thought twice when she saw a stream of Trump lawn signs in the neighborhood. His father, an electrician, has had clients ask for his papers (he's a green card holder) and mock his limited English.
But as Election Day has neared and the contest grown tighter, that emotional toll has morphed into an acute anxiety. For Barrientos, the days are now filled with frantic calls from friends and family and regular checks of polling data. His dad, who had never been politically active during his 15 years living on Long Island, New York City, has felt it, too. For the first time in his life, he's been doing Get Out The Vote drives for local candidates.
"There is a real fear for him," said Barrientos, an organizer for the Latino community group Make the Road Action. "And as we get closer to the election, I'm definitely nervous about the outcome too. I've really become scared of November 9 because I think this election has pushed people to both extremes but specifically on the right. I'm having a hard time seeing how they come back to the center as they have in past elections."
The closing of any campaign can be a trying experience for many voters, especially in an election as divisive and bitter and long as the current one. But for many immigrants, specifically those whose legal status is in limbo or who have family members in such circumstances, it has become absolutely draining. More than any other group, their futures are directly impacted by Tuesday's outcome; they sense every movement of the race on a visceral level.
"It is stressful," said Erika Castro of Las Vegas, Nevada, "especially knowing how my life can change drastically."
The 27-year-old is a recipient of President Barack Obama's Deferred Action for Childhood Arrivals policy, which allows her and other young undocumented immigrants who came to the U.S. as kids to receive a renewable two-year work permit. Last week, she renewed her DACA status for the third time knowing full well that Trump has said he would end the program.
And so, with uncertainty hanging over her head, Castro has tried her best to determine her own fate. Recently, she accompanied her brother, a U.S. citizen, to vote and has encouraged her friends to do the same. She checks the polls a few times a day but, she says, "not too much because I know how intense it can get."
""They don't feel like their vote matters. And I explain to them my story.""
"They don't feel like their vote matters," she said of the conversations she has had with some voters. "And I explain to them my story."
Immigration has been a central topic in past elections. Four years ago Obama, a pro-reform candidate who lacked major accomplishments, was pitted against Mitt Romney, a former moderate Republican who promised to encourage "self-deportation" in order to win the GOP primary. At the time, the gap between the two seemed vast. And, certainly, the enthusiasm among Latinos voters in that election was a testament to that divide.
For undocumented immigrants, the contest has become, quite literally, a life-altering event ― one that's increasingly difficult to watch. It's compelled them to participate in the only way they can: not by voting, but urging others to cast their ballots.
Adiarose, a 65-year-old from the Philippines who asked that her name be withheld to protect her immigration status, traveled to Colorado this week with the group Domestic Workers Legacy Fund to help push the vote for Clinton, Democratic House candidate Morgan Carroll and the minimum wage ballot measure. She's a fan of the Democratic presidential nominee and has watched anxiously as her margin has narrowed.
"I'm very afraid because I know how [Trump] has said things about immigrants or the people who come here with no documents," Adiarose said.
Yaneli, who also asked that her last name be withheld because of her undocumented status, said she worries about what would happen to her family under a Trump presidency. She came to the U.S. from Mexico when she was 18. Now 33, she is married with two children, a boy and a girl, both of whom are U.S. citizens.
"He says he wants to kick us out," she said in Spanish. "If they send us to Mexico, I'm worried about who would take care of my children. He's putting my children's future in jeopardy."
For some without documentation, strategizing for life under Trump has become a preoccupation. Greisa Martinez Rosas, advocacy director for the undocumented youth organization United We Dream, said she has heard stories about undocumented people instructing children not to answer the door should a Trump-sanctioned deportation force came to fruition.
"It's on these last final days where people that have avoided like the plague following this election are forced to do so, and have to come up with concrete plans for what to do with their families if the worst were to happen," she said.
There is still work to be done to head off a potential Trump presidency. Latino voters have come out in droves in several critical early-voting states, like Nevada and Florida ― driven, undoubtedly, about the fear of the unthinkable. And it's not just the presidential contest that is motivating them.
Blanca Gamez, 27, has her eyes on down-ballot candidates who are also important for protecting immigrant efforts. She is working to elect Democratic candidates as a fellow at the group For Our Future, and was in an ad asking citizens to vote because undocumented immigrants like her cannot. Her sister was born in the U.S. after Gamez and their parents moved to the country from Mexico when she was seven months old. Her father is now a legal permanent resident, while she has DACA and her mother is undocumented.
Nearly every day, her mother calls to ask "how our girls," ― Clinton and Nevada Democratic senate candidate Catherine Cortez Masto ― are doing,Gamez said. Those calls have become more panicky than usual recently. But they serve to motivate as well.
"Fear is turning into, 'OK, let's getting into reality and let's do something about this,'" Gamez said of her mother. "Because if [Trump] wins, we're going to lose everything."
Roque Planas contributed reporting.
HUFFPOST READERS: What's happening in your state or district? The Huffington Post wants to know about all the campaign ads, mailers, robocalls, candidate appearances and other interesting campaign news happening by you. Email any tips, videos, audio files or photos to scoops@huffingtonpost.com
Before You Go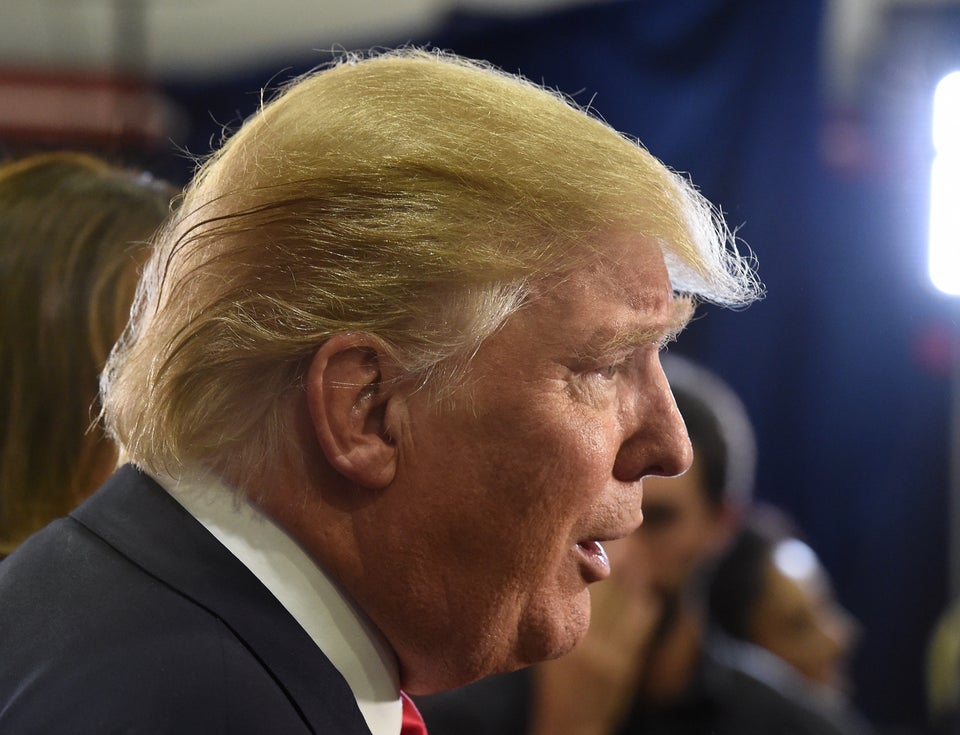 How Donald Trump Talks About Undocumented Immigrants
Popular in the Community