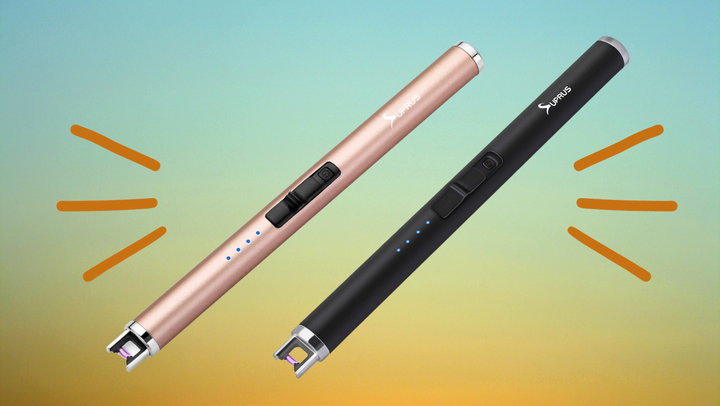 HuffPost and its publishing partners may receive a commission from some purchases made via links on this page. Every item is independently curated by the HuffPost Shopping team. Prices and availability are subject to change.
I'm a big-time candle gal regardless of season, which means that over the years I've had to find creative ways to stock up on and subsequently store a large volume of matchbooks. But if we're being honest, they're not exactly convenient or safe when trying to light deep candle jars or get the stove or a grill going. Given that I am not a fan of butane-filled lighters, I needed an alternative to both of these conventional options that felt more sustainable and versatile.
I'd long heard murmurings about the wonders of rechargeable lighters and after researching popular brands on Amazon, finally took the leap and purchased one for myself a few months ago. Expectations were low, but I'm pleased to report that this simple, affordable and easy-to-use USB-compatible Surprus lighter is an absolute game-changer.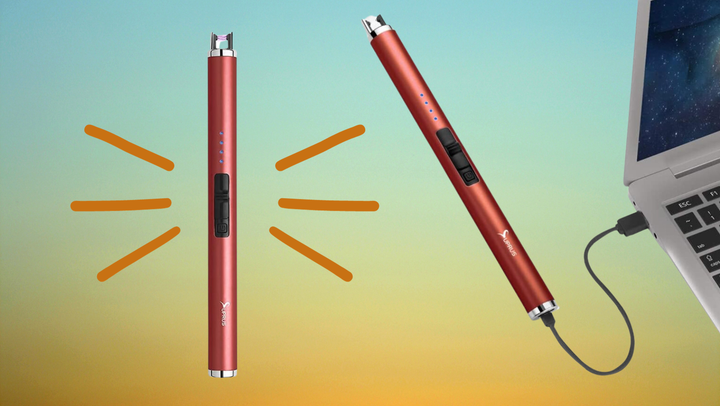 Available in 12 different colors and festive patterns, this lighter is portable, convenient, lightweight and intuitive. All you do is slide open the safety lock and press a button that ignites a spark. The lighter has an auto-stop safety function that stops the spark after seven seconds, and can swiftly be re-ignited by pushing down on the switch once more. As a worrier, I appreciate that it has an intuitive, thoughtful design that emphasizes safety.
The lighter's unique shape also helps to prevent the spark from being blown out by a strong wind or rain, which is ideal if you're using it for outdoor activities like camping or barbecuing.
I was most skeptical about the battery life and was thrilled to find that the charge can last many weeks, even with daily use. It has LED indicator lights that display the item's charge levels (with four lights being the highest), so you always know how much juice you've got left in the battery and aren't caught off guard.
It's compatible with USB-C charging cables, which couldn't be more convenient given that most of us have several of those lying around the house. A few reviewers mentioned that it charges fastest when you use it with the cable that it comes with, but I have never noticed a difference in charge time when using other random cables I have on hand.
This extremely user-friendly Surprus lighter is worth every penny, and given that it's available for under $10, there's basically no excuse to not give it a try. And if you're apprehensive about giving this new technology a whirl, it's nice to know that reviewers on Amazon noted that the brand has great customer service if you have questions or encounter any issues.
Take a peek at a few glowing reviews on Amazon and pick one up for yourself. I have a feeling you'll be just as devoted to this little device as I am. I can't believe I went so long without one.
"This is great. This is so lightweight and easy to use. So far I'm impressed with its battery life. It barely makes any noise at all and is so much easier for me when I light candles that have wicks that have burned down very low. It really helped to keep my fingers from getting burned!" — Lala23

"Great buy. As an avid candle lover I wanted something a bit more modern and classy than a simple lighter. I've had this for a few months now and I haven't bought another lighter since. The charge lasts for quite awhile so it's not something that needs to be plugged in everyday. I like the sleek design and the retractable capability so you don't have to worry about it burning anything when you store it away. Definitely recommend" — Mario

"Works great. Honestly, this is one of the best random purchases I've ever made. Way more convenient than finding the matches every time I want to light a candle. No smoke and no waste. Love it!" — Justine

"Handly little tool. I was really impressed with this little tool when it showed up. I wasn't expecting much. I just wanted something to light candles with. The fact that the ignitor tucks away when turned off and the power button gets covered by the slide that hides the ignitor so you cannot accidentally press it and cause unwanted fire is a really nice touch of engineering. It's compact, sturdy, and easy to use." — Ryan Collins
Before You Go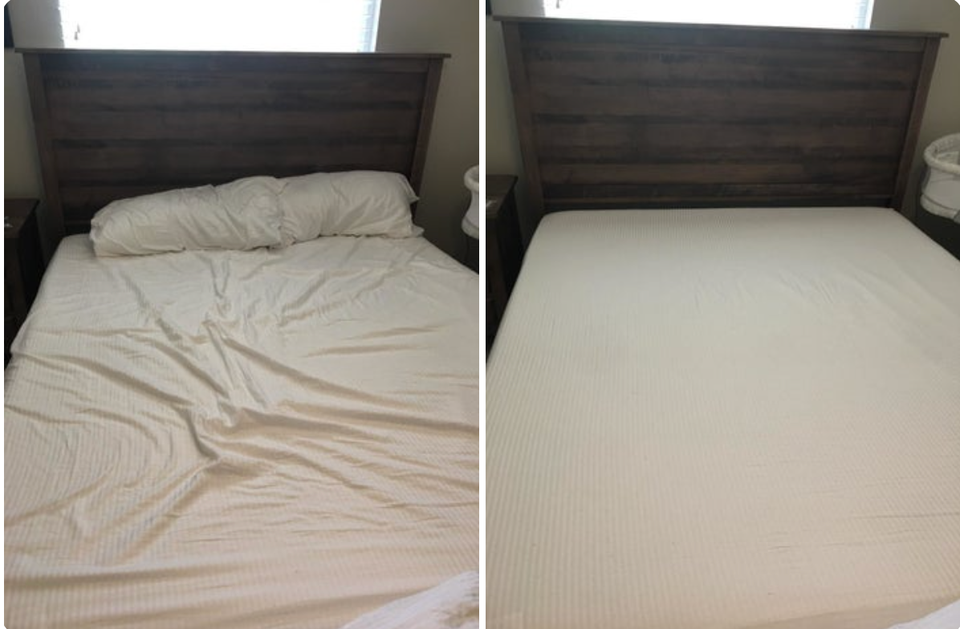 36 Problem-Solving Products For Every Room In Your Home
Popular in the Community