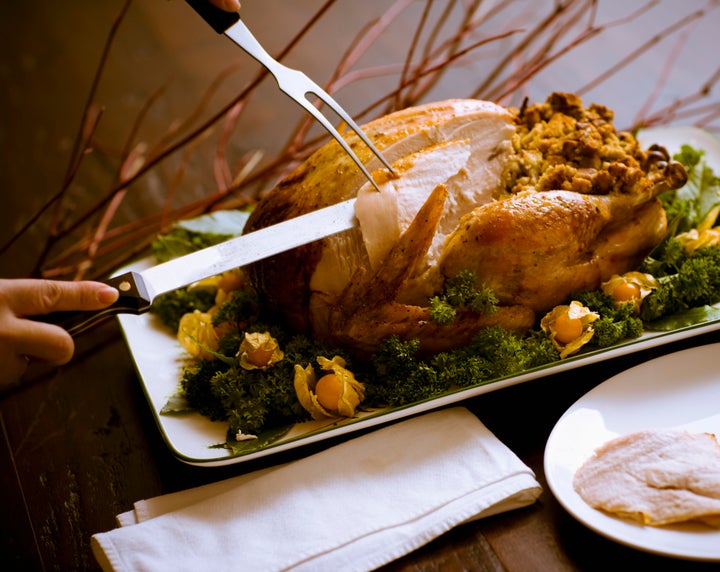 Forget grizzly bears and killer whales — for many of us, the most terrifying creature on earth is a cooked turkey, fresh from the oven and waiting to be carved. The ideal is a gorgeous golden bird, transformed through our handiwork into perfect slices of moist meat. But what actually happens on Thanksgiving Day can often feel more like a wrestling match with a chainsaw than a culinary triumph.
Anxious about carving, many home cooks have relied on electric knives, which promise to speed up and simplify the carving process. But do you really need to "go electric" to create the most professional-looking turkey slices? We talked to chefs for some expert advice.
Here's how an electric knife works.
Joshua Resnick, lead chef-instructor at the Institute of Culinary Education, explained it this way: "At its heart, an electric knife is actually two knives, usually with a serrated blade, that move back and forth very quickly. This creates very quick sawing motions that cut through the meat."
That sounds great, right? Not so fast, Resnick said. "An electric knife has the potential to create a jagged, sawed appearance and shred the meat. If you're going to put all that time and effort into cooking a turkey, you don't want the slices of the meat looking like you took a mini-chainsaw to them."
Some chefs are OK with them ... kinda.
While many chefs said the electric knife is an unnecessary — and possibly problematic — kitchen tool, others were more sanguine about the appliance. "It depends on how good your knife skills are," said chef Adrianne Calvo. "If you're not carving large meats on the regular, then I'd say yes, an electric knife for your turkey is fine."
Chef Robert Irvine takes a diplomatic approach. "Look, there's nothing wrong with them," he said. "They can be great, and a lot of people swear by them, so peace and love to you if you do." But, said Irvine, "I'm old fashioned, and I like a good, sharp chef's knife. Any sturdy knife with some weight to it that feels good in your hands and that you take care of with regular sharpening will do just fine."
But most are not fans.
Most chefs we spoke to prefer carving turkey with a non-electric knife. Matthew Card, creative director of recipes and products at Christopher Kimball's Milk Street, said that the "chainsaw effect" of electric knives means that they often tear, rather than slice, delicate meat. "You can cut smooth, clean slices of juicy meat without power," he said.
Andrew Zimmern, host of "Andrew Zimmern's Wild Game Kitchen" and author of the Spilled Milk newsletter, suggested that carving is more about skill than equipment. "It's the chef's hand holding the knife that determines the quality of the cut," he said. "Electric knives are gimmick tools and a huge rip-off for consumers." If you're nervous about unplugged carving, his Thanksgiving guide includes videos and tutorials.
This is the best knife to use.
The longest, thinnest knife you own is your best bet for better carving, many chefs insisted. "Think of sushi chefs and the sword-length knives they use for perfect slices of fish," Card said. "The longer and thinner the knife is, the cleaner the slice and the less drag generated by surface contact." Check out what's in your kitchen and "grab your longest chef's knife or dig out your grandparents' carving set from the back of the cupboard," he said.
Looking for an upgrade? "If you're going to splurge on a new carving knife, I recommend a Japanese-style carving knife called a sujihiki, which is long, thin, light and wickedly sharp," Card said. "It's a lot more versatile than a Western-style carving knife."
And please, make sure it's sharp.
Robin Selden, managing partner and executive chef at Marcia Selden Catering & Events and Naked Fig Catering, agreed. "As long as you sharpen your knives, a great carving knife will do the job," she said. "It's all about technique and being set up with everything you need ahead of time. Select your platter and have that by your cutting board. I recommend using a large board so that you can have plenty of room. And be sure to let the turkey rest for at least 30 minutes, so it's super juicy, tender and delicious."
What about a carving fork?
"A meat fork is probably a good idea, but I put on latex gloves and use my hands," said chef Sandy Davis of New York's Roxo Events. "Double the gloves if you have sensitive fingers."
If you'd prefer not to be quite so hands-on, ditch the carving fork in favor of tongs, Card suggested. "Forks poke holes in the bird, whereas tongs can gently brace it during carving."
Here are some of our top picks.
HuffPost and its publishing partners may receive a commission from some purchases made via links on this page. Every item is independently curated by the HuffPost Shopping team. Prices and availability are subject to change.
Finally, cut yourself some slack as you're cutting.
"The big-picture view is that side dishes tend to steal the show on Thanksgiving," Irvine pointed out. "Roast turkey is a nice treat, but we can eat deli turkey any day of the year. Side dishes like stuffing, cranberry sauce and candied yams are delights that are rare indeed. Give them special attention, and your guests are going to be perfectly happy, even if your turkey carving skills are still in the developmental stage."
"This holiday is really about getting together with family and friends," Resnick said. "People get nervous because it's a holiday known primarily for its food, but as long as you're with people you care about, that's all that really matters. Enjoy each other's company and the time you get to spend together."
Michelin star chef Joe Isidori of New York's Arthur & Sons said, "Don't be nervous — it's just turkey. Even if you overcook it, that's what the gravy is for, so plan to eat a lot and have a happy Thanksgiving."
Irvine concluded, "The spirit of the holiday is more important than anything you might put on the table. There's serious turmoil and pain in the world right now. We should be happy to be able to sit together and give thanks for what we do have — even if it's a Charlie Brown feast of popcorn, toast and jelly beans."
Before You Go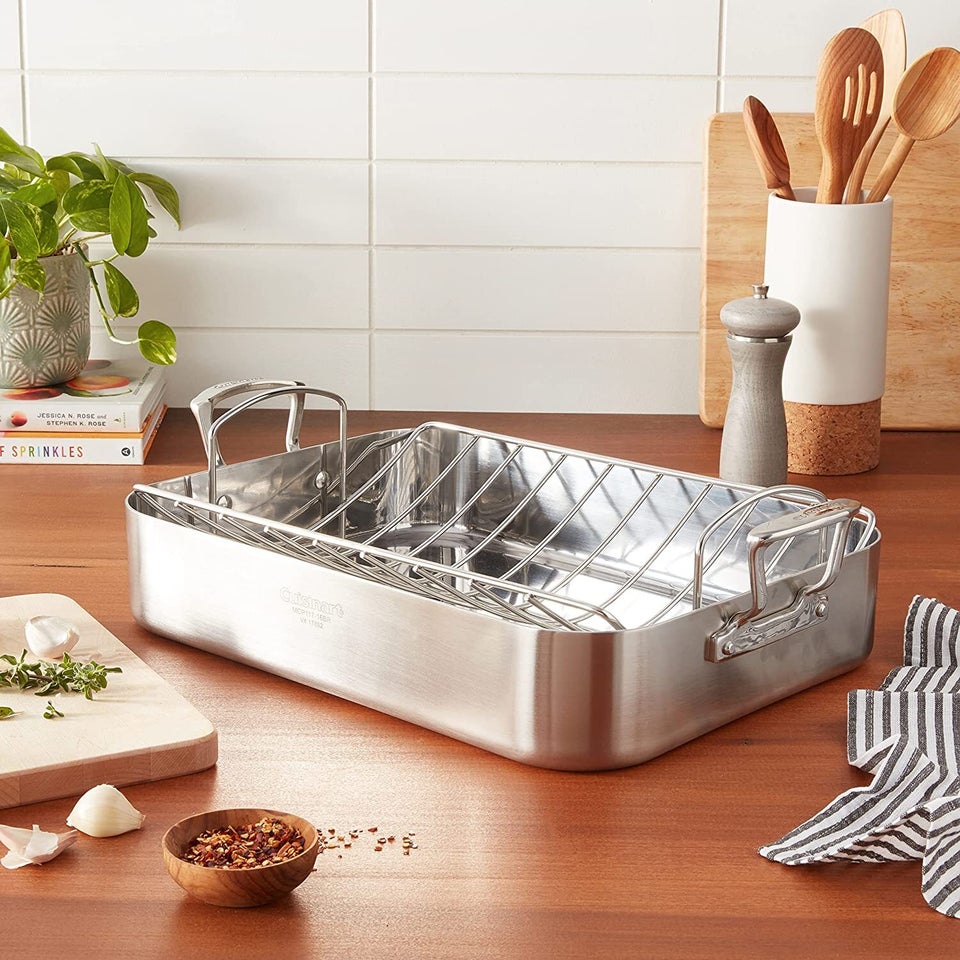 The Best Roasting Pans To Buy For Your Thanksgiving Turkey And Beyond
Popular in the Community