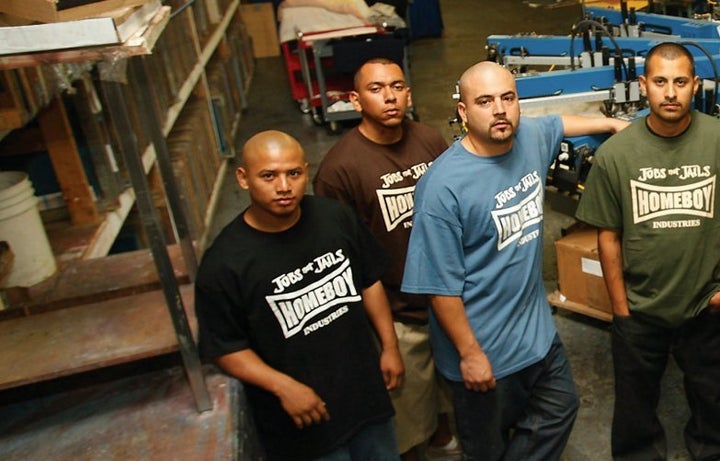 As the images of Electridad circle my head in a tornado of gone-by action, one word emerges that encapsulates the 90-minute theatrical effort: rich. Under the skillful direction of Sylvia Blush, the play is rich in passion, rich in history and rich in sorrow. Accomplished playwright Luis Alfaro offers a bittersweet, love letter to East Los Angeles and the tumultuous cultural barriers of its community. Bordering on Noir, this modern adaptation of the classic Greek tragedy succeeds in alternately entertaining and enrapturing audiences.
The setting is so imperative to the story that it is incredible to think the script was adapted from material so distant in time and space. Technical director Geronimo Guzman (who also designed the set) is in top form building the world for on-lookers to effortlessly observe and experience. Both interesting and realistic, the set beautifully sets up the complicated relationships being revealed. The use of space is something to behold. Sylvia Blush employs every possibility of the theatre while concealing her expert brush strokes like a truly seasoned professional.
Melissa Legaspi utilizes comedic timing and youthful perspective as the recently reformed sister, Ifigenia. Sara Guerrero absolutely encompasses the epitome of an East L.A. grandmother as Abuela. Griselda Marquez breathes fire as the title role. The audience not only grows to understand Electricidad's uncompromising attitude, but also comes to respect her tenacity. Her unrelenting performance sends an invigorating charge through the air and ignites the hearts of madness unearthed deep within every witness.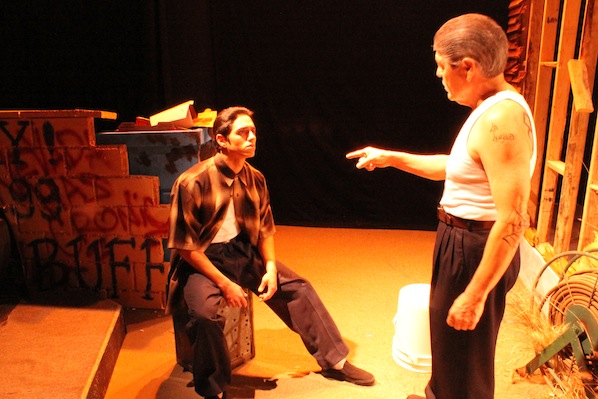 Enzo Canepa and Tom Sandoval in Electricidad. Photo Credit: Daniel Perez
Blush collaborated with Homeboy Industries to bring this tale of reckless animosity to life. Considering the setting and characters, the collaboration is apt to say the least. Also, the Spanglish production is staged at the Bilingual Foundation of the Arts (Carmen Zapata Theatre). It is a wonderful experience to watch a play so immersed in a specific community and then to walk outside to breathe in that same community.
This is a tale of desperation in grief. It is a narrative of a girl's persistent belief in ideals that have been forced into her. There is a poetic depth in these characters that reveals a grim future. With dread slowly looming somewhere above in the fog that surrounds the stone goliaths downtown, the cholos live and die. It is a story of fear and despondence, coming of age, loss of innocence. It is a story of Los Angeles too seldom told.
Fifteen percent of all ticket sales will be donated to Homeboy Industries.
Related
Popular in the Community