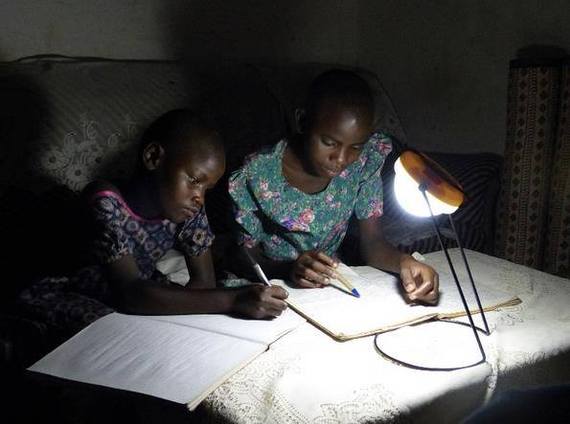 The direction Power Africa, President Obama's signature initiative to address energy poverty in sub-Saharan Africa, is headed is worrying. Worse, the Electrify Africa Act which supports this initiative, and is working its way through congress, is under pressure from big industrial players like General Electric (GE) who are more interested in selling new natural gas plants than actually ending energy poverty. GE and others are pushing to deregulate leading institutions like the Overseas Private Investment Corporation (OPIC) which will directly reduce the amount of clean energy they support. That's why it was so good to see clean energy entrepreneurs hit back in an open letter to the U.S. congress demanding OPIC's restrictions remain in place, and that energy access initiatives prioritize off grid clean energy that will put power directly into the hands of poor communities.

In their letter 22 of the world's leading off grid clean energy service providers declared:
'Current reliance on grid extension or large-scale centralized solutions will leave more than one billion people living without access to modern energy services by 2030 according to the International Energy Agency (IEA). In fact, the IEA has found that half of all energy services will have to be provided by off-grid clean energy investments in order to deliver universal energy access by 2030. However, current investment flows do not prioritize small scale off-grid decentralized interventions to address energy access. Only 0.029%, or $2 million, of the $7 billion in US government funding commitments specifically target off-grid energy development.'

You read that right. Despite the fact that the IEA has declared over half of all energy access investment must flow to off grid clean energy Power Africa directs less than 1% to this vital tool for combatting energy poverty. Worse, GE and others want to water down even this miserly amount by reducing OPIC's ability to support off-grid solutions in the Electrify Africa Act currently being considered in Congress. That's what really pissed these companies off.

You see much of the strategic investment in off grid solutions by OPIC has been driven by its carbon cap and reduction policy, which has induced OPIC to proactively seek out low carbon investments to support its development mandate. They now punch well above their weight when it comes to clean energy. Amending these cap restrictions would divert much of OPIC's scarce resources to large, centralized fossil fuel projects (GE's natural gas turbines). This would significantly impede OPIC's ability to provide support for the fledgling off grid industry. That means it will also leave hundreds of millions of rural poor, where the vast majority of the energy poor live and the grid has not yet reached, in the dark.

It's time the U.S. Congress, and the Obama administration addressed these concerns. It's simply not acceptable that the President's signature initiative, or the current Electrify Africa act, would abandon their central motivation - ending energy poverty - in favor of providing subsidies and support for natural gas turbines from G.E.
We think these off grid companies said it best: 'We respectfully request that you do not support efforts to amend OPIC's current carbon cap and reduction policy. Instead we request you use this opportunity to expand OPIC, and other US agency support, for off grid clean energy solutions. Doing so will help the Electrify Africa Act best realize its ambition of providing support for clean energy solutions for the world's poor.'
Related
Popular in the Community