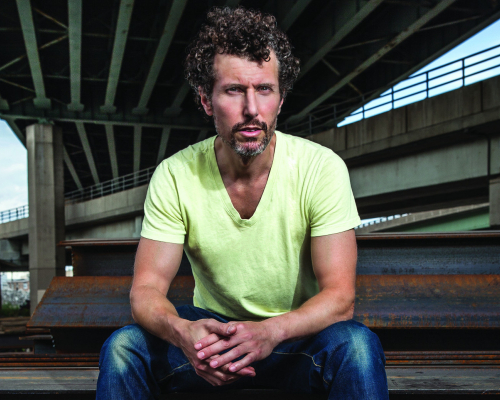 It's been a long road for legendary techno DJ-producer Josh Wink, with well over 20 years in the game, but his constant desire to be a student of music has influenced generations of electronic music fans and artists alike. The Philadelphia native originally struck a chord in the hearts of the industry with a string of very prominent records in 1995 like "Higher States of Consciousness", "I'm Ready", and "Don't Laugh", and has continued to produce deep, organically driven tracks that's still kept him viable to this day, including newer songs like "Talking To You" and the recently released "Denial".
Back in 2012, I sat down with Josh Wink at the Movement Festival and we talked about his career and becoming a father. Recently, I was able to chat with him again and we pretty much picked up where we left off last time as we chatted about how fatherhood has been since then and about how influential his music has become to the world of electronic music.
When we spoke last time, you had just become a father. How's your son doing?
He's three and half now. It's been great. I'm learning more about myself now than I ever have or whatever therapy has presented itself to me, it's coming forth now.The more work that I do makes me a better person as a family man and also as a human being. The 2's were easy. It wasn't the 'terrible 2's' for me. It was like the 'terrific 2's' but 3 has been trying for me.
I've heard that from a lot of people that the 2's are not that terrible, but age 3 is a bit more challenging.
You try to instill a certain something in your child and we really cultivated and developed a strong will that he has, and as soon as that will is alive and in use, it's really difficult for the parents because defiance and just doing something that a 3 year old will do just drives us crazy. Now, 3 years old isn't hard for him so much as it is for the parents because it's more like how we deal with him not applying the things we're trying to instill into him as a toddler. 2 is difficult for him I imagine because you are having to deal with language, emotions, feelings, and these are the first times that this creature is even had to deal with these big, big feelings. What do you do with them? Why am I feeling this way and what do I do with it? That's what I'm coming into and being a coach. Ever remember in school, there's always a cool coach; something about him or her you really liked and you just gelled. You listened to what they said. Everything was inspiring. That's what we're really trying to be along with parents to our son; not someone that's just yelling at your kid the whole time. Something to be more of an inspiration or like a coach would do; speaking to him in a certain way and having the respect be mutual and not get emotions involved. Then also, in the mean time the other thing is trying to still understand responsibilities of three people I've become; the Josh Wink the artist, the Josh the regular guy, and the daddy Josh. I work when I'm away, and when I come home, I got to work too; running the label, making music, doing remixes, being creative, and then I also have to work on daddy things, which I love. It's just for me I'm very sensitive and learning this balance has been a tricky thing.
Is there anything you are looking forward to doing with your son when he gets older?
I'm not really one to project onto my son because he's his own creature and I want him to be able to make the decisions and do the things he wants in life. I think the job of a parent is to influence, to bring things and make things possible for him and to him. Right now, the biggest thing I'm looking forward to doing is simply going to a movie theater. We haven't done that yet. I can't wait to be able to find the right animated movie and go see a movie with him. Just simple things like that. My nanny showed him what I did, went to YouTube and saw a couple videos, so now he kind of knows an aspect of what I do. He likes going into my studio, yet he hasn't been here very often because I moved it out of the house.
It's been 20 years since "Higher States Of Consciousness" came out. When you think back about that time, what are your fondest memories?
It was a unique period because "Higher States" didn't really blow up right away. It was very grassroots, mom-n-pop, DJ-oriented thing before it became what it was. And in that mean time, I'd been releasing a lot of music before then that still had this underground vivaciousness to it. That same year, I released "Don't Laugh" and "Higher States Of Consciousness" and "I'm Ready", which were three equally paramount tracks in my catalog and the electronic music industry, so it was a very unique year '95. It really helped open up the doors for a lot of things, but at the same time for me, I learned a lot of things that closed the doors as well, and what I thought I got into the music industry for. I did a lot of learning, so that's why probably one of the best things its done for me was that I got to learn a lot from that track.
The sound of those records is having a bit of resurgence today. Speak about how things like that have a cyclical life to them.
Life in general seems to be circular. Time moves on a linear fashion, but certain things tend to get recycled around in a circular fashion. Disco went away and came back. Punk rock reincarnated itself through grunge or new punk rock. Hip-hop samples soul artists. Everything has its time, goes away, and then comes back in the ebb and flows of times, which is how things should be. Everything borrows. It's very difficult to live in today's day in age and not be influenced somehow by something. How can you be 100% creative and not sound like something? I think there's people who want to be directly influenced and want to make music that sounds like a certain kind of music, then there's people that make music through their inspirations. I borrow from my past too by going back and delving into old synthesizers. I listen to my music and I'm like there's an innocent in this time and production. How do I get back to that because I really like it? So I retrace and borrow from myself and where my head is and try to put myself in that same position as I was 15-20 years ago.
Speak about your new single "Denial".
My music lately has been coming up quickly, which is really nice. We needed a follow up to "Talking To You", which was a very big in the summer of last year and still continues to be played and supported now. It's a big thing to have a record that does that because the shelf life of record nowadays in the record stores is a couple weeks until the repress happens a couple months later, but digitally speaking, the shelf life is less than a week. You're onto something new the next day. We needed a follow up "Talking To You" and it organically came about. Instead of calling the track "Future", which seems like an easy way out, I wanted to call it "Denial", which is like a play on living in the future. Its nice that I can still make the music that I make with my influence of techno and pulling from my Detroit influences of the deep lush strings that develop in the track. People know it's me. They can come and say 'I could listen to a whole set of yours and I can know what track is yours'. That makes me really happy. It's cool how it just happens and came about. It doesn't have to sound like anything else that's out there. Sometimes makes it a bit more difficult because it's not the trendy sound. It can just be my own thing and do it, and then people dig it and play it. I love that. It's such a blessed position to be in. I can't imagine any other way.
Josh Wink will playing the Main Stage at the Movement Music Festival at Detroit's Hart Plaza from 6pm-7:30pm on Sunday, May 24th. For more information on Movement, visit movement.us. Josh Wink's new single "Denial" is available now digitally at Beatport. For more information on Josh Wink, visit joshwink.com.
Calling all HuffPost superfans!
Sign up for membership to become a founding member and help shape HuffPost's next chapter