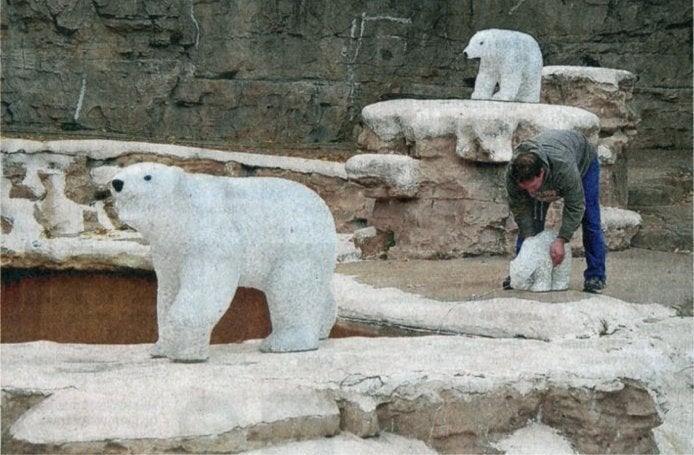 The St. Louis Zoo has decided to replace its polar bears with electronic proxies, provided by a local holiday decoration company.
The zoo's living polar bears have had a tough go of it in years past. The Riverfront Times reports,
The zoo's last polar bear, Hope, was euthanized in April when veterinarians found it had cancer.

In May 2005 another polar bear, named Churchill, ate a fatal helping of cloth and plastic inside its bin and died while undergoing stomach surgery. Five weeks later, a polar bear named Penny died at the zoo from infection. Turns out, she had two dead fetuses inside her uterus, though zoo officials didn't now she was pregnant.

Instead of shelling out money to buy another living polar bear (and letting the polar bear display remain empty), the St. Louis Zoo had James Trogolo Co., a company that designs and sells holiday decorations for malls and office buildings nationwide, install electronic polar bears at the zoo.
No word yet on how long the electronic bears will be there in place of their living, breathing counterparts.
The St. Louis Post Dispatch has photos of the electronic animals' installation here here and here (via Riverfront Times).