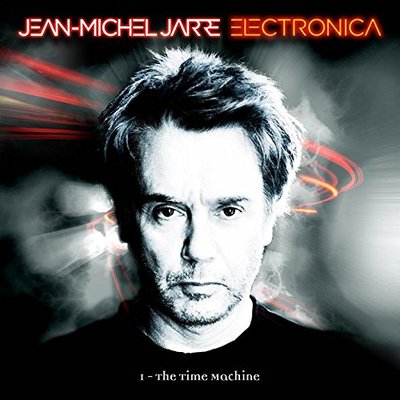 A Conversation with Jean-Michel Jarre
Mike Ragogna: Bonjour, Jean-Michel! Doesn't it seem like yesterday when you created your classic electronic album Oxygène?
Jean-Michel Jarre: Absolutely. It's true in a lifetime span, what it means when you are working and I think it's true for everybody, whatever you do in that path of your life and it's also true in the context of electronic music. I've been really privileged, being one of the guys in electronic music in the days when it was just considered a bunch of crazy guys working with crazy machines. I remember far before Oxygène when I started being involved in electronic music in Pierre Schaeffer's Music Research Center in Paris and with Karlheinz Stockhausen in Germany, that was really very far away from rock 'n' roll. But I've always been convinced that electronic music was more than just a genre of music like pop or rock or punk or hip-hop but actually a new way of writing, composing, producing even distributing music these days. I was absolutely convinced that one day it would become the major genre of composition of music. In that sense for me, Oxygène is like yesterday, yes, and also the fact that there is a kind of family and heritage for me in electronic music, which I tried to express and to visit through this project Electronica 1. Trying to gather around me some of the people who were a source of inspiration, directly linked or indirectly linked to that scene, covering more or less forty years. When I started this project I didn't realize that next year will be the fortieth anniversary of Oxygène. What I've done unconsciously the past three or four years, working with people from these four decades, the late sixties to 2015, with people such as Tangerine Dream on one side and Gesaffelstein on the other side.
MR: You've been sampled, you've been cited as a creative inspiration and with the resurgence of the eighties sound, there are electronic sounds you made popular that are now featured in many hit records. What do you think it is about electronic music that caused it to be so appreciated?
JMJ: It's very funny that you are talking about this chunk of time being like yesterday, because I approached this project really like I approached Oxygène, with the same kind of innocence of wanting to open the door on virgin territories. What I mean by this is actually when I started Oxygène and, as you said, pioneering that genre, it's a big privilege in life, like the people who created rock 'n' roll, because in those days, you had nothing behind you, nothing to refer. You had this total freedom to experiment because you had nobody behind you. Nowadays, a young kid is starting with forty or fifty years of heavy stuff, so in other words, he's starting being old. What's interesting with Electronica... is I really wanted to gather around me some artists who are an inspiration in that genre and actually, by crossing experiences these days, when you have so many albums with "featuring" and people, most of the time, are sending a file on the internet via Dropbox or WeTransfer and they will never meet the guy or the girl, it stays very abstract. In that case, I did the reverse. I wanted to work with specific people and I met with the specific people without agents, without managers and spending time with them.
It's similar to Oxygène because when I started it, I was really experimenting and not knowing exactly where I was going, it's exactly the same thing with this for a very simple reason: In electronic music there is no band -- you have Air or Daft Punk, but they are two, not four. It's a more individual activity, you are in your own studio, all alone and you have your little secrets and your little weaknesses and you don't necessarily want to share this with other people. Every collaborator I worked with I said, "Come in my bedroom," and we were like kids sharing toys. I didn't know what to expect actually, the project grew up much more than my expectations. I'm ending today like in a movie when it's too long, like Kill Bill Vol. 1 and Kill Bill Vol. 2, I'm dividing the project into two albums, one being released in October and while I'm talking to you I'm finalizing the mixing of part two with other collaborators. This is a very fresh concept, I think it has never been done before. Sharing DNA and merging DNA systematically with lots of different artists, all linked by electronic music, an instant recognizable sound -- you think about Moby, you think about Air, you think about M83 or Massive Attack or Tangerine Dream. They all have in common an instant recognizable touch. And also they all have the same kind of organic approach to sound.
MR: Did you change the music drastically at times to accommodate the musicality or the impressions that came your way via artist contributions?
JMJ: It's strange, because I was expecting this, but what I've done is actually whenever I met with someone I came with a demo I did systematically in the function of the person I wanted to work with. For instance, I composed something to approach Moby by thinking about Moby's world. To approach Massive Attack I composed something thinking of Massive Attack's world. I thought, "What is the touch of this artist?" And then they were free to take this demo and break it in different ways and all that. Most of the artists respected the structure of the demo quite well and quite precisely because I left enough space for this, and then they put all of their parts and when they did their bits on the final mix sometimes I broke some verse or some chorus part to share with them this idea, but most of the time at the beginning we started from the structure I wrote for them.
MR: Were there any songs that so drastically changed they even surprised you?
JMJ: Yes. In my collaboration with Armin van Buuren or my collaboration with Massive Attack or with Little Boots I did the demo and they were very nice because we worked on the demo but then I was not fully convinced about the result. It happened two or three times only, but these two or three times what I did was I changed drastically what I did and I did a new demo to go in a total different direction and then suddenly that created the magic and that was the right time to leap. The magic was on and we spent very little time to finalize the new idea.
MR: Do you have a favorite track? Maybe one that just really touched you?
JMJ: For the first time in my life, even for Oxygène for instance or any of my albums, I have some favorite tracks. Because I worked with so many different people -- I'm not saying this for political reasons, I will tell you, "Yes, I prefer this track over others," but it's very difficult and it depends on the moment. Sometimes I say, "Oh yeah, I really like this one," and sometimes I say, "There are no secondary tracks in this project." Because of the way I approached the concept and the production of it. I was a bit scared and worried that we could end with a patchwork, a kind of puzzle with no continuity but I'm really pleased because it's my album after all and there is a unity to it. Uniting Lang Lang with Tangerine Dream and Air and Gesaffelstein and Boys Noize is kind of a challenge, but it works because we all have something in common, as we said before, and also because they gave so much into the track that suddenly, it's very difficult for me to say, "I prefer the Vince Clarke track" or the M83 track or the track we did with Pete Townshend because otherwise it shouldn't be in the album.
MR: Was there anything new you learned from the experience or was there anyone you realized something about from their contribution and how they interacted with your music?
JMJ: It was a constant learning process. The fact of sharing our little secrets worked both ways. I think they probably learned from me but I learned a lot from them. For instance with Moby I was fascinated by the way he approached the composition process by taking sections of a song and then filling this section before moving onto the next one and so on and so forth when I have a more global vision where I start one track from A to Z and then I add layer by layer every track. I learned his process and how it gives a very specific Moby style. It's very interesting to see what makes the style of somebody is coming from their very precise technical tricks and their approach to composition. It's not always the color of their voice or the color of an instrument, it's more something which is linked to how you structure a piece of music and how you structure the drums vis a vis the bass and pudding the pads up. I learned a lot on that. With M83 for instance I've been really fascinated by the fact that he considers his vocal part of the orchestration. He's not considering himself as a singer but more as a musician using his voice as an instrument and he's processing his voice in a very special way that creates his instant style.
MR: What about you personally? Did you discover anything about yourself that you hadn't seen on any other project?
JMJ: Yes. The feeling of being part of a band. I always worked on my own, so working with people like Air I really had the feeling of being part of a band. This kind of sharing process for me was something totally new. I learned a lot by this kind of process, like when you are playing together at the same time, not being responsible for the whole thing, but being part of the whole thing is something which could be a relief or a nightmare depending on the day or the night.
MR: Do you have any favorite keyboards or sounds that you used on this project? Maybe some new technology that you took for a spin?
JMJ: I must say that I started this project four years ago with lots of analogue instruments and as I went on and progressed more I used lots of plugins. The Native Instruments plugins are very interesting. At last plugins and virtual instruments are not copying analogue instruments anymore, they're really bringing something new in sound processing. I really like that. A very interesting analogue instrument I repurchased during the recording sessions was a Swarmatron. It looks like something coming from Doctor Who's time, or the early Star Trek. It was used by Trent Reznor for the Social Network soundtrack, it's got a very strange drone effect. Also in days when we are constantly working with digits and digital equipment it's very funny that for the first time young developers and creators of instruments are starting to do synthesizers with bulbs and valves, which didn't even exist when I started, because it was a time of transistors. The first synthesizers were mainly made with transistors and resistance. The valves give a vintage/new sound of the twenty first century. Like the movie Brazil in a recording studio.
MR: Because you've worked with so many young artists who were inspired by you over the years I think it's fair to ask what advice do you have for new artists?
JMJ: Everything is going so fast in terms of technology. People are creating plugins after plugins and new tools and new toys and new instruments every ten minutes almost. By the end of the day probably lots of them will be old fashioned. My advice would be instead of falling into the trap of zapping constantly from one tool to another, one toy to another, one plugin to another thinking that the solution of your music is hidden in the technology it would be much wiser to focus on one instrument, to focus on one plugin for six months and be stuck to it and try to express what you have inside rather than expecting to get your ideas from outside. I think that would be the best advice. In days where technology is making you believe that you have no limitations -- it's a dream, having no limitations. This is a timeless comment: We know that for everything, limits and limitations are the key. When I started I had limitations because I had one or two synths. These days you can have one thousand in your laptop, which is a luxury, but a danger. Now you have to create your own limitations, which is quite exciting as an exercise. You have to say, "Okay, for this project I'm going to use only five plugins, and I'm going to explore doing a project with this only." In my opinion that would be a big help for young artists to express themselves.
Transcribed by Galen Hawthorne
******************************
PATRICK BREEN'S "EASY FEELING" EXCLUSIVE
According to Patrick Breen's peeps...
"More Than Magic, the new EP from singer-songwriter Patrick Breen will be released on November 13, 2015. The 6-song EP is his first official release after working on several different projects and doing everything from session work to engineering and music production. According to Patrick, this debut is 'an EP about new beginnings.' He goes on, 'Life is ever-changing. People will come and go, situations will play out differently than you expected, but in every change lies the start of something new. We live in a world of perceived 'overnight success' that has made kids believe reality is as fanciful as their bedtime stories. If I've learned one thing so far, it's that it takes a little more than magic to get you through.'"
****************************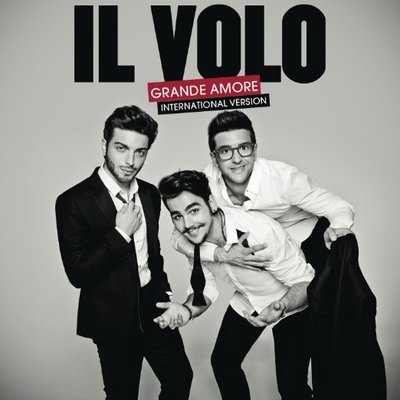 A Conversation with Il Volo's Gianluca Ginoble
Mike Ragogna: Hello Gianluca!
Gianluca Ginoble: Ciao, Mike. I see your last name is Ragogna, it's Italian, no?
GG: We have something in common.
MR: Yes, but you've got a new album coming out -- you lucky guy, you -- titled Grande Amore. Can you tell us about the project?
GG: Well, we're finally back with a new album with new songs, not only covers. Our first album, which came out in 2011 had a lot of covers, "O Sole Mio," "Il Mondo," "Un Amore Cosi Grande," classical Italian songs. Finally we have our repertoire. With "Grande Amore" we won the most important music festival in Italy, Sanremo. We had a big success in our country and then we represented our country at the Eurovision Song Contest. I think it's a perfect song because it's very strong, very powerful and it talks about love. It's a mix between pop rock music but with classical voices.
MR: How has your recording process evolved since 2010? How have you grown as a group?
GG: A lot of things changed. We've grown up now. I can say that we sing better. Our voices are changing more and more each year, we feel very comfortable. Maybe you can hear it when you listen to our new album.
MR: What are the dynamics between the group members? Are you guys close?
GG: We are all friends, we met on a talent show probably six years ago when they decided to put our voices together. But now we are like three brothers, we are best friends. We spend all our time together.
MR: These days, how do you come up with vocal arrangements?
GG: This production in particular has three producers, Celso Valli, producer of so many artists like Bocelli and Laura Pausini, then Emilio Estefan you probably know and then Cheche Alara for the Spanish version. Three versions came out and they're at the top twenty of the Billboard classical chart right now. We are number one right now with our new album Grande Amore -- International Version. We decided to put many songs like "Delilah," "Caruso," and even Spanish songs like "No Hace Falta" for the Spanish market. We recorded a version with all the Italian songs in Spanish. It varies, there's so many producers, so many different songs. There are acoustic songs like "The Best Day Of My Life" and then classical songs like "Volare" but with a very samba arrangement so you can dance. Very Brazil.
MR: How are you able to balance the combination of Italian and Latin material?
GG: Of course, our music is Italian, it's very Italian. We sing all of the Italian songs in Spanish for the Spanish market, but in our new album you can hear "Delilah," "Volare," "Caruso," and "Grande Amore" and other songs. We do it just because we love singing in English and in Spanish. We had nominations for the Latin Grammy's and we were on the Latin Billboard, because we really like singing Spanish. We did a tour with orchestration. Every time we come back into the United States we are happy. Right now we finally have our repertoire and want to bring our music, Grande Amore all around the world. Our song. Not just covers.
MR: And you're becoming more popular. What do you think people are liking most about Il Volo?
GG: A lot of artists like Josh Groban and Adrea Bocelli sing this kind of music, operatic pop, but they are adults. This is the first time that three young men like us have sung this kind of music. It's something unique, something unusual. That's probably why people love our music and what we do, because we do it in a fresh way, because we are young. There are a lot of pop groups like One Direction who are our age, but we sing something different. This is the thing that makes us unique.
MR: In 2012, you backed up Barbra Streisand in Madison Square Garden, but you've also had large venues by yourselves. How is the group evolving as you're becoming more world famous?
GG: Well that's the dream come true. I was born in a little village in Italy and I never meant to be a famous singer known in the United States. It's a dream come true. When we learned that we had a chance to sing with a legend, Barbra Streisand, I still can't believe it. We really hope to do this forever. We are really blessed. We love what we do and we want to be singers forever.
MR: Which do you prefer, working in the studio or performing live?
GG: We love performing live. We did four PBS specials and the last one we recorded in Pompeii at an ancient theatre. It was a great success. We love performing live, because we always sing live. That's the most important thing. A singer must sing live. If you are a singer, you have to sing live. We love singing live. When people sing along, it's beautiful. I will never forget, at the Radio City Music Hall two years ago, a lady came with her daughter and her grand daughter and she told us, "Guys, congratulations. You got three generations." To me that is something amazing. In our concert you can see different people of all ages.
MR: So you might say it's a grande amore between you and the fans.
MR: Does the group have a couple of personal favorite songs? Ones you love to sing live.
GG: Yeah, I have three favorites. Of course "Grande Amore," I love "Volare," the way we made it something new, not so classical but a samba arrangement, and I love "Eternally." It's beautiful, so classy, so elegant, I love it.
MR: Were there any songs you wanted to put on this album but couldn't get to?
GG: No. We spent over a year working on this album and we are happy with that. We put all the songs we wanted to put on this album, so we are happy with this. We are very proud. I think this is the best album that we've recorded.
MR: Was it challenging to work with new producers?
GG: Well, our first producers were Tony Renis and Humberto Gatica and they work with so many artists right now, like David Foster and Andrea Bocelli, but we decided to change to make it more modern, but who knows. We are happy now.
MR: Every producer has a different production style in the studio, so I was wondering if moving between three on one album was difficult. But it seems like it went smoothly for the group, right?
GG: Yes, but maybe right now we would not change it. We are happy with that, I think. They all did a great job.
MR: What advice do you have for new artists?
GG: Believe in what you do. If you have a talent or a passion just follow it. This advice goes also to the parents because they have to believe in their kids.
MR: Were your parents very supportive?
GG: Yeah, they always told me, "If you are happy, we are happy." Do what makes you happy.
MR: Is there any advice you would give to Gianluca when he first started out?
GG: I don't know. Everything happened so fast. I'm thinking about my life right now and how much it has changed and I'm happy. It's unbelievable sometimes when I think about it. Ten years ago I was playing soccer in the square with my friends and I'm in Los Angeles right now.
MR: I wish I could say it in Italian, but it seems like right now, Il Volo has a grande amore for life.
GG: Life is beautiful. "La vita bella." That's another beautiful song from the Roberto Benigni movie.
MR: What does the future bring? What would you like to do?
GG: Always stay together for sure. I told you before, we want to be singers forever. For sure record new albums, new projects, who knows, but opera maybe.
MR: Is there any theme you would like to do a whole album of?
GG: We haven't done any arias because we are young and we need to study. But who knows, maybe something like Three Tenors, because we are three. Who knows? it's going to be a surprise.
Transcribed by Galen Hawthorne
******************************
THE BATTLEFIELD'S "INTO THE SMOKE & MAZE" EXCLUSIVE
According to Jenny Weaver...

The song was written on the road from Marin County to Los Angeles in a moment of great angst and confusion. It felt wrong to leave nature and enter the haze of Los Angeles. The song is about feeling lost and emotionally bankrupt. It's about questioning where you're going, facing your challenges -- and yourself -- then moving forward.

No matter where you live, we believe anyone can relate to life/time passing by far too quickly when in pursuit of your dreams. Nowhere is that feeling more magnified than in a chaotic city of transplant dreamers such as Los Angeles. With the aid of our talented director Juan Monsalvez, we sought to create 3 characters whose emotional journeys we could relate to personally given our often complicated relationship with the place we call home and the people who share that space.
******************************
TED DROZDOWSKI'S SCISSORMEN'S "R.L. BURNSIDE (SLEIGHT RETURN)" EXCLUSIVE
According to Ted Drozdowski...
"R.L. Burnside meant a lot to me. He was a warm-hearted man and a great singer and guitarist and, I think, the last true giant of rural Mississippi electric blues. The idea that he took me under his wing as a friend and really pushed me into playing music with a Mississippi hill country base still stuns me, 22 years later. It was a kindness and a gift I can never repay, and I miss him every day.
"This song is a true story about a night he spent at my wife's and my home in Boston years ago, when he was up for a few nights playing the first House of Blues. After dinner, I asked him what he wanted to do, and he said he wanted to see a movie. What he picked was Check and Double Check from 1930 starring Amos 'n' Andy, a couple white actors in blackface. I thought we were in for a pretty uncomfortable viewing until he busted out laughing at the first joke and chuckled his way through the whole movie.

"I asked him about it after the movie ended, and he said he loved Amos 'n' Andy as a boy, and he and his friends would bicycle all the way from Holly Springs, Mississippi, to Memphis -- about 50 miles -- to see Amos 'n' Andy movies. And when they'd see headlights on the road at night, they'd throw their bikes into the bushes and hide because they were afraid of nightriders.

"So the song's a tribute to R.L. -- the Mississippi roots are in the one-chord foundation and pentatonic solos, except maybe the backwards one -- and a reminder of how race can enter our conversations and experiences in unexpected ways. The montage includes mostly unseen
photos of R.L. and some scenery from near where he lived in North Mississippi."
Calling all HuffPost superfans!
Sign up for membership to become a founding member and help shape HuffPost's next chapter