Growing up just a short drive from San Francisco inspired Dan Griffith's strong appreciation for diversity. Now those influences — from the Bay Area's broad ethnic and social spectrum to its eclectic music scene — have helped shape the producer known as Gryffin into one of electronica's hottest new tastemakers.
"I admire working with different cultures and backgrounds," Gryffin told Party Foul Radio with Pollo & Pearl, "They bring something different to the table I might not bring on my own."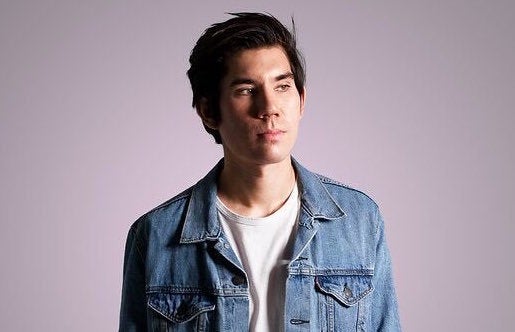 Since launching his professional career in 2014 — initially through remixes for major pop artists — the majority of Gryffin's work has centered around foreign-based acts. He gave new life to "Talking Body" by Swedish singer Tove Lo and reworked "Desire" by British band Years & Years.
Finally in 2016, the multi-instrumentalist opted to stake his claim as a solo artist. Gryffin's debut "Heading Home," a No. 1 single on the Spotify Viral 50 Chart, showcased vocals by Australian singer Josef Salvat. The trend continued with sophomore release "Whole Heart," a Top 20 hit on Billboard's "Dance Club Play" chart featuring Britain's BiPolar Sunshine.
"There's definitely a different vibe that they bring to the table," said the producer when asked about his overwhelming affinity for international collaborations, a pattern even he had never noticed.
"I guess there is just something that stands out to me from them artistically that makes me want to work with them," Gryffin told Podomatic's No. 1 LGBTQ Podcast. "Maybe it is because they are from different cultures and backgrounds, and I find the difference inspiring."
Working with others from around the world contributes to each recording being "special" and having "a unique quality," Gryffin said. According to the producer, the musical approach of global artists varies significantly from what is common practice at home.
"Even their recording process — they don't want auto tune on their vocals, because they want to keep it more raw and organic," he shared. "They push back on certain things...things creatively that are just so different than the U.S."
LISTEN: Gryffin Feat. Sinead Harnett "Love in Ruins"
Gryffin's appreciation for the value of artistic differences and individual life experiences, and how those shape music, extends beyond ethnicity and nationality though. Early life in the Bay Area exposed him to a spectrum of sexual orientations and identities as well, he said.
"I've always been open to and accepting of that," Gryffin said of the LGBTQ influences the Bay Area provided. "That's a part of why I am so grateful your community has accepted me."
"I've made a lot of music, actually, which features artists who are publicly gay — like Troye Sivan and Oly Alexander of Years & Years," he continued. "Working with them has been an awesome experience for me. It really opened the door for my music to be heard by the community."
Gryffin, who is heterosexual, commends Sivan and Alexander for their authenticity. Calling it "awesome for an artist" to be honest about sexual identity, he is "in full support" of both.
"First of all, he is being true to himself and his own artistic and personal integrity, which is huge," said Gryffin specifically of Sivan, whose hit single "Youth" he remixed to great acclaim in 2016.
"I think he is giving people within the community confidence as well, to be like 'This is who I am,'" he continued. "That's a beautiful thing. I'm all about Troye doing that, and Oly does that as well."
LISTEN: Gryffin Discusses Troye Sivan, Oly Alexander, Touring
Gryffin achieved arguably his greatest success to date earlier this year with "Feel Good." Featuring fellow Bay Area-raised DJ and producer Illenium and Grammy-winning vocalist Daya — the first two American-based collaborators of his solo career — the hit returned Gryffin to the US Dance Charts Top 20.
Gryffin first became "a fan" of Harnett after one of her guest appearances on tracks by Disclosure, the electronic outfit whose global smash "Latch" helped popularize Sam Smith. Around the time of "Heading Home," he says, they began work on the new single. Unfortunately, it was placed on a back burner until recently.
"It's funny with music, because sometimes it takes forever for a song to come out — for so many reasons," Gryffin said. "Whether it's the label or the other artist you're working with has their own project, things get delayed so often."
After nearly 18 months on the shelf, though, Gryffin still felt an attachment to the song and decided to release it. International support for "Love in Ruins" continues to grow, and an extensive new package of remixes — plus his tour — is sure to only build interest.
"It emphasizes making quality records that last, because you ultimately never know when it's going to come out," Gryffin said of the track sounding as fresh now as when it was first recorded.
"Trends in music change so much," he concluded, "But [my goal is] to fundamentally have a good record that's going to resonate and last, no matter what the time you put it out."
For More Info, Visit Gryffin's Site.
Calling all HuffPost superfans!
Sign up for membership to become a founding member and help shape HuffPost's next chapter