Chocolate-Dipped Candied Orange Peel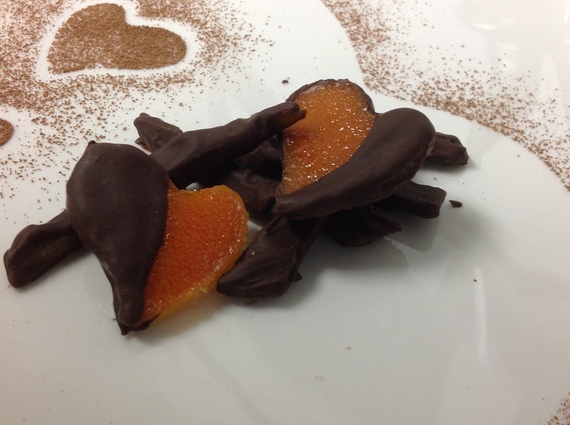 3 large oranges
1 big glass of sugar
1 1/2 big glasses of water
200 g./7 oz dark chocolate
1 tablespoon olive oil
Directions
Wash the oranges, clean but keep their skin. Cut peel sections lengthwise into quarter-inch wide strips, as evenly as possible or into various shapes (hearts/flowers etc) by using small form-cutters.
Place the peels in a saucepan with 1 cup water and boil them for about 10 minutes (it's the first boiling and it really helps in drawing out the bitterness of the peels).
Remove the peels and discard the water. Mix two cups of sugar with two cups of water in a medium saucepan. Stir. Bring to a boil and add peel. Reduce heat until the mixture is just simmering. Simmer for 30-40 minutes.
Let peels in the syrup for 1-2 hours and then pull them out using a fork. Leave them on a paper towel or on a rack to drip dry (put something under the rack to catch the drips. Allow them to dry completely for 4-5 hours or overnight.
Melt chocolate in a double boiler, add a tablespoon of olive oil and with the help of a toothpick dip orange peel pieces ( hearts, sticks etc ) one by one into melted chocolate. Place them on a baking sheet or foil and let them cool. Put for half an hour in the refrigerator to freeze the chocolate and then chocolate-dipped orange peels are ready to peel off the baking paper / foil.
Tips
If your oranges have a thick skin with lots of pith, you can scrape some of the extra out to reduce the chances of getting peels that are too bitter. No need to do this step if your peels are thinner or more delicate.
If you don't want the chocolate, you can just roll the peels in powdered or granulated sugar instead.
You could give these away by themselves as a gift, or chop them up later and use them in biscotti, scones, or biscuits.