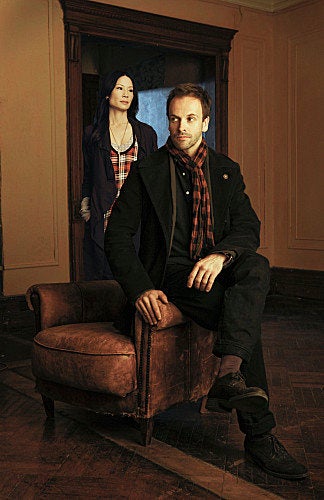 Sherlock Holmes is everywhere these days -- on the hit BBC series, in huge Hollywood blockbuster films and, as "Elementary" executive producer Robert Doherty pointed out, an inspiration all over TV: "I see his fingerprints on so many shows." But CBS' new version isn't like any Sherlock we've ever seen.
Set in modern-day New York City, "Elementary's" Sherlock (Jonny Lee Miller) is a tatted-up recovering alcoholic ("Some of my choices in the '90s have made for some time-consuming make-up calls," Miller said of his tattoos. "But not here."); Holmes, fresh out of rehab, is saddled with a sober partner named Watson, who just so happens to be a woman (hi, Lucy Liu!).
At Sunday's CBS Television Critics Association panel, Miller and Liu were joined by executive producers Doherty, Carl Beverly and Sarah Timberman to tell us more about the new dynamic they're exploring here, and how they'll incorporate the stories' classic themes and characters -- including big bad Moriarty.
"Man, woman -- the friendship is core, the partnership," said Miller. "They become colleagues and partners, and there's also the other reason they have to be together that we have, the sober companionship."
But are they setting up this classic duo to now have a will-they/won't-they sexual tension? Don't count on it. "People are going to wonder, but wondering and asking questions is something you want your audience to do," Miller said.
"It's a very fresh and wonderful take on who Watson is," Liu said, on why this part appealed to her. But when asked if being not just a woman, but an Asian-American woman playing Watson would come into play, Liu was all laughs: "I don't think I'm going to be doing any karate moves on him anytime soon," she said, before shouting "judo chop!," complete with hand motions.
Liu's Watson isn't the comic relief or the action-hero type -- at least not at first -- but she'll have to hone her skills eventually to help Holmes face off with his ultimate nemesis.
"There are a few dominoes to knock over before we ultimately get to him," Doherty said of Dr. James Moriarty. "But because I want everyone to be surprised, it's hard to give too many clues or descriptive terminology when it comes to Moriarty."
"Elementary" premieres Thurs., Sept. 27, 10 p.m. ET on CBS.
and all of CBS' new shows here.
Check out more info and watch previews of CBS's new 2012-2013 shows here:
PHOTO GALLERY
CBS 2012 Fall TV Trailers
Calling all HuffPost superfans!
Sign up for membership to become a founding member and help shape HuffPost's next chapter
BEFORE YOU GO