LA ArtCore, February 2014
I selected Andy Moses and Ned Evans to show with me for a few reasons. Andy's shaped canvases, shimmering compositions and his unique processes for applying paint collude to create rhythm and motion using the laws of fluid dynamics. Ned's directional, repeating geometry, elaborated detail, and selective color play generates lively, paradoxical pictorial spaces. And my own uses of the grid motif, striking color fields, and black and white patterns is equally, along with my long-time friends (and fellow ocean and surf aficionados), involved in charting the continuum between abstraction and the physical world. -- Steve Robert Johns, Elements artist and curator
The word "element" brings to mind water of course but also earth, fire, and air -- all of which exist in abundant and myriad forms in this grouping. It's also worth noting that the Chinese system counts five elements, not just the four favored by European tradition -- and those are: fire, earth, water, metal and wood. The idea of reducing the natural world to fundamental essences, and translating those into languages of pictorial abstraction is one that is primary in what these three artists do -- using abstraction not to take things apart, but rather to build things up again, into something new, and something real.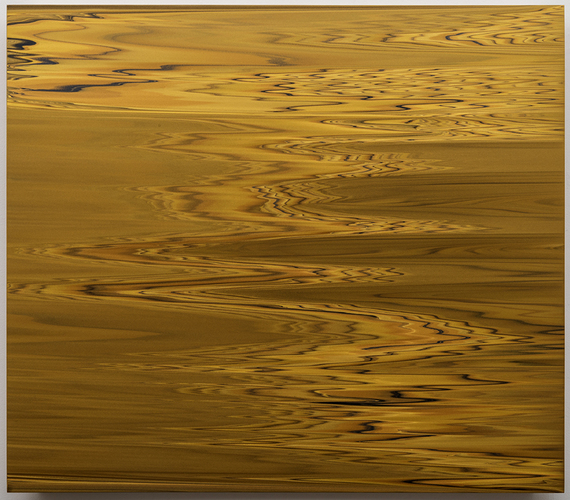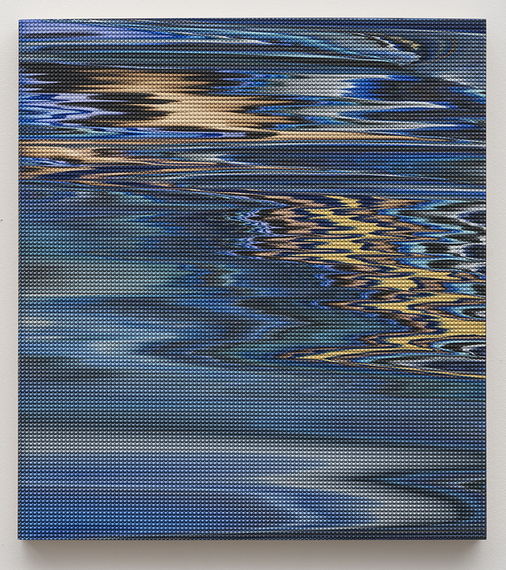 Along with his trademark shaped canvas works, Andy Moses will show new works on plexiglas which both elaborate and complicate the relationship of his art to the natural world. Furthering his interest in the ongoing discourse between perception and technology, his construction of patterns and optical interference in these works reads like a futuristic pointillism. Recasting nature as a manmade construct, by interrupting the naturalism of these artificial images, these works remind viewers that seeing is an active undertaking. This kind of primacy in treating the optical enterprise as a physical event is a core legacy of light and space beyond of matters of aesthetic style. Moses is grounded in art historical approaches to abstraction -- as indeed are both Johns and Evans -- but he is increasingly engaged with the degree to which technology is a part of how and what we see today.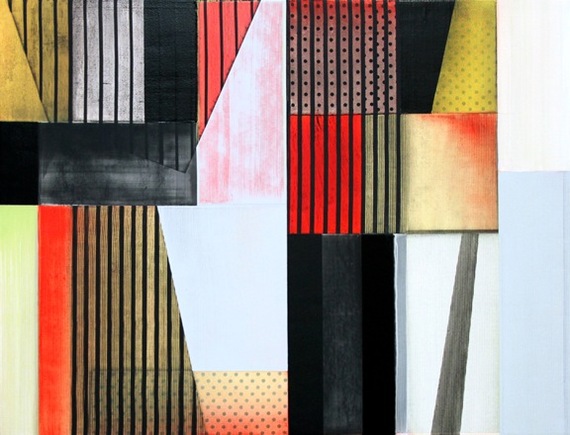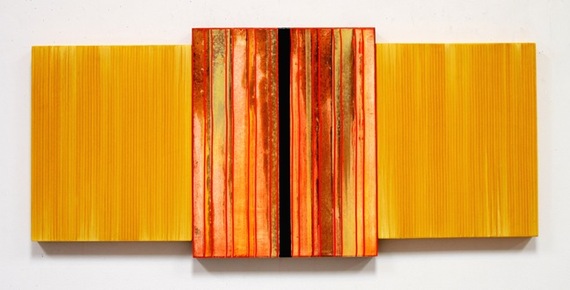 Ned Evans offers new work demonstrating a heightened painterliness that nevertheless exists inside his taste for architecturally regimented abstraction. Where Moses is expressive but brushless, Evans is all about the hand of the artist, and the tension between gesture and geometry. Evidence of deep shading, saturated palettes and diffuse luminosity lend an organic and observational quality to the images, with an hombre that acts like natural light even though it's inhabiting a fictional construct of space. More formalist than Moses, less obsessively crisp than Johns, Evans' recombinant style in a way splits the difference; he synthesizes in both senses of the word -- as making and as merging. All three avoid taking the language of abstract painting for granted, seeking instead to expand the parameters of what abstract painting can be.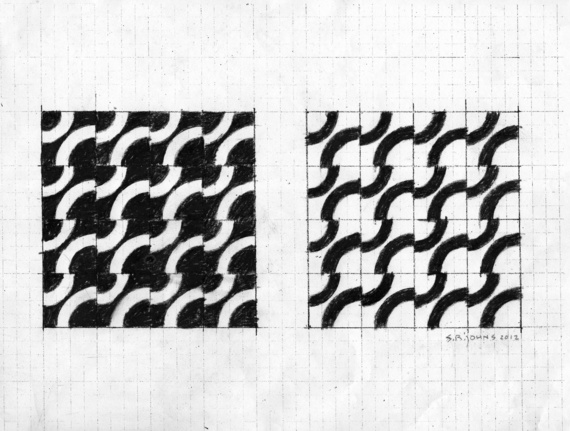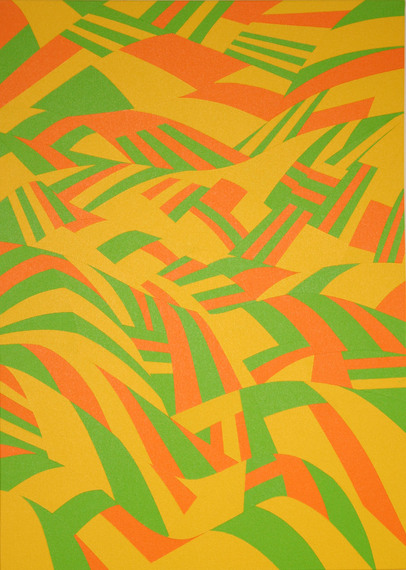 Stephen Robert Johns, who also organized the show, offers paintings and topographical drawings demonstrating a relationship to nature that is both more direct and more reductive than those of his colleagues. Johns comes out of the Hard Edge school, yet he is also enthusiastic and explicit about being inspired by images and experiences of nature -- in particular the rhythms of the ocean waters, and the patterns suggested by aerial views of the landscape. Both his tightly finished black and white paintings as well as the intensely colorful landscape schematics exist at the intersection of world and idea, and in their own way articulate a relationship to the physical results of technology such as air travel, which among other things, has literally given us a new perspective on the world.
Opening Reception: Sunday, February 9th from 3-5pm
Exhibition runs through February 27, 2014
Gallery Hours: Wednesday - Sunday, 12-5pm
ARTCORE at the Union Center for the Arts in located in Little Tokyo one block west of the Geffen Contemporary MOCA. Parking is on Judge John Aiso Street directly adjacent to the Gallery.
Related
Popular in the Community