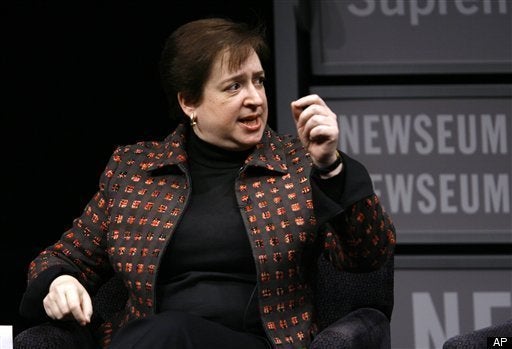 The aggressive pushback by the White House against speculation that potential Supreme Court nominee Elena Kagan is a lesbian -- she's not, the administration says -- has spurred talk that the Solicitor General currently tops the president's short list for the bench. The notion was posited early on Friday by the Plum Line's Greg Sargent. And there is other evidence to suggest it might be true.
On Wednesday, the Huffington Post learned, former White House Communications Director Anita Dunn, who is leading outreach efforts around the upcoming court vacancy, reached out to progressive allies to dismiss a critical article written about Kagan. The article, authored by Salon.com's Glenn Greenwald, attacked the former Harvard Law School dean for her expansive interpretation of executive powers. Dunn's response, however, focused on a much narrower Greenwald critique -- that Kagan didn't have sufficient experience and lacked an extensive written record, having never been a sitting judge.
The outreach left the impression that the White House has been aggressive in defending Kagan from attack. That, in turn, suggests that they have plans to tap her to replace Justice John Paul Stevens on the court.
But there are limits to such speculation. While there may be something to read in the strong defense of Kagan, the truth of the matter is that the administration right now is serving as a quasi-public relations arm for all of the potential Supreme Court nominees. The White House confirmed on Friday that it was offering pushback for everyone on the president's short list; nipping critical stories in the bud and helping reporters fill out their profiles.
It just so happens, the administration argues, that Kagan has drawn more attention than the other potential SCOTUS picks -- requiring the White House to be more aggressive in its defense, including publicly denying the gay rumors on Thursday.

Popular in the Community