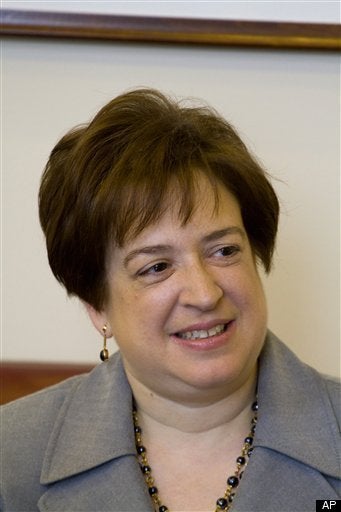 Following an extensive review of a written record that contains relatively little information about Elena Kagan's personal legal positions, one of the leading abortion-rights advocacy groups seems genuinely satisfied with the Supreme Court nominee.
A Democratic source sent HuffPost the talking points being distributed by NARAL Pro-Choice America and used in turn by progressive groups tasked with defending Kagan's record. The bullets cast Obama's choice for the court as decidedly within the mainstream of public opinion on abortion -- which, for NARAL, is a positive. Notably, they cast Kagan as heir to the views held by Republican nominee and former Justice Sandra Day O'Connor.
Elena Kagan's writings indicate a respect for women's freedom and privacy as defined by Roe v. Wade--and the writings are consistent with the pro-choice position adopted by the Clinton White House.

These writings show a mainstream view that the majority of Americans shares. When it comes to protecting women's health, Kagan is in the same company as the doctors from the American College of Obstetricians and Gynecologists (ACOG), Justice Sandra Day O'Connor, and Justice John Paul Stevens.

In fact, the majority of Supreme Court justices agreed with Kagan until George W. Bush reconfigured the court with John Roberts and Samuel Alito.

We will work to ensure that she receives a fair hearing during which senators will ask questions about these issues. This includes setting the record straight when anti-choice senators and their allies start attacking her writings.
Ted Miller, a spokesman for NARAL, confirmed the authenticity of the talking points, though he said they should not be interpreted as an endorsement. That would, ostensibly, come after Kagan goes through her hearings. Still, Miller seemed generally pleased with the written record so far, and said eight staff members for the group looked through more than 40,000 documents released last week.
"The writings are consistent with the pro-choice position of the Clinton White House and even Sandra Day O'Connor," Miller said.
Among the documents released last Friday included a 1996 memo that showed Kagan arguing that a complete ban on partial-birth abortion would be unconstitutional unless it included exemptions for cases where there would be "serious adverse health consequences" for the mother. In a similar 1997 memo, Kagan urged President Clinton to sign legislation that would prohibit abortions late in pregnancy when a fetus might be viable so long as those exemptions were in place.