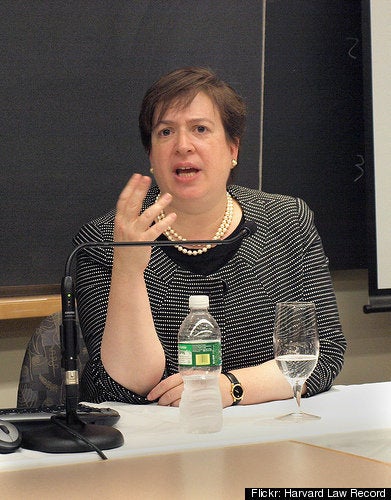 A classic maneuver used by every administration in contentious judicial confirmation fights is to find high-profile endorsers from the other side of the ideological aisle. During the early years of the Bush administration, when several appointees ran into opposition from Senate Democrats, Elena Kagan was one of those endorsers.
The current Solicitor General and leading choice for the Supreme Court signed her name to letters of recommendation for two controversial Bush picks: Peter Keisler, the co-founder of the conservative Federalist Society whose various nominations were blocked in the Senate; and Michael McConnell, a conservative law professor who was nominated and confirmed to the 10th Circuit Court of Appeals.
In offering her support, Kagan explained that she did not agree with every aspect of the respective nominee's jurisprudence, merely the character and integrity they brought to the bench. Several prominent progressive figures and many academics made similar assessments.
But the letters do provide a window into the tight-knit legal community from which Kagan came -- in which politics is passé, and members are supportive of one another regardless of ideology. Indeed, during various confirmation battles of her own, Kagan was reciprocated with letters of endorsement and support from high-profiled legal conservatives like Bush appointees Miguel Estrada and Jack Goldsmith.
Perhaps more important to the current climate, the letters provide clues as to what kind of Justice Kagan would be: more consensus builder than ideologue; someone who, as one well-seasoned court observer put it, would bridge sides and likely end up being "the most important vote."
"My impression of her is she has found a path -- in her administrative duties and at Harvard Law School -- towards honest brokerage," said Tom Gerety, formerly the president of Amherst College and executive director of the Brennan Center for Justice at New York University. "She sees herself as someone who really has to rise above particular points of view in order to appraise craftsmanship, intelligence and honesty. It is a good set of qualities for the court. It happens to enormously enhance the likelihood that she will remain a strong candidate to be nominated."
As Gerety notes, Kagan structured this type of environment at Harvard Law, where she ascended to the post of dean despite a slim written record and then proceeded to remove the school from partisan paralysis.
But not everyone views her tenure there -- or her endorsement of these Bush picks -- as a virtue. While the letters were passed to the Huffington Post by a source who is agnostic on her potential candidacy (merely interested in making information public) they may give pause to Democrats yearning for a more forceful progressive to be nominated to the court. For some academics, meanwhile, they suggest a background that is antithetical to Obama's stated criteria.
"Her endorsements are one of those things that come from her living in [an elite academic] community," said Herman Schwartz, Professor of Law at American University. "I don't understand what the president means if he is interested in her and says he wants somebody who can understand the problems of ordinary people. That is just nonsense. This is someone who has lived a privileged life all her life."
(Schwartz, it should be noted, applied this criticism to another potential Obama nominee: Appellate Judge Merrick Garland. The Huffington Post was unable to track down endorsement letters that may have been signed by Garland and another potential court pick: Diane Wood.)
When Kagan signed the letters, she was not yet the Dean of Harvard Law School. She was, however, coming off a stint in the White House Counsel's office and was considered a rising legal star within Democratic circles.
Bush, meanwhile, had been in office for more than a year and was eager to make his mark on the judicial landscape. In the spring of 2001 he nominated Keisler for the U.S. Court of Appeals. The pick was opposed by some progressives who were troubled by his record on civil rights and environmental protections. On April 13, 2001, Kagan and ten other former high Court clerks wrote a letter (PDF) in support of his nomination.
"In those instances where we agreed to disagree with him, we felt confident that he had listened carefully and receptively to our arguments and views," the letter read. "Indeed, the respect Peter so consistently shows for opposing viewpoints is one reason that many of us have become his friends, as well as his professional colleagues."
The Senate ultimately rejected Keisler's appointment after the two Maryland Democrats, Paul Sarbanes and Barbara Mikulski, expressed opposition. After a stint in the Bush administration's Department of Justice he would be nominated in 2007 for the U.S. Court of Appeals for the District of Columbia. Though the pick was favorably editorialized by the Washington Post and cheered in some corners of legal academia, Keisler would be rejected again.
Michael McConnell was a less contentious choice. A University of Utah law professor at the time, he was nominated in the late summer of 2002 to the Court of Appeals. A staunch conservative, he faced tough hearings in the Democratic-controlled Judiciary Committee. The New York Times urged that the Senate reject his nomination, saying he was "no friend of civil liberties."
Kagan, in this case, wrote an individual letter (PDF)in support, saying: "There is no part of Michael that is activist or extremist. He is one of the most fair and scrupulous individuals I have ever encountered. I do not believe he ever would bend the law to get to a political result. I disagree with Michael on some important matters, as I am sure you and other members of the Judiciary Committee do. But I am confident that as a judge, he would handle each and every case, regardless of the legal issue at stake..."
Other respected legal figures would echo this sentiment, including many in the academic community. Professor Michael Dorf, then at Colombia Law School, attacked the New York Times editorial in a letter to the paper. Professor Laurence Tribe (a revered figure on the judicial left) urged for McConnell's confirmation. Ultimately, the Senate Judiciary Committee would confirm McConnell by voice vote -- with Sen. Dick Durbin (D-Ill.) the lone objector -- followed by passage through the entire Senate by unanimous consent.
For Kagan, the endorsements appear consistent with an informal policy in the world of legal academia to remove politics from judicial nomination proceedings (this, it should be noted, is less true when the nomination is to the Supreme Court). And, indeed, the current Solicitor General would benefit from the policy herself. McConnell, for one, urged Sen. Orrin Hatch (R-Utah) to support Kagan's nomination to the appellate bench during the end of the Clinton years. But with a new administration close to coming into power, Hatch refused to even schedule a hearing, effectively ending her chances.
Keisler, meanwhile, wrote a letter on Kagan's behalf during the Solicitor General nomination hearings in 2009, in which he complimented her "strong intellectual capabilities, thoughtful judgment, and... way of dealing respectfully with everybody."
Even Miguel Estrada, whose controversial 2001 nomination to the United States Court of Appeals resulted in a filibuster by Democrats, offered a cheerful endorsement of Kagan at the time.
"I have never met a lawyer who knows Elena and is not utterly impressed by her intellect, temperament, and maturity. Indeed, it would be difficult to do justice to her many accomplishments or to find many lawyers with comparable achievements," he wrote. "Having worked as an attorney in the Solicitor General's Office under Solicitors General of both parties, I am also confident that Elena possesses every talent needed to equal the very best among her predecessors."

Calling all HuffPost superfans!
Sign up for membership to become a founding member and help shape HuffPost's next chapter