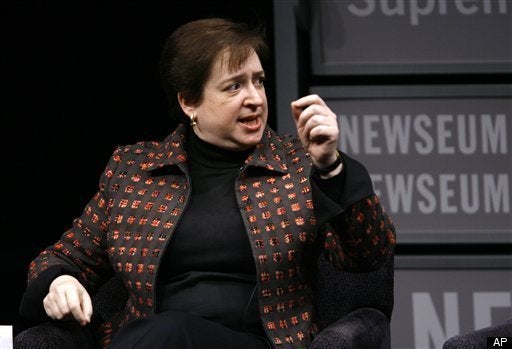 The Obama administration charged CBS News with being out of line Thursday for suggesting that possible Supreme Court nominee Elena Kagan is out of the closet. She isn't, according to a White House official, suggesting that a rumor campaign was being waged to trip up a potential Court candidacy.
Domenech later added an addendum stating, "I have to correct my text here to say that Kagan is apparently still closeted -- odd, because her female partner is rather well known in Harvard circles."
Then CBSNews.com added an editor's note confirming, "A White House spokesperson said that Domenech's reference to Ms. Kagan as gay is innaccurate."
CBS initially refused to pull the posting, prompting Anita Dunn, a former White House communications director who is working with the administration on the high court vacancy, to say: "The fact that they've chosen to become enablers of people posting lies on their site tells us where the journalistic standards of CBS are in 2010." She said the network was giving a platform to a blogger "with a history of plagiarism" who was "applying old stereotypes to single women with successful careers."
Domenech has since issued a public apology to Kagen "if she is offended at all by my repetition of a Harvard rumor in a speculative blog post."
The Post also points out that, "Most major news organizations have policies against 'outing' gays or reporting on the sex lives of public officials unless they are related to their public duties."
Popular in the Community