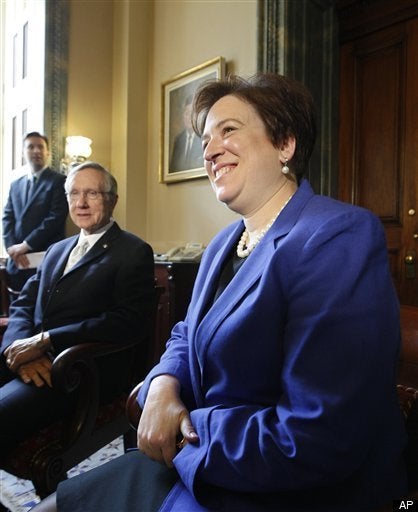 We've already learned that Elena Kagan, President Obama's nominee for the United States Supreme Court, is a remarkable woman with outstanding professional credentials. She's made history by becoming the first woman to be dean of Harvard Law School and the first woman to be solicitor general of the United States. What I find most surprising about her background, however, is something else altogether and it may be even more revealing about her character.
After the president introduced Ms. Kagan as his pick Monday, she stepped to the podium with prepared remarks. Surely it was a triumphant moment beyond any event in her life before. Imagine doing your job for a year and being tapped by your boss for one of the most celebrated and important positions you -- or anyone in this country -- could possibly have? It would be a moment of complete joy and celebration, right?
For Ms. Kagan, the occasion was tarnished because her mother and father weren't in the White House audience cheering her on. "If this day has just a touch of sadness in it for me," she said toward the end of her speech, "it is because my parents aren't here to share it."
I know that tinge of sadness. There have been so many milestones -- both big and small -- that would have been so much sweeter if I could have shared them with my parents. My mom and dad passed away years ago and neither of them got to see me as the mother of two children or the author of two books.
Not having a cheerleading squad is one of the most painful aspects of being parentless -- and for me, a parent without parents. In the survey I conducted for my forthcoming book Parentless Parents: How the Deaths of Our Mothers and Fathers Impact the Way We Parent Our Own Children, more than half of all respondents said their new parenthood experience was tarnished because they couldn't share it with their parents. In addition, nearly 60 percent stated they feel sad a lot or most of the time when their children hit certain milestones such as birthdays or high school graduations because their mothers and fathers can't celebrate alongside them.
President Obama also made mention of Ms Kagan's parents saying, "I think they would be tremendously proud of their daughter ..."
Think about President Obama's and Ms. Kagan's comments for a moment. Each only had a few moments to address the world and each paid tribute to Ms. Kagan's deceased parents. Was the president willing to publically honor her mother and father because he, too, was without his parents on Inauguration Day? Did he and Ms. Kagan talk about their common bond when they first met to discuss her nomination?
I think the decision to focus on her parents says a lot about Ms. Kagan and what she might bring to the Supreme Court. To me, it means she's a reflective human being. It means she values the past and how it impacts her present. And, if you dig just a little, you can find other clues to how parent-loss may have shaped her views on the law. This is from her confirmation hearing to become solicitor general:
"One of the things I would hope to bring to the job is not just book learning, not just the study that I've made of constitutional and public law, but of a kind of wisdom and judgment, a kind of understanding of how to separate the truly important from the spurious," Ms. Kagan said.
This is what losing a parent, or any loved one, teaches you. Being around death forces you to understand that not every challenge is a big deal. Some problems aren't worth your energy or attention.
The ability to discern good cases from the frivolous may ultimately serve her well on the Supreme Court.
Parentless Parents will be published by Hyperion and is a follow-up to her critically acclaimed book, Always Too Soon: Voices of Support for Those Who Have Lost Both Parents. Parentless Parents will explore how the way we parent is shaped by the loss of our own mothers and fathers; how marriages are impacted when one spouse is parentless and the other is not; and offer strategies for keeping the memory of our parents alive for our children.
In Always Too Soon, Ms. Gilbert (a producer at CNN in New York and mother of two children) interviewed celebrities and others about losing their parents. She spoke with, among others, Rosanne Cash, Geraldine Ferraro, Ice-T, Yogi Berra, Mariel Hemingway, and New York Times best-selling authors, Hope Edelman and Barbara Ehrenreich. Always Too Soon sparked the formation of the Parentless Parents organization, a national network of support groups for mothers and fathers who have lost their own parents. You can join the "Parentless Parents" community on Facebook and find out more about Allison by visiting her website at www.allisongilbert.com.

Popular in the Community