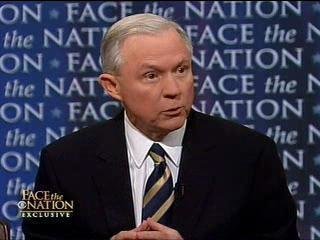 One day before Supreme Court nominee Elena Kagan is set to appear before the Senate Judiciary Committee, the committee's top Republican upped his critiques of the nomination and floated the possibility of a filibuster.
Appearing on CBS's "Face the Nation," Sen. Jeff Sessions (R-Ala.) said it was "conceivable" that a "filibuster might occur," should Kagan prove during the hearings to have extraordinary views.
Even if a filibuster doesn't materialize, however, the hearings won't be short of political dramatics. Sessions called Kagan the least experienced nominee "at least in the last 50 years" and declared that she had "serious deficiencies" that needed to be addressed.
"I think the first thing we need to decide is, is she committed to the rule of law even if she may not like the law?" he said. "Will she as a judge subordinate herself to the constitution and keep her political views at bay? And then secondly if things come out to indicate she's so far outside the mainstream, it's conceivable a filibuster might occur. The Senate rule that our Democrats led us to establish was that you shouldn't filibuster except in extraordinary circumstances. I think that's a legitimate rule. That will be what I would judge as to whether a filibuster is necessary."
Reflecting just how many charges the GOP is prepared to throw against the wall when it comes to making the Kagan hearings as uncomfortable as possible, Sessions insisted that the current solicitor general was, at once, decidedly liberal and a complete enigma (owing to her scant written record).
Reminded that he had once criticized the notion of using a filibuster when it was George W. Bush making the nominees, the Alabama Republican rationalized that the Senate now was in a different place -- Democrats, after all, had declared it ok to use procedural maneuvers to hold up judicial appointments.
"We just have to live with the world we are in," he said.

Calling all HuffPost superfans!
Sign up for membership to become a founding member and help shape HuffPost's next chapter