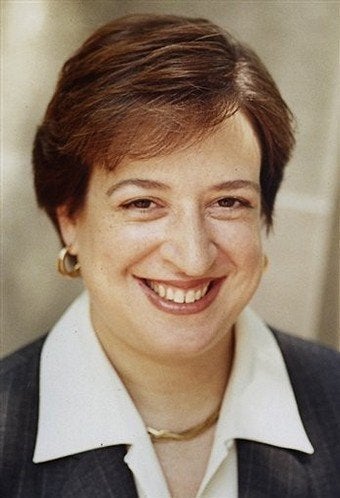 President-Elect Obama has announced his intention to nominate the dean of the Harvard Law School as the first female solicitor general, the government's top courtroom advocate. No woman has ever held the position, except in an acting role.
Kagan served in Bill Clinton's White House from 1995 to 1999, first as Associate Counsel to the President and then as Deputy Assistant to the President for Domestic Policy and Deputy Director of the Domestic Policy Council. Prior to that, Kagan clerked for U.S. Appeals Court Judge Abner Mikva and Supreme Court Justice Thurgood Marshall.
Kagan first came to Harvard Law School as a visiting professor in 1999 and became Professor of Law in 2001. She has taught administrative law, constitutional law, civil procedure, and seminars on issues involving the separation of powers. She was appointed dean of Harvard Law School in 2003.
Kagan's full resume and some of her publications (including a 2001 article titled "Presidential Administration") can be found here.
Kagan set to work early, making small but visible changes to improve the everyday lives of students. She started providing free coffee in classroom buildings, and free tampons in the women's bathrooms. On a lawn outside the student center, she added a beach volleyball court that doubled, during the long Cambridge winter, as a skating rink.

...

For her part, Kagan describes that early flurry of face lifts and new perks as an idea borrowed from her former boss, Bill Clinton: The faith that small, symbolic policies could help solve big problems. "When I got here I looked around for little things I could do: things that don't cost much money, don't take much time, that you don't have to have a faculty meeting to do," she said in an interview in her office.

"As it turns out," she said with a slight laugh, "you can buy more student happiness per dollar by giving people free coffee than anything else I've discovered."

On the broadest level, Kagan's governing philosophy seems to be one of persistent experimentation, of making the school more open to innovation and change. "Before, every possible change had to be weighed against hundreds of years of illustrious history. Now changes are weighed by asking whether it might make something better," said Elizabeth Warren, a bankruptcy law professor who chairs the school's admissions committee.
In a letter to law school community, Kagan wrote:
I am writing to all of you - the community of students, faculty, staff, and alumni of Harvard Law School - to let you know that today President-elect Barack Obama will announce his intention to nominate me to serve as Solicitor General of the United States. If confirmed by the Senate, I will resign the deanship of the Law School and take a leave of absence from the faculty.

I have accepted this nomination because it offers me the opportunity, working under the leadership of the President-elect and his nominee for Attorney General, Eric Holder, to help advance this nation's commitment to the rule of law at what I think is a critical time in our history. I am honored and grateful, awestruck and excited, to be asked to contribute to this most important endeavor. And perhaps, for me, it adds a special touch of sweetness to the occasion that the person making the nomination, in whose capacity for greatness I deeply believe, is himself a member of the group to which I am writing.

At the same time, I feel today real sadness - a sense of loss of what, if confirmed, I will be leaving that is every bit as strong as my sense of anticipation of what will be to come. Now isn't the time for me to attempt a grand wrapping-up or final farewell; I don't in any way want to presume the outcome of the Senate's consideration. For the present, I'll say only this: it has been both the joy and the privilege of my life to serve as dean of this most wondrous law school. I love it, and I love the extraordinary community of people - you - who make it up. I look forward to staying in close touch.

My warmest wishes for a happy and healthy new year.
Popular in the Community