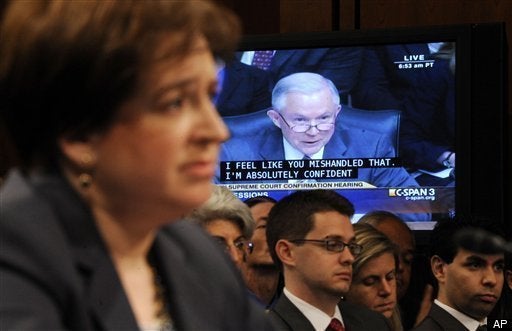 Scroll down for the latest updates from today's Supreme Court confirmation hearing. For a live-blog of today's hearing, click here. For live video and Twitter reaction, click here.
HuffPost Highlight Reel of Kagan Confirmation Hearing, Day 2
Here's our highlight reel of day 2 of Supreme Court nominee Elena Kagan's confirmation hearing, the first full day of questioning. Kagan answers questions on whether she considers herself a legal progressive, what she thinks of Gore V. Bush, and just exactly where she was last Christmas Day:
<1--2655--hh>1--2655--hh>
On Day 2 of Senate hearings, Supreme Court nominee Kagan insists she didn't block military
WASHINGTON (AP) -- Supreme Court nominee Elena Kagan maneuvered carefully through tough Republican questioning on military recruitment at Harvard Law School, gun owners' rights and free speech Tuesday, drawing strong praise from Senate Democrats who command the votes to confirm her.
In a long day of questioning at a hearing that stretched into the evening, Kagan came under fire from Sen. Jeff Sessions, the top Republican on the Senate Judiciary Committee, for her decision as dean of Harvard Law to bar recruiters from the school's career services office over the Pentagon's policy against openly gay soldiers. He said that amounted to "punishing" the military services, treating them in a "second-class way" and creating a hostile environment for the military on campus.
Sessions said he emerged from a heated back-and-forth with Kagan on the issue more "troubled" about her nomination than before.
Still, President Barack Obama's nominee soldiered through her second day of testimony on Capitol Hill apparently in good shape to win Senate approval - barring a major gaffe - in time to take her seat before the court opens a new term in October. If confirmed, Kagan, 50, would succeed retiring Justice John Paul Stevens.
Under questioning by Sessions, Kagan said she was trying to balance Harvard's nondiscrimination policy, which she believed "don't ask, don't tell" violated, with a federal law that required schools to give military recruiters equal access as a condition of eligibility for federal funds. She said she welcomed the military, and believed her policy of requiring recruiters to work through a student veterans group - first set by a predecessor - was a valid compromise.
"We were trying to make sure that military recruiters had full and complete access to our students, but we were also trying to protect our own antidiscrimination policy and to protect the students whom it is ... supposed to protect, which in this case were our gay and lesbian students," Kagan said.
Sessions rejected called her version of events "disconnected from reality" and accused Kagan of defying federal law because of her strong opposition to the military's treatment of homosexuals.
"I know what happened at Harvard. I know you were an outspoken leader against the military policy," Sessions said "I know you acted without legal authority to reverse Harvard's policy and deny those military equal access to campus until you were threatened by the United States government of loss of federal funds."
At least one Republican appeared to have a higher opinion of Kagan.
"Your stock really went up with me," Sen. Lindsey Graham, R-S.C., told Kagan after she praised Miguel Estrada, one of President George W. Bush's failed judicial nominees.
Democrats were already in her corner. Said Sen. Sheldon Whitehouse, D-R.I.: "I think that Elena Kagan has been thorough and substantive in her answers." He said she was "off to a great start - very candid, very thorough, well done."
Kagan spoke favorably of televising Supreme Court proceedings. "It would be a great thing for the court, and it would be a great thing for the American people," she said.
But the former law school dean, who once wrote a strongly worded article denouncing Supreme Court nominees for dodging questions at confirmation hearings, herself refused repeatedly to be pinned down on specific legal issues, her political views or even the passions that animate her to seek a place on the court.
Under persistent questioning by Sen. Charles Grassley, R-Iowa, she declined to say how she felt personally about the right to bear arms, but she did call recent Supreme Court rulings upholding gun rights "binding precedent." She also said the court's rulings mandate that in any law regulating abortion "the woman's life and the woman's health have to be protected." And she said a 5-4 decision this year that said corporations and unions are free to spend their own funds on political activity is "settled law."
But she was less forthcoming when asked whether she thought that that campaign finance case, which she argued for the Obama administration and lost, had been wrongly decided.
"I did believe we had a strong case to make. I tried to make it to the best of my ability," she told Sen. Orrin Hatch, R-Utah, who questioned her in detail about Citizens United v. Federal Election Commission. Foes of the spending limits have argued that they impinge on guarantees of free speech.
She also said none of her work arguing the government's cases before the Supreme Court - she was Obama's solicitor general until last month - should be interpreted as reflecting her own positions.
"I want to make a clear distinction between my views as an advocate and any views I might have as a judge," Kagan said.
Across hours of testimony before the committee, Kagan declined to weigh in most substantives questions posed to her, eluding GOP efforts to label her ideology as well as one Democrat's seemingly friendly bid to get her to open up about why she wants to be a justice.
"What motivates me is the opportunity to safeguard the rule of law," Kagan said under questioning by a visibly frustrated Sen. Herb Kohl of Wisconsin, who asked her about her passions. "I think I will take this one case at a time if I'm a judge. It would not be right for a judge to come in and say, 'I have a passion for this or that. ...' This isn't a job, I think, where somebody should come in with a substantive agenda."
Later, asked to talk about the justices she most admires, Kagan again dodged, saying it would be a "bad idea" to talk about those currently on the bench. "My oh my oh my," Kohl said, deprived again of an answer as the hearing room erupted in laughter.
Kagan did, however, express admiration for the late Justice Thurgood Marshall, the court's first African-American, whom Republicans have held up as a prime example of a judicial activist.
"I love Justice Marshall. He did an enormous amount for me," Kagan said of the man for whom she once clerked. "But if you confirm me to this position, you will get Justice Kagan. You won't get Justice Marshall, and that's an important thing."
Kohl also failed to persuade Kagan to say whether she agreed with Justice Antonin Scalia's view that the Constitution should be interpreted solely based on its text or with former Justice David Souter's contention that it should be viewed in terms of its words' "meaning for living people."
"I don't really think that this is an either-or choice," Kagan responded.
Asked by Sessions whether she considered herself "a progressive in the mold of" Obama or a "legal progressive," as one of his top aides has called her, Kagan said she'd rather choose her own labels, but declined to give herself one.
"I'm not quite sure how I would characterize my politics, but one thing I know is that my politics would be, must be, have to be separate from my judging," Kagan said.
Later, under more friendly questioning by Graham, Kagan called her views "generally progressive."
"I've been a Democrat all my life. I've worked for two Democratic presidents, and that's what my political views are," she told Graham.
Kagan stayed mostly calm throughout hours at a witness table, showing glimmers of humor but hardly ever veering off-script as she fielded questions on sometimes uncomfortable topics.
"You're doing well," Hatch assured her after her intense debate with Sessions on military recruitment. "Relax as much as you can."
Democrats praised Kagan, saying she was being candid and demonstrating why she'd be a good justice.
The hearings, said Sen. Chuck Schumer, D-N.Y., are "showing the American people that you are the kind of person many of us believe you to be - thoughtful and practical and moderate."
Kagan testifies she'll be her own person on bench
WASHINGTON (AP) -- Supreme Court nominee Elena Kagan says she admires Justice Thurgood Marshall but would think and act for herself if confirmed for the high court.
In an exchange Tuesday with Republican Sen. John Kyl of Arizona, Kagan was asked about an article she had written picking up Marshall's notion that arbiters of the law should do what's right and let the law catch up.
Kagan, a former law clerk for Marshall, said she believes the late justice's life was about "seeing the court take seriously claims that were not taken seriously anywhere else." But she also said, "If you confirm me to this position, you'll get Justice Kagan. You won't get Justice Marshall. And that's an important thing."
Kagan: Campaign finance ruling 'settled law'

WASHINGTON (AP) -- Supreme Court nominee Elena Kagan says a high court ruling that overturned a corporate campaign spending ban should not be disrupted, even though she previously indicated it was wrongly decided.
Kagan spoke Tuesday in response to questioning by Republican Sen. Orrin Hatch about the controversial Citizens United case decided in January. That case has been widely criticized by President Barack Obama and other Democrats as a sign of unwarranted activism by the Roberts court.
Kagan says she previously took the view that the spending ban was constitutional because, as solicitor general it was her job to defend the "statute as written." But she says she might take a different view as a judge and believes the ruling is now "settled law" and should not really be changed.
Republicans challenge Kagan on military at Harvard
WASHINGTON (AP) -- Challenged by Republicans, Supreme Court nominee Elena Kagan said Tuesday the Pentagon's recruiters had access to Harvard Law School students "every single day I was dean" and rejected GOP claims she maneuvered to thwart them.
"I'm just a little taken aback by the tone of your remarks because it is unconnected to reality," retorted Sen. Jeff Sessions of Alabama, first Republican on the Senate Judiciary Committee to question President Barack Obama's choice for the high court in public.
Said Kagan: "I respect and indeed I revere the military."
The exchange came little more than an hour into a full day of questioning by members of the panel, which will vote first on Kagan's appointment to succeed retiring Justice John Paul Stevens. Barring a major gaffe, the 50-year old Obama administration solicitor general appears well on her way toward confirmation in time to take her seat before the court opens a new term in October.
Kagan also spoke favorably of televising Supreme Court proceedings. "It would be a great thing for the court, and it would be a great thing for the American people," she said.
But she was far less forthcoming when asked whether she believed the Supreme Court had erred last winter in ruling that corporations and unions were free to spend their own funds on political activity.
Kagan said that as solicitor general, she had argued the government's side of the case, which turned out to be a loser in a 5-4 ruling. Pressed to say what her personal views were, she said, "I did believe we had a strong case to make. I tried to make it to the best of my ability," she said.
When Sen. Orrin Hatch R-Utah, returned to the subject, she said the issue was now settled law as a result of the ruling.
Democratic Sen. Patrick Leahy of Vermont, the committee's chairman, was first to broach the military recruiting controversy, raising the issue that Republicans had often cited in pre-hearing criticism of Kagan.
"I've only cried once during this process," Kagan said, recalling her reaction to an op-ed article praising her for her treatment of the military, a commentary written by a Marine captain and 2008 graduate of Harvard Law.
The hearings turned testy when Sessions returned to the issue of the military's presence at Harvard Law School, and a controversy that arose when she blocked recruiters from the career services office.
She has said she acted because the military's "don't ask, don't tell" policy, which bars openly gay men and women from serving, was a violation of the university's anti-discrimination rules. And that as an alternative, she encouraged a campus veterans group to facilitate the Pentagon's recruitment of students.
Sessions disputed Kagan's version of events, saying that for one recruiting season "you gave them (the Pentagon) the runaround. ... You've continued to persist with this view that somehow there was a loophole in the statute that Harvard didn't have to comply with."
Kagan gave no ground, countering that "military recruiting went up that year, not down," when Pentagon's representatives worked through the veterans office on campus.
Responding to Sessions on another issue, Kagan refused to describe her political views as "progressive in the mold" of the president who twice has appointed her to important jobs.
She also sidestepped when the Alabama Republican, citing a characterization by a senior White House official, sought to label her as a "legal progressive."
"I honestly don't know what that label means," she said. "I've served in two Democratic administrations. ... You can tell something about me and my political views from that."
Kagan also declined when Sen. Herb Kohl, D-Wis., asked for her views of the other members of the court she hopes to join. She said it would be a "bad idea" for her to talk about current justices, drawing laughter from a crowded hearing room.
Kagan on guns: Court precedents are 'settled law'
WASHINGTON (AP) -- Supreme Court nominee Elena Kagan says she considers recent high court decisions expanding gun rights to be "settled law."
Kagan was asked at her confirmation hearing about two recent decisions, including a 5-4 ruling Monday, which essentially guaranteed citizens' Second Amendment rights to have guns, no matter where they live.
Democratic Sen. Dianne Feinstein of California decried growing gang violence in her state, saying officials need leeway to deal with it.
Kagan responded that "once a court decides a case as it did, it's binding precedent." And she said judges must respect a precedent unless it proves unworkable or new facts emerge that would change the circumstances of a case.
On Day 2 of hearings, Kagan employs artful dodge
WASHINGTON (AP) -- It didn't take long.
Twelve minutes into Day 2 of Elena Kagan's confirmation hearing for a seat on the Supreme Court, she found herself trying to explain away her own words.
Kagan knew that questions about her 1995 article on Supreme Court confirmation hearings were coming, and she was ready.
In the article, Kagan had complained that Supreme Court hearings had "taken on an air of vacuity and farce" because senators didn't pin down nominees on their legal views. Senators, she said, should pursue more "substantive inquiry" and push nominees to be more open about views.
The article was inspired by Kagan's observations as a Judiciary Committee staffer during the confirmation hearings for Justice Ruth Bader Ginsburg.
But things look a lot different from the witness seat in Room 216 of the Senate's Hart Office Building.
"You've probably re-read those words," committee Chairman Patrick Leahy, D-Vt., told Kagan.
"Many times," she agreed. "And do you know what? They've been read to me many times, too."
"How are you going to live up that standard?" Leahy asked.
Kagan said she stood by the basic thrust of her article - and then started backpedaling.
"I would say that there are limits on that," she said of the need for openness.
"I did have the balance a little off," she said.
"I skewed it a little too much" in favor of openness, she allowed.
Kagan had begun walking back from her words a year ago, during the confirmation hearing for her last job as solicitor general.
This time, she finished the job.
And it soon became apparent that she wouldn't hesitate to employ the artful dodge.
Sen. Herb Kohl, D-Wisc., asked Kagan what her "passions" would be as a judge.
"I think I will take this one case at a time," she demurred. "It would not be right for a judge to come in and say, 'I have a passion for this or that."
Kohl reminded Kagan that she'd written that "it was a fair question" to ask nominees what direction they would move the court.
And then he asked her just that.
"It might be a fair question," she agreed.
But it wasn't one she was willing to answer.
Kagan declines to offer ideological direction

WASHINGTON (AP) -- Supreme Court nominee Elena Kagan is distancing herself from a 15-year-old article in which she says nominees should be more forthcoming about their views during confirmation hearings.
Kagan spoke in response to questions from Democratic Sen. Herbert Kohl. She acknowledged that she previously argued in a law review article that nominees should indicate their likely ideological direction, but declined to reveal her own Tuesday.
Kagan says her article was a "little bit off" and if confirmed she would simply take each case one at a time, deciding them as "fairly and objectively as I can."
Kagan embraces notion of enduring Constitution
WASHINGTON (AP) -- Supreme Court nominee Elena Kagan is calling the Constitution an enduring document, saying that its framers wrote it to last through ever-changing circumstances.
Her remarks in an exchange with Sen. Patrick Leahy on the second day of confirmation hearings touched on suggestions by Republican critics that she would legislate from the bench.
Kagan said the Constitution's authors laid out both specific rules and broad concepts. She noted they declared 30 the minimum age to be a U.S. senator but didn't elaborate on the Fourth Amendment's "unreasonable search and seizure." Kagan said they could have been more specific, but couldn't have known about bomb-sniffing dogs and computers.
"Either way," she said, "we apply what they say, what they meant to do, so in that sense we are all originalists."
Kagan hearings a short course in Legalese 101

WASHINGTON (AP) -- As Supreme Court nominee Elena Kagan undergoes questioning before senators this week, some of the hearing may sound like it's in a foreign language. But don't adjust the TV or look for subtitles.
Kagan and her questioners are speaking legalese. Of her 19 interrogators on the Senate Judiciary Committee, all but six went to law school, and they speak a little differently from the average American. It can send the uninitiated running for a dictionary.
"I'm just guessing, but I would say that people can follow a third of what's going on," said Stephen Wermiel, a professor at American University's law school who teaches about the Supreme Court.
First-time hearing listeners would do well to have a copy of U.S. Constitution handy. Recent nominees have found themselves discussing the Second, Fifth and 14th Amendments, among others. For those who haven't taken civics recently, that's the right to bear arms; the protection against self-incrimination and ensuring a citizen's property won't be taken by the government without compensation, and the guarantee of equal protection under the law.
Listeners should also expect to hear some Latin, a language lawyers love. Speaking at her confirmation hearing last year, Justice Sonia Sotomayor was at ease using terms "per curiam," "en banc" and "sui generis." In English, the first term is an opinion written "by the court as a whole" instead of a single justice; the second means all a court's judges hearing a case together; and the third is a phrase that means "of its own kind."
For Kagan, like other judicial nominees, the Latin word of the day is "stare decisis." At Sotomayor's hearings, the phrase was used about as often as the phrase "wise Latina," two words Sotomayor took a beating over. Literally, stare decisis means "to stand by things decided." In practice, though, it is the term that lawyers and judges use when talking about when to accept a past case as settling an issue and when the court can change its mind.
For senators, both Democrat and Republican, stare decisis is a big deal. They want to know that as a justice Kagan will be committed to past court decisions and want assurances she won't overturn them. Expect to hear repeated questions using stare decisis synonyms, asking Kagan how she feels about "precedent" or "settled law."
Richard Davis, a professor of political science at Brigham Young University in Utah, says senators know their hearings are being watched by the general public, and they have gotten better about explaining the legal terms they are using. But sometimes, he said, they can't help slipping into lawyer-speak.
"To some extent this language helps them to convey that image that they're intelligent people too, that they have the street creds to question this person," said Davis, who wrote a book on the Supreme Court nomination process and how it might be improved.
Even seemingly simple English words can have new and different meanings at a confirmation hearing. Take Kagan's time as a Supreme Court law clerk for Justice Thurgood Marshall. Being a "clerk" may sound like a menial position, but that's deceptive.
Justices usually hire four clerks a year, recent top graduates of top law schools, and the clerk's work can be influential. Part of the job includes examining requests from lawyers who want the Supreme Court to hear their cases. When the court agrees to take a case it's called granting "cert," short for another Latin word, "certiorari." Kagan may get asked if as a justice she would participate in the "cert pool" - justices whose clerks divide the work of looking at the thousands of cases the court gets asked to hear each year.
Calling all HuffPost superfans!
Sign up for membership to become a founding member and help shape HuffPost's next chapter