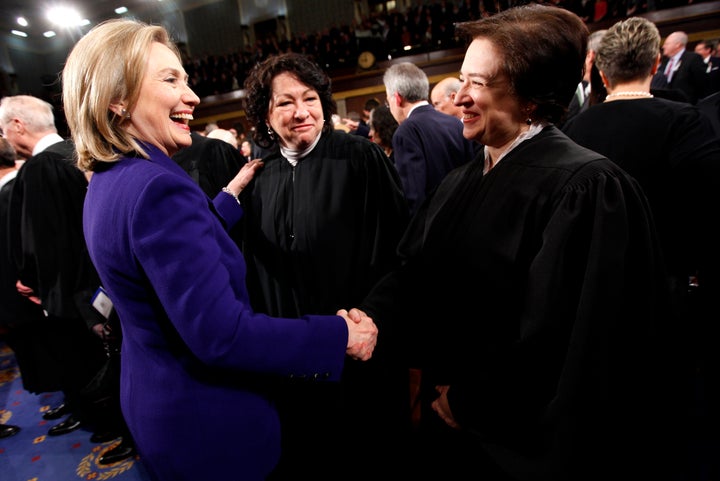 With their summer recess winding down, members of the Supreme Court are wrapping up their public appearances before they return to the bench in October.
In one such event last week, Justice Elena Kagan gave law students at Harvard a frank assessment of what it's like to work on a court that is missing one justice ― and that may remain short-staffed until well after the November election.
"There's a reason why appellate courts have an odd number of members: So that they can make sure to reach decisions, and they don't have to confront the ever-present possibility of a tie," Kagan said in a conversation with Harvard Law School dean Martha Minow, who had asked her about the dynamics of deciding cases without the outsized presence of the late Justice Antonin Scalia.
"A tie does nobody any good," she added. "Presumably we're there for a reason ― to resolve cases that need deciding, and to answer hotly contested issues that need resolving. You can't do that with a tie vote."
But in a number of those areas the justices went out with a whimper ― divided 4-to-4 and leaving the law as if the court had never agreed to hear the case.
Kagan called this inability to decide a "disability" for the court, but she did give Chief Justice John Roberts some credit for trying to steer her and her colleagues toward common ground.
"I think enormous credit goes to the chief justice in that, who has really tried to forge compromise and really tried to get us to keep to a minimum the number of cases where we just throw up our hands and say, 'We can't reach a decision,'" Kagan said.
But she added that there have been moments of indecision ― sometimes to the point that the compromise or the "narrowing" of the case is such that it makes it worse off for everybody else.
"In other words," Kagan explained, "narrowing them so far that it left undecided the real reason why we took the case, and the real thing that's confounding the lower courts. And, you know, over time that's a problem."
"I think all of us have tried hard to find ways of resolving cases, which are not so apparent on the surface. But is that cost-free? No, it's absolutely not."
"This is part of the consequence of a Republican failure so far to give a fair hearing to Merrick Garland, my nominee to the Supreme Court," Obama told reporters after the ruling was announced. This failure to decide, the president added, is "a very clear reminder of why it's so important for the Supreme Court to have a full bench."
Thus far, his appeals have fallen on deaf ears. Back in full swing after a seven-week recess, Senate leadership has shown no signs or willingness to give Garland a hearing before the election. And even Hillary Clinton has sent strong signals that she might not stick with the 63-year-old judge if she wins the presidency.
In her Harvard remarks, Kagan steered clear of talking confirmation politics directly. But she was not shy about what the empty seat does to the Supreme Court's inner workings ― suggesting that its work and overall decision-making power could take a toll in the long run.
"I think all of us have tried hard to find ways of resolving cases, which are not so apparent on the surface," she said. "But is that cost-free? No, it's absolutely not."
Popular in the Community