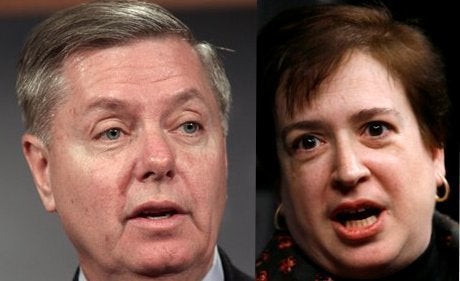 Scroll down for video of Sen. Lindsey Graham questioning Elena Kagan.
Sen. Lindsey Graham (R-S.C.), whose backing of Sonia Sotomayor during last summer's Supreme Court battle was a symbolic turning point for her confirmation, expressed support on Monday for a person atop the president's short list to be the next Supreme Court Justice.
"I like her," the South Carolina Republican said of Elena Kagan, the former Harvard Law School dean and current Solicitor General. "I liked her [during her solicitor general confirmation hearings]. I liked her answers."
Graham, who spoke to reporters on Capitol Hill, was referring to Kagan's positions on executive power, which she regards as relatively broad in scope. It's a position that already has civil libertarian groups skittish about the prospects for her ascending to the Supreme Court. And, in that sense, Graham recognized that an endorsement by a Republican Senator of her viewpoints could rankle this crowd even further.
Asked whether his comments in support of Kagan might actually hurt her prospects for being chosen by Obama, the Senator flashed a smile.
"I like her," he clarified. "It doesn't mean I'm going to vote for her. I believe she's liberal if that helps. I think she is a solid liberal person. Any nominee would be liberal... To suggest [Obama] wouldn't nominate a liberal would be breathtaking considering everything else he's done and who he is. But elections matter."
In making his remarks, Graham becomes at least the second Senate Republican to speak highly of Kagan's capacity for the bench. Senator Orrin Hatch (R-Utah), last May, called Kagan brilliant and someone who would cause difficult for Republicans should she be nominated (Obama would chose Sotomayor instead).
But Republicans weren't ready to rule out a contentious confirmation process should Kagan end up being chosen. Graham, himself, hinted as much.
"[The GOP base] is always interested in a fight... there are going to be people on the right and left who want a fight. There are going to be people who are gonna fight the fact that I like the person. So the best thing I could do to create a fight is to say I like them."
Watch video of Sen. Graham questioning Kagan at her confirmation hearings to be Solicitor General:
Calling all HuffPost superfans!
Sign up for membership to become a founding member and help shape HuffPost's next chapter