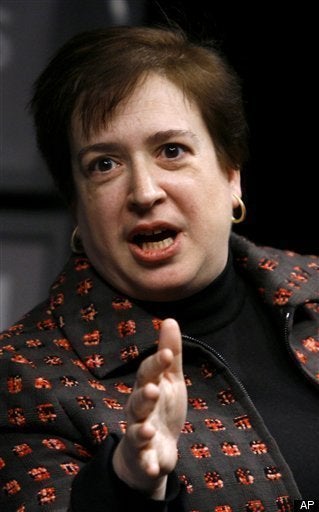 President Obama is expected to nominate Solicitor General and former Harvard Law dean Elena Kagan to the Supreme Court on Monday, Mike Allen reports.
Kagan has long considered the frontrunner to replace retiring Justice John Paul Stevens, even as questions have emerged about the limited public record of her legal opinions and how she compares ideologically to Stevens, a Gerald Ford appointee who has nonetheless been the high court's flagship liberal justice for decades. President Obama seems to have few doubts, however, Allen reports.
"The pick isn't official, but top White House aides will be shocked if it's otherwise," Allen says. "Kagan's relative youth (50) is a huge asset for the lifetime post. And President Obama considers her to be a persuasive, fearless advocate who would serve as an intellectual counterweight to Chief Justice Roberts and Justice Scalia, and could lure swing Justice Kennedy into some coalitions."
The White House may leak the news as early as this weekend, according to Allen.
UPDATE: Major Garrett of Fox News reports that "nothing is a done deal," according to two senior administration officials. "I can tell you, without any hedging, that he has not made up his mind yet and is still talking to and [looking] through candidates," one of the officials told Garrett. "It may well end up being her, but there's no white smoke yet."
Popular in the Community