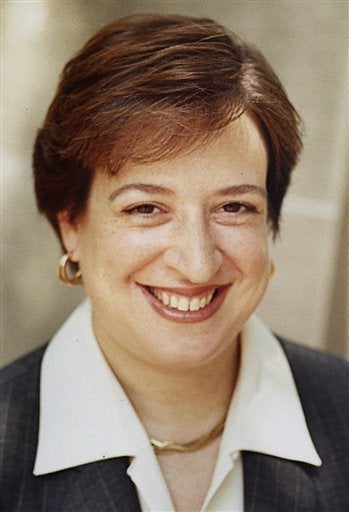 Kagan, who is the current U.S. Solicitor General and is said to be on the short list to fill the Supreme Court seat being vacated by Associate Justice John Paul Stevens, is "very vital, very vivacious," according to Princeton history professor Sean Wilentz who advised Kagan on her senior thesis.
"She had a reserved side," Wilentz said in an interview with Daily Princetonian writer Ameena Schelling. "She's not the kind of person to go on 'Oprah.' But with those boundaries, she's just a delight to be with."
Kagan's thesis, by the way, was titled: "To the Final Conflict: Socialism in New York City, 1900-1933."
Kagan got drunk on election night in 1980, drinking vodka and tonics and sobbing when she learned that Democrat Elizabeth Holtzman had lost her New York Senate race.
She majored in history with a focus primarily on political history.
Her senior thesis was entitled "To the Final Conflict: Socialism in New York City, 1900-1933." According to Kagan: her brother's "involvement in radical causes led me to explore the history of American radicalism in the hope of clarifying my own political ideas."
She sat as editorial chairman of "The Prince," Princeton's campus publication during her junior and senior years, a position that required her to avoid any participating in any partisan political displays.
Steven Bernstein, Kagan's colleague on "The Prince," described her as "sort of liberal, democratic, progressive tradition, and everything with lower case."
She was known to be friends with former New York governor Eliot Spitzer, who graduated in 1981, the same year as Kagan.
In 1981, Kagan and other campus leaders argued for a "fundamental restructuring of University governance." In their statement, they claimed that "the administration rules this campus by decree. Decisions affecting all aspects of undergraduate student life are made unilaterally by Nassau Hall; effective student participation in University governance is a myth."
Kagan was involved with Democratic politics during college. In 1978, she served as a legislative intern for Rep. Ted Weiss, a Democrat from New York. Later, she worked as deputy press secretary in the office of Elizabeth Holtzman, another New York Democrat.
Kagan's former history professor and adviser Sean Wilentz described her as a "pragmatic" woman whose "deepest dedication is to the constitution of the United States."
Popular in the Community