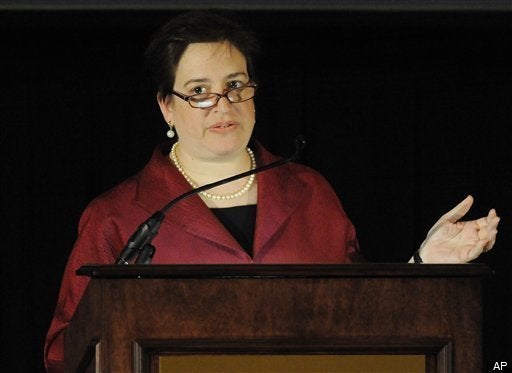 The issue of Elena Kagan's sexuality continues to receive a great deal of under-the-radar attention, so much so that some of her friends who know her relationship history have decided to speak publicly.
Kagan's law school roommate and close friend Sarah Walzer told Politico's Ben Smith, "I've known her for most of her adult life and I know she's straight. She dated men when we were in law school, we talked about men -- who in our class was cute, who she would like to date, all of those things. She definitely dated when she was in D.C. after law school, when she was in Chicago - and she just didn't find the right person."
Another friend, former New York Governor Eliot Spitzer, a member of Kagan's social circle at Princeton University, wanted to make the same point as Walzer. "I did not go out with her, but other guys did," he said in an email Tuesday night. "I don't think it is my place to say more."
"This is all quite ridiculous," Foser wrote. "The White House simply and clearly said the report was false and that Kagan is not gay." He also took issue with the claim that, by denying the rumors, the White House was somehow treating homosexuality as a "smear."
These complaints of "unseemly" denials are reminiscent of hand-wringing during the 2008 presidential campaign about whether it was appropriate to refer to the false claims that Barack Obama is Muslim as "smears." There is nothing wrong with being Muslim -- but of course those were smears. For one thing, they were false. For another, they falsely portrayed Obama as a liar. That's enough to qualify as a "smear" right there. But you also have to consider the intent, and likely effect, of the claims. Those alleging Obama to be Muslim certainly meant to harm him, and it isn't hard to imagine that they did so. Calling that a smear, then seems perfectly reasonable -- indeed, the claims smeared Muslims, too, as they implied that being Muslim is bad.

Likewise, you don't have to think there's anything bad about being gay in order to think that Elena Kagan is being smeared. Noting that "People who know Kagan very well say she is not gay," The Atlantic's Marc Ambinder explained last month that the subjects of baseless gay rumors are "victims, not because being gay labeled ... falsely or otherwise, is shameful, but because the intention behind the labeling is often nefarious and stereotypical." And, contra Triplett, it is clear that many conservatives are spreading rumors about Kagan for nefarious purposes. In doing so, they are smearing her -- as well as people who are gay.
Popular in the Community