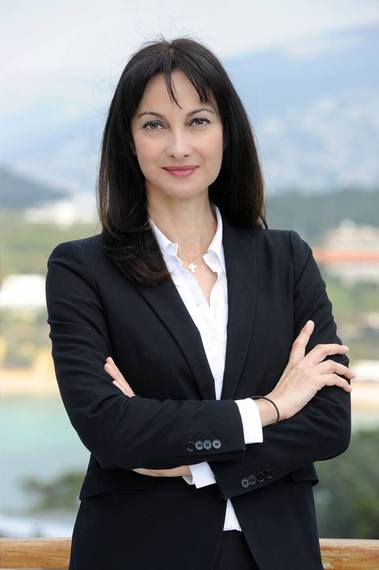 The Alternate Minister of Economy, Development and Tourism of Greece, Mrs. Elena Kountoura, was in New York earlier this week in order to participate in an investment conference and, at the same time, to develop contacts with major tourism stakeholders of the American metropolis, further promoting the Greek tourist product.
In an interview, Elena Kountouras stated that her ministry's goal is to extend the tourist season throughout the year and to systematically develop thematic tourism.
She noted that Greece expects a record for arrivals and tourist revenues for 2015 (the final figure is expected to surpass 25.5 million visitors by year's end), providing immensely important economic benefits for the country. Declaring Greece to be the safest destination in the region, Mrs Kountouras pointed out that the refugee crisis is a matter of concern, not only for her nation, but for Europe and the whole world.
How did Greece's tourism sector perform last summer given the fact that the country had to deal with the imposition of capital controls?
"It's been a record-breaking year. Arrivals in Greece are expected to exceed 25.5 million in 2015, while tourism receipts reached an all-time peak, contributing 14.5 billion euro to our national economy.
Despite the difficulties, this year's success is attributed to our new national strategic plan for tourism development which we began implementing this year. Our plan comprises six strategic objective: to expand the season, develop thematic tourism, access new markets through new agreements and direct flights, enhance legislation for all tourism-related activity, engage the local authorities and the private sector and to boost investments and entrepreneurship.
Throughout the year, we have been closely collaborating with all the Greek regions and the private sector to promote our new and cohesive marketing plan abroad which highlights Greece's unique identity as one of the world's most attractive destinations."
How has the cruise industry added to the development of tourism in Greece?
"The cruise industry is of great value and contributes significantly to our national economy.
It's a sector we want to further develop, expecting to increase foreign arrivals from overseas to some of our very famous cruise destinations such as Santorini, Mykonos and Rhodes, as well as other islands, less known, which can be included as new and emerging cruise destinations, in packages offered in the Mediterranean. We have gorgeous beaches, thousands of islands and some of the safest and cleanest waters worldwide and we are working on a plan to expand cruising, as well as yachting in the Greek seas. "

What are the key elements of the Greek tourist product?
"Greece is diverse and authentic. It has a rich landscape, high-end quality service and a very warm hospitality offered not only by those involved in the tourism sector, but by all Greeks who are by nature very friendly, welcoming and engaging.
Above all, we stand out as a destination where visitors experience a sense of home away from home. During their trip they step out of their hotel room and mingle with the locals, they delve deeply into the Greek culture and way of life, care-free and lighthearted. This is what makes Greece a timeless and authentic brand name for hospitality."
Has the Ministry of Tourism any plans for so-called "thematic" tourism?
"It's a strategic choice to develop sustainable tourism in our very diverse landscape, which is ideal for tourism all year round. For decades Greece was a very popular sea and sun destination, but now we are set out to show its less known beauties. The Greek mainland has often been overlooked by tourists. This is about to change. We are currently promoting new destinations ideal for medical tourism, hot springs tourism, for winter vacation, for outdoor activities and other forms of alternative tourism. For example city break destinations such as Athens and Salonica, and other cities are ideal locations for holding large-scale conventions and business meetings. Combining culture, sports, nature, local gastronomy and wine-tasting, this thematic uptake is part of this new holistic approach in tourism development. "
Has there been any progress in the realm of cultural and religious tourism?
"Greece is one of the world's most -known cradles of civilization. In close collaboration with the Ministry of Culture, we will extend the hours of operation of museums, archeological sites and monuments of World Heritage.
Religious tourism is among our priorities. We promote programs of special interest, such as the Steps of Saint Paul, and invite tourists to discover our rich heritage in our monasteries and important sites of religious interest. "
Why hasn't sports tourism flourished given the infrastructure and publicity surrounding the Olympic Games of 2004?
"Eleven years later, it is evident that very few effort has been put in capitalizing on the success of hosting the Games, both in terms of communication and investment. But the infrastructure is still there and now it's an opportunity to revive it through new projects.
Greece, the birthplace of the Olympic Games and the great Olympic Ideas values this heritage and therefore acts with great responsibility as we develop our new plan for sports and recreation.
Our plan involves a new set of initiatives to combine sports with recreation, and develop new winter and summer destinations and facilities geared towards sports tourism.
Similarly, we plan to further promote the Marathon, as an international symbol of peace and stability, a very important message to the international community especially in times of regional or global turbulence."
How does Greece promote its tourist product given the fact that there are minimal funds for advertising?
"We worked intensively with all the available resources to maximize Greece's appealingness in the international tourism market. Indeed the funds are minimal, but we continued to be present in all our traditional markets but also the emerging markets which we managed to open. For example, in the summer peak we introduced a cost- free campaign through social media (Happening Now: #GreekSummer) promoting Greece and we managed to increase last-minute bookings. Part of this success had to do with targeted articles and interviews which portrayed Greece.
It is our aim to increase the budget within the next years especially in markets like the US and Canada, where Greek diaspora has a strong presence and also give incentives to Greeks who wish to visit home."
How can the industry be improved?
"We are currently working on a plan to attract tourists of special interests.
Our goal is to offer high end quality accommodation and services. Thematic tourism is an international trend, and we want to be steps ahead to become one of the top choices for conferences, yachting, cruises, recreational sports, outdoor activities, and gastronomy.
We have a unique product. In that sense, and as we seek more visitors, we need accommodation, that follows international trends. Luxury resorts, complex tourism accommodation, boutique hotels, spas, well-being and thalassotherapy centers will experience increased demand. And this is an open invitation to investors to explore this emerging field for business. "
How can Greece improve its tourist accommodations and services? Is there any plan for increasing investment in the industry?
"Great opportunities arise for large and small scale investments in the Greek tourism sector. By the end of this year, the government will announce the new investment framework that will set the pace for innovative investments in all sectors, including luxury resorts and high end tourism accommodation. The new development law is designed to bring sweeping changes and boost investment. Our fast track law offers fast licensing process. At the same time, we encourage entrepreneurship and innovative ideas for existing and new tourism businesses, through the EU funding programs for the period 2014-2020. "
What is your dream for Greece as a tourist destination? What are your plans as the country's Minister for Tourism?
"The tourism sector accounts for almost 20 per cent of Greece's overall GDP, generates directly and indirectly around 1 million jobs, and is the key to economic stability and growth.
My vision for Greece is to become one of the five most attractive destinations worldwide within the next four years. It's a vision we share with all the authorities responsible for tourism development as well as the private sector. And we work intensively towards achieving this goal."
Has any progress been made in the efforts to make Greece a year-round destination?
"In 2015, our official season expanded, as a result of a series of agreements with the largest international tour operators. Our collective effort with the local authorities and the private sector has made it possible to expand the summer season in South Aegean islands and Crete from 1st of March until end of November 2016. The weather is ideal for vacation. Santorini, one of the top world destinations, offers this year vacation all year round, following the islands decision to maintain more than 100 hotels open throughout the winter. Athens is now implementing a long-term plan for 12 months tourism. At the same time, we are now promoting new destinations within Greece, unknown outside of Greece, yet ideal for winter vacation. "
Do you think that the Turko-Russian crisis will channel more tourists to Greece this summer?
"Tourism is a very flexible, yet vulnerable sector, impacted by a number of circumstantial events or geopolitical tensions that might arise, as we have lately seen in neighboring regions.
Greece remains firmly a safe destination, but it is our hope and goal to ensure stability and prosperity in the wider region. Seeking occasional benefits from the shift in regional or global travel trends, is not part of our plan. We work steadily aiming at the big picture which is to keep attracting more visitors on a long-term basis, who will choose Greece for what it uniquely has to offer."
Has the refugee crisis negatively impacted tourism in the Aegean?
"Our first response was to act immediately to save lives giving priority to human rights. Visitors were also very understanding, and overall, tourism in the Aegean islands wasn't significantly impacted. Greece, being a safe and a very attractive destination is exactly what we emphasize in our global campaign. We continue to support the image of our beautiful and peaceful islands, which are a major contributor to our overall tourism performance. The refugee crisis is a European and a global issue which should be dealt with great responsibility on the highest level of decision making in Europe and worldwide.
We did what we ought to do. Now it's on Europe and Turkey to do their part, to take responsibility and ensure the refugees' safety and their smooth transition journey towards Europe."
When do you foresee the completion of the long-awaited road projects, such as the Athens-Patras motorway, for instance?
"Such projects are progressing according to commitments having been undertaken by the contractors, in cooperation with the competent governmental authorities. Our ultimate goal is to provide safe and high standards motorways for Greeks and foreigners who travel through our dense road network. We are committed to promote all areas crossed by these large projects, either existing or newly emerging tourism destinations. Modern highways allow fast and easy interconnection between many popular Greek destinations, and make access easier to neighboring countries, which are a great pool of road trip tourists. "
Photo:Courtesy of the Alternate Minister For Tourism, Mrs. Elena Kountouras.