This post originally appeared on artnet News.By Sarah Cascone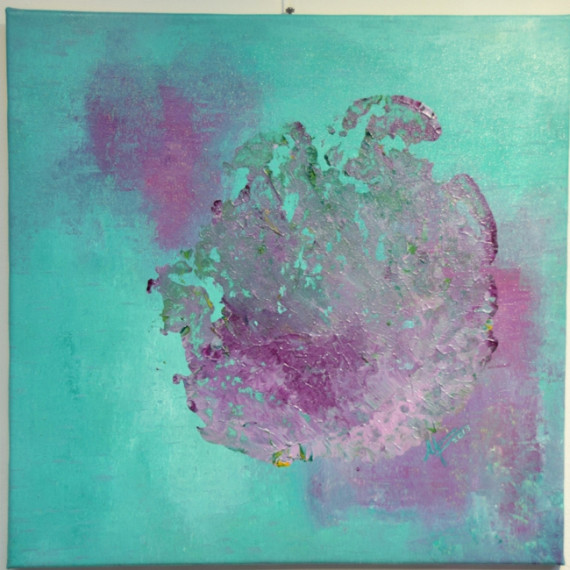 A painting by elephant Phoolkali and Alpana Ahuja.
Each of Phookali's paintings features a single colored footprint on a contrasting background. If you're wondering how such a massive creature could create such precise, neat artworks without totally trashing a lightweight canvas, know that there is a human artist's hand in the work as well.
Singapore's Alpana Ahuja developed an elegant system to produce the paintings, coaxing Phoolakli into a good mood with bananas and other food before quickly dabbing the creature's foot with paint and imprinting it on the canvas. (Unclear what this would mean under US copyright law, which recently ruled that "No, Monkey Selfies Cannot Be Copyrighted," and specifically mentioned "a mural painted by an elephant" in the list of animal artworks ineligible for rights protection.)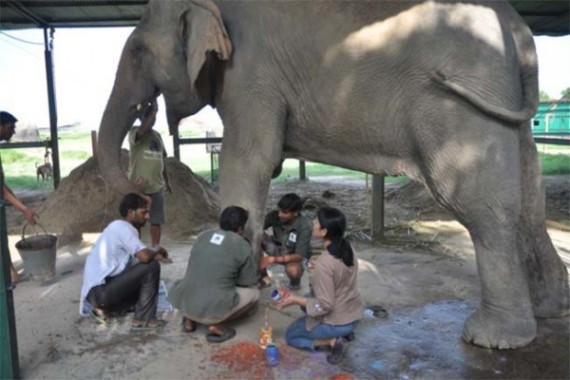 Phool-kali painting with the help of her friends. Photo courtesy of NDTV.
Ahuja was inspired to incorporate elephants into her artistic process after a stint at the Wildlife SOS Elephant Conservation and Care Center, which has collaborated with the gallery on the show. "I was moved to tears when I saw the plight of the elephants…Rescued elephant Phoolkali was my inspiration and I collaborated with her to create these unique colors," she said at the opening.
India's elephant population is down to only 25,000, and those that remain are threatened by poaching and habitat destruction.
The show also celebrates the 10-day festival for the Hindu god Ganesh, who has an elephant's head, which begins today. "The idea in our culture is that the elephant is glorified as Lord Ganesha…yet the animal that represents the lord is abused," Geeta Seshamani of Wildlife SOS told the BBC.
And how much does a painting by Phoolakli command? Between $165 and $400. The exhibition also features Ahuja's paintings of elephants.
---------------------------------------------------------------------------------------------------artnet News is the world's first global, 24-hour art newswire, dedicated to informing, engaging, and connecting the most avid members of the art community with daily news and expert commentary.
Related
Popular in the Community