It's a girl for Disney's /www.huffingtonpost.com/news/animal-kingdom/"}}">Animal Kingdom theme park.
The Orlando, Florida, attraction announced Wednesday the birth of an adorable elephant named Stella.
Video shared online shows the big-eared baby taking some of her first steps inside the park's savanna at Kilimanjaro Safaris. Accompanying her every step of the way is her mother, 28-year-old Donna, who became pregnant with Stella through "natural breeding" back in January 2015, the park said.
As unbelievable as that timeline may sound, elephants have one of the longest gestation periods ― about 22 months, or nearly two years, according to the African Wildlife Foundation.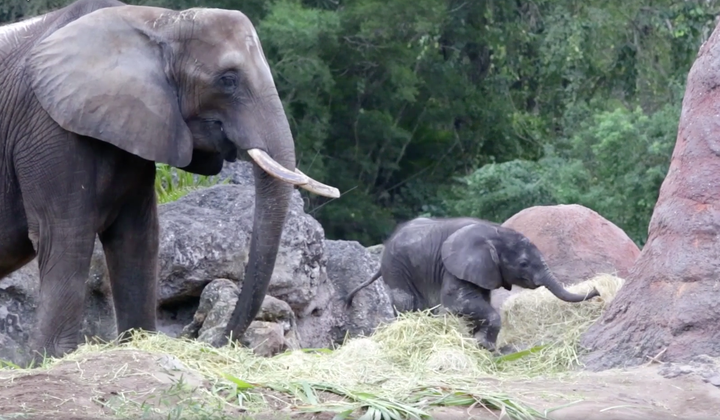 Stella, whose father's name is Maclean, or "Mac," is Donna's third calf. Her two other girls are Nadirah, who was born in 2005, and Luna, who was born in 2010. Nadirah and Luna also live at the park.
"Stella raises the number of elephants in the Disney's Animal Kingdom herd to 10, including three males and six females," the park boasted on its website.
Today, only about 415,000 African elephants remain in the world. Poaching is one of the main reasons for their dwindling numbers, according to the African Wildlife Foundation.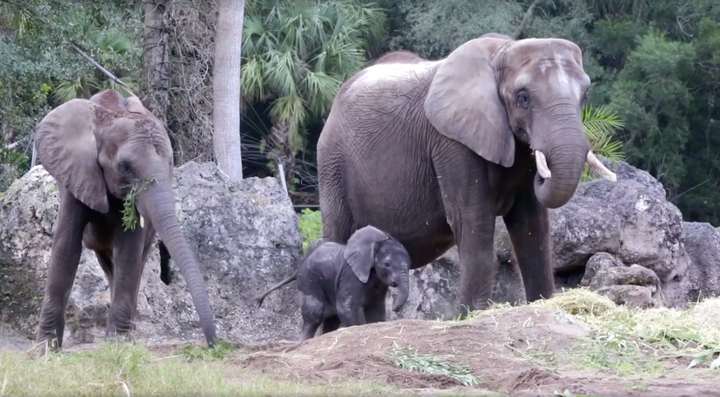 "Poachers kill elephants for their ivory, which is then sold and made into anything from jewelry to religious objects," the foundation states on its website. "At current poaching rates, elephant populations may not survive 10 years in the wild."
The struggle to protect and strengthen the African elephant population is further stressed by their slow rates of reproduction. In addition to having long gestations, they usually only have a calf every two to four years, according to the African Wildlife Foundation.
Disney's efforts to help protect elephants include their collaboration with research and conservation organization Save the Elephants, which contributes to the Elephants and Bees Project. That project installs African beehives around rural African farms, creating a natural fence as elephants instinctively avoid the bees. That, in turn, protects the animals from the people and the people from the elephants, according to Disney's website.
REAL LIFE. REAL NEWS. REAL VOICES.
Help us tell more of the stories that matter from voices that too often remain unheard.
BEFORE YOU GO