Elephants in sub-Saharan Africa have been dying at a rate that staggered researchers who attempted to count them in a unique census.
The savanna elephant population decreased by 30 percent between 2007 and 2014 in 15 countries, according to the Great Elephant Census released on Wednesday. A team of researchers estimated that there are only 352,271 such elephants in the counties surveyed. More than 1 million may have roamed the continent in the 1970s, according to the report published in the journal PeerJ.
Even more troubling is that the rate of decline is accelerating and rose to 8 percent in 2014, according to the survey.
"If we can't save the African elephant, what is the hope of conserving the rest of Africa's wildlife?" said Mike Chase, the principal investigator and the founder of Elephants Without Borders.
Killing elephants for their ivory has become more common, especially in parts of eastern and western Africa, the researchers said. Poachers kill about 100 elephants per day, according to conservation groups. CNN traveled with Chase and encountered multiple elephant carcasses stripped of their tusks.
The loss of natural habitat for elephants also factored into the dramatic reduction in their numbers, the census report said.
Areas colored red in the map below show pockets where the death of elephants has been most acute. Large threatened areas are in Tanzania, Mozambique, Zimbabwe and Chad. Bands of green in Kenya, Zambia and other parts of Tanzania show places where elephants have increased. Botswana has a large region with a stable population.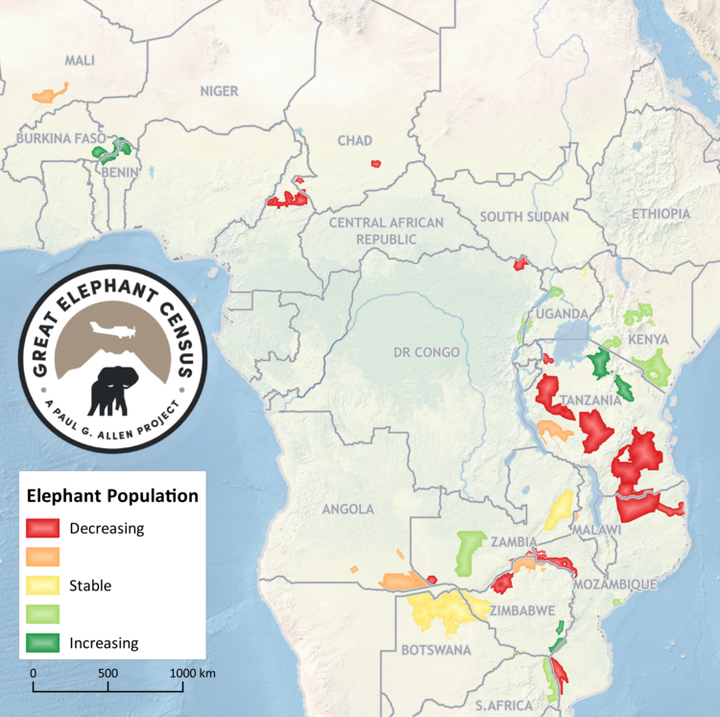 Attempts at conserving elephants have been stymied by limited and inaccurate information about their true population, the report said. Angola, one of the countries that was studied, had never counted its elephants, according to The Washington Post. Successful counts in South Sudan and the Central African Republic were impossible because of political violence.
Census-takers looked for elephants by flying low overhead. The team spent 10,000 hours in the air. They concluded that they accounted for at least 93 percent of the savanna elephants in the 15 countries surveyed. Microsoft founder Paul Allen funded their work.
"The Great Elephant Census is the most advanced and thorough assessment of elephant numbers ever," according to National Geographic.
Most savanna elephants lived in protected areas, though wildlife parks are by no means a guarantee to their safety. At a game reserve in Tanzania and another in Mozambique, the elephant population has dropped by 75 percent in the last 10 years, according to CNN. Still, the census reported that 84 percent of the pachyderms live on protected ground and 16 percent are outside supposedly secure territory.
Forest elephants, which dwell in central and western Africa, were excluded from the project because they're too difficult to see.
Forest elephants are in dire straits too, however. It would take 90 years for their population to rebound from poaching and habitat destruction, according to a report published by the Wildlife Conservation Society.
Related
Before You Go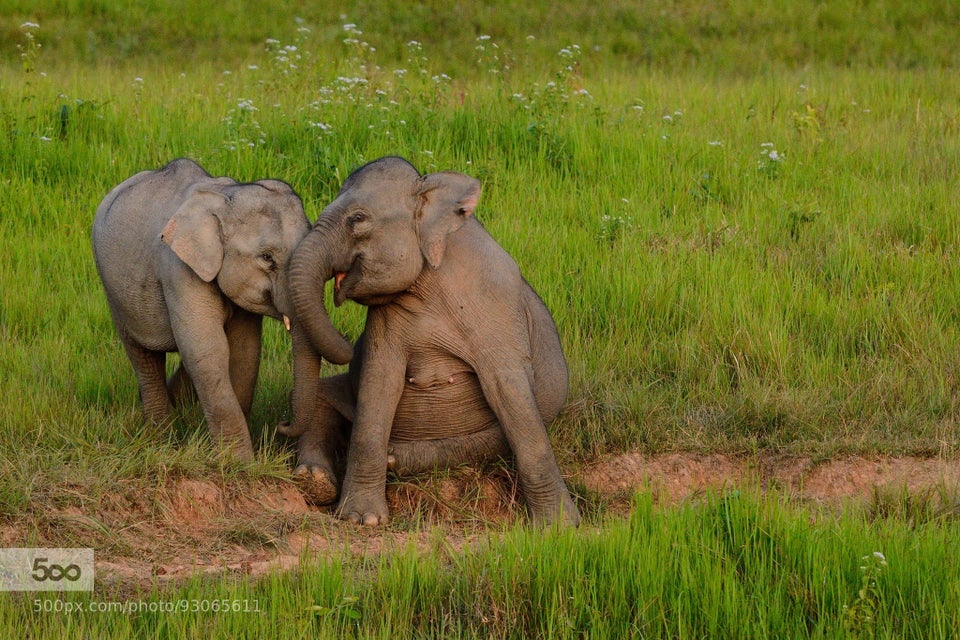 Elegant Elephants
Popular in the Community