Tens of thousands of people around the world are calling for an end to elephant-riding in Cambodia after one of the animals collapsed and died while ferrying tourists at the iconic Angkor Wat temple complex in Siem Reap.
The Asian elephant, a female named Sambo, had reportedly walked for more than 40 minutes in 104-degree heat before her sudden death.
"Veterinarians concluded that the elephant's death was caused by the hot temperatures which caused stress, shock, high blood pressure and a heart attack," Oan Kiri, manager of Angkor Elephant Company, told AFP.
A Facebook user named Yem Senok shared photographs of the dead elephant last week:
Sambo -- who was between 40 and 45 years of age, considered elderly for an Asian elephant -- had reportedly worked for the Angkor Elephant Company since 2001.
Kiri said the company was "regretful and felt pity" over her death. He added that their 13 remaining elephants would be allowed to work fewer hours until the weather cools. Cambodia, along with much of Southeast Asia, is currently in the midst of a record heatwave.
"There is no such thing as cruelty-free elephant rides," the petition reads. "Tourists may think that riding an elephant on holiday does not cause harm -- you often can't see the cruelty -- it's hidden from view. What you don't realize is that a 'once in a lifetime' or 'bucket list' item for you, means a lifetime of misery for wild animals."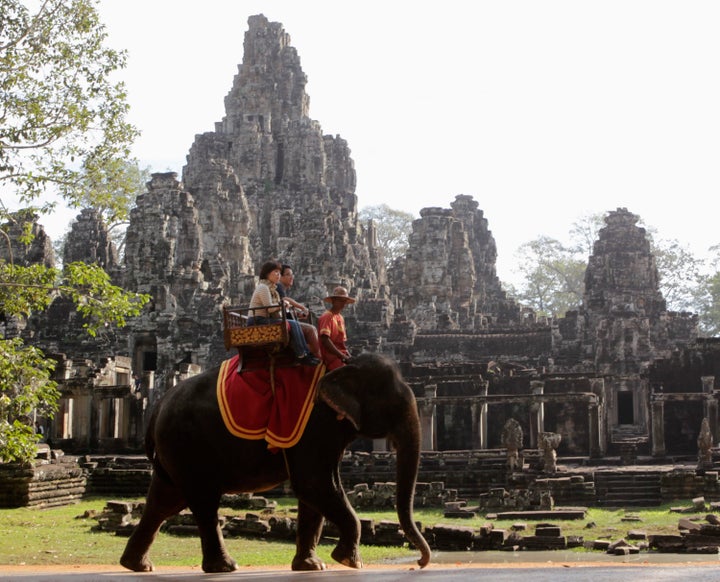 Animal welfare groups have long called for the ban of elephant rides, as well as other forms of wildlife tourism considered inhumane.
"To make elephants submit to giving rides, [some] are taken from their mothers when babies and forced through a horrific training process known as 'the crush,'" the charity wrote. "This typically involves restraining them in a small cage, or tying them in ropes or chains so that they can only move when commanded. Severe pain is often inflicted with pointed metal 'bull hooks' or wooden battens to quickly establish dominance."
Asian elephants are considered endangered by the International Union for Conservation of Nature. Fewer than 40,000 are left in the wild.
Popular in the Community