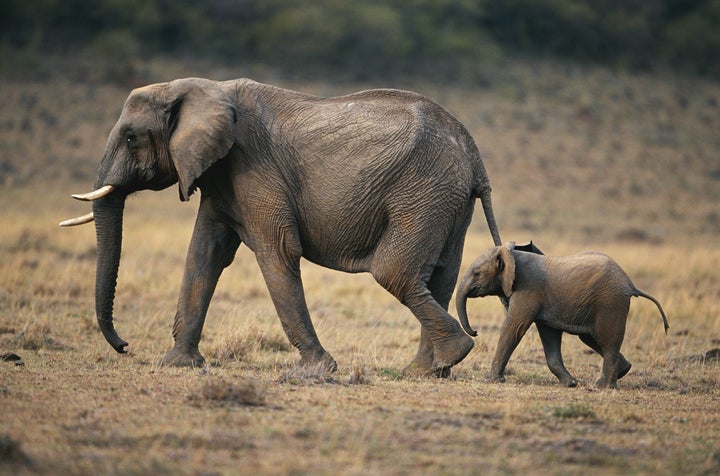 I recently conducted an interview with Céline Sissler-Bienvenu of the International Fund for Animal Welfare (IFAW). IFAW was the only NGO that entered Bouba Ndjida National Park in Cameroon during last year's slaughter of approximately 650 elephants; Céline Sissler-Bienvenu lead her team's expedition into the park, and discussed with me the organization's ultimate findings a year later.
As Sissler-Bienvenu noted, the elephants that survived the killings likely crossed into neighboring Chad. Now Chad is the site of a recent elephant massacre. An organization that attempts to protect elephants in that country is SOS Elephants; Stephanie Vergniault is the organization's chairman. According to SOS Elephants, poachers slaughtered 89 elephants within the last week, in an area near Fainga. Among the dead are more than 30 pregnant females. The story was originally posted in Mongabay, and you can watch a news report of the slaughter by clicking here.
In what is being called the worst elephant massacre in Africa this year, poachers have recently killed as many as 89 elephants in Chad. Stephanie Vergniault, the Chairman of SOS Chad, says the elephants were slaughtered in a two-day period late last week near Tikem, on the southwest border of Chad and Cameroon. At least 30 of the elephants were pregnant. Images from a television news report show what appear to be an elephant still connected to its umbilical cord on the ground. Separately, 12 calves were also slaughtered.
Vergniault says she was informed of the massacre by her Chad-based staff as well as government officials. The poachers, suspected to be Sudanese or Chadian, were heavily armed and on horseback. Vergniault says as many as 50 poachers were involved in the massacre. Large numbers of poachers had reportedly been spotted in Chad in January.

Sissler-Bienvenu says that local communities had been asking Chadian authorities for help in resolving local elephant conflict. However, no support was provided " which may be why the elephant massacre was not reported for some days -- the killing of the elephants by poachers may have been seen as offering some sort of relief to local farmers who are unable to protect their crops and livelihoods randomly being damaged by elephant herds simply looking for food." Sissler-Bienvenu says the area in which the elephants were killed -- like many areas in Chad where elephants roam -- was not protected.
Nicole Mollo, U.S.-based Director of Operations of African Parks, a nonprofit organization which rehabilitates and reinforces struggling national parks, says the recent slaughter in Chad is unfortunately, "very typical of the trend we are seeing and will continue to see until all of Africa's elephants are gone -- unless our methods of protection change. [As it pertains to current conservation practices], the status quo is not working."
At this writing, there are no reports of any arrests. Chad officials have denounced the massacre, which comes on the heels of another recent slaughter of elephants in Cameroon, which left 28 elephants dead.
Calling all HuffPost superfans!
Sign up for membership to become a founding member and help shape HuffPost's next chapter