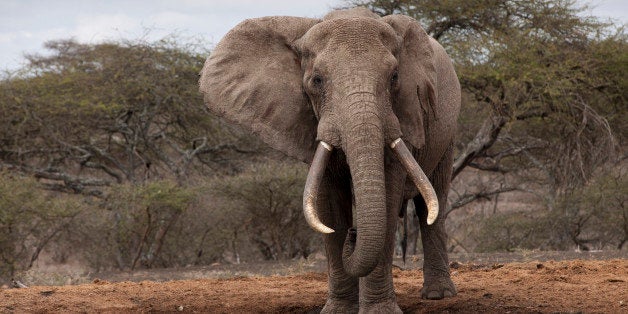 According to the World Wide Fund for Nature, there may have been as many as
in the 1930s and 1940s. Widespread poaching, however, decimated populations all across the continent from the 1950s onward.
The year some conservationists say
if rampant poaching doesn't stop. In 2008, conservationists warned that
if widespread poaching wasn't curbed. Young told The Huffington Post he's "absolutely convinced" that elephants could be wiped out in the next few years.
The estimated
, which is often sold as ornaments, jewelry, chopsticks and other gift items. China is a major importer of ivory, as are countries like Japan, Hong Kong, Thailand, Vietnam, Singapore.
The
. As demand for ivory rises across Asia, the
, per a Save the Elephants report released earlier this year. "Rising incomes are
," writes NPR, "and many wealthy Chinese are buying ivory statues and carvings as investments."
The
after
. Several lions, hyenas and other animals were also poisoned to death. Poachers, who are sometimes armed with machine guns and
, use a variety of methods to kill elephants. The animals are sometimes shot or trapped with snares, and their tusks are sometimes hacked out with an axe while the animal is still alive. Activist Jackie Cittone Magid wrote in a blog post last year that
against the brutal and unpredictable methods employed by poachers.
The
. The New Scientist wrote earlier this year that ivory poaching "
," where terrorist groups like the
and
engage in ivory poaching and trafficking. "
," wrote Sen. Rob Portman (R-Ohio) in an op-ed for CNN earlier this year. "Stopping the ivory trade has become not only a matter of conservation but one of national security and international stability."
The
, according to the Convention on International Trade in Endangered Species of Wild Fauna and Flora. The international body, which monitors endangered species, has said that the amount of ivory seized has
since 2003. "Populations of elephants in Africa continue to be
," CITES said in a news release last year.
The
. In a historic -- and symbolic -- move, the U.S. Fish and Wildlife Service
of accumulated contraband ivory at an event in Colorado in November. "Most people don't realize that the
[after China], with epicenters in New York, California and Hawaii," Elly Pepper, a policy advocate for the National Resource Defense Council, told Salon.com earlier this year. Pepper's comments came on the heels of the White House's announcement in February that
. "By creating this national strategy, the U.S. is recognizing that we are part of the problem and that we're going to step up our efforts to end this crisis," Pepper told Salon.
The
. According to France24.com, it was the "
since a global trade ban was imposed in 1989." In addition to the U.S. and France,
,
and
also have voluntarily crushed all or part of their ivory stockpiles in recent years.
The
. For the first few years of their lives, baby elephants are completely reliant on their mothers; so when a mother elephant is killed by poachers, that
. According to 60 Minutes, a young elephant can usually
.
The
in the wild. Though African elephants can live for a very long time, many are killed by poachers before they reach old age. Sometimes, poachers even target youngsters without tusks. In April, for instance, the Telegraph reported that
. A wildlife official told the news outlet that the killings may have been partly motivated by "revenge against officials."
The
. Though this post has focused on African elephants and the poaching crisis, the plight of the Asian elephant can't be forgotten. Asian elephants are sometimes poached for their tusks, but a bigger threat facing them is habitat destruction. "In the face of rapidly growing human populations, the
as ancient migratory routes are cut off by human settlements," the World Wide Fund for Nature writes. In addition, wild Asian elephants are sometimes captured for domestic use (for the timber industry, for instance, or the illegal wildlife trade), further threatening wild populations.
REAL LIFE. REAL NEWS. REAL VOICES.
Help us tell more of the stories that matter from voices that too often remain unheard.
BEFORE YOU GO
PHOTO GALLERY
Elephant Overload