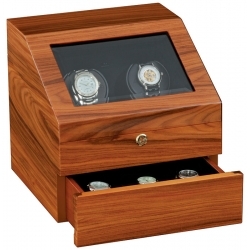 Screenshot: 24Diamonds
Sometimes, we don't want to over accessorize ourselves and wear only watch to exude the luxury and class. Nobody can wear the watch for a long time, either they forget at some places or keep it to flaunt style in parties only. But, the condition and time of the watch are not same as we left. Until the time, it's on your arm, rotor keep spinning which winds the mainspring. What if you left the watch beside your bed or kept inside almirah for a while. You will need to set the time and date again, which is pathetic. But fret not, science has done post graduation in every technology so we are done. Yes, watch winder is the solution to keep your watch spinning.
Watch winder performs simple task and give tension to mainspring for keep spinning. Are you thinking about style? Yes, it comes in additional features, luxuriant designs and builds quality to give you breathtaking experience. I know, folks are fond of watches and keep collecting them with variant designs, but what if some of them have been stopped when you were excited to wear them on a special occasion. To avoid this situation, watch winders are made to handle multiple watches. One of my friends has been using 50 timepieces wound that can be noticeable at a time. Winders are not only to keep watches work properly, it gives you more like USB connection, downloading ports and number of rotations for your precious watch. Isn't more than expectation?
Scroll down and see which winder can suit your personality more:
Automated winder - Are you looking for the retro look? This winder is made for you to reminiscent the memories. It's got a built-in timer and rotates in these modes: clockwise, counter clockwise and bi-direction. It will also helpful to sew your babies in different ways. Its machine does rest, the wind, and repeat the cycle on a daily basis. It's better option to showcase the class.
Affordable quad winder - I know, some of us are the huge fan of collecting watch. But, didn't get the idea how to keep the precious accessory in one place? Quad winder is made for you. It is impressive and keeps you, enthusiast, to always wear one of them. It comes with a 2-year warranty to winding your four timepieces along with bespoke leather stripe. What are you waiting for? Get it today to exude the luxury.
Swiss made winder - Its name is enough to flaunt minimalism and quality. But don't make a mistake by it simple look. It is a full programmable through the website and has USB connection so you can tune your treasures with winder. With it, silent motor and overwhelming modernist can allow you to keep on a bookcase.
Wolf design Winder - You can put your fine and cherished timepiece in chintzy plastic winder that is considered in Wolf design winder. The box is complemented with leather and can be configured with 8 watches. It features with an adorable wood plate and hardware which ooze out the sophistication. So don't hesitate to show off this winder in your bedrooms to your friends and relatives. Yes, it can work safely for 6 months but after that, you need to take care of it. After this, I am damn sure, you will not love to leave your winder and watch at home.
Del Tempo Winder - I know boys love tough looks so this winder flaunting. It can wind three watches simultaneously. It beautifully crafted with brass and solid leather to provide rough and tough look. The main specification of this winder is created in Italy and manufactured in Switzerland. It has the strong battery backup to keep charging your watches until the light come back.
Dual watch winder - When you are not satisfied with one go for the dual watch winder that will take the same table space as one. Its vertical designing draws all men attention. It operates both watches. It usually comes in the classy black hue that can also keep on your office table. Guys!! Don't wait! Just grab it.

Brick Watch winder with power base - I know your collection is growing and investing on winders are also growing with the stash. Worry not! This brick watch winder which can hold four watches actually has capacity of twelve with the power base. The main specification of the wider, which I liked the most is you can increase the single module while increasing the collection. You can capture them on your bedroom wall, which never hide from anyone.
True, you can buy cheap winders but will not get the class and sophistication what above items oozing out. Stay Voguish!
Calling all HuffPost superfans!
Sign up for membership to become a founding member and help shape HuffPost's next chapter