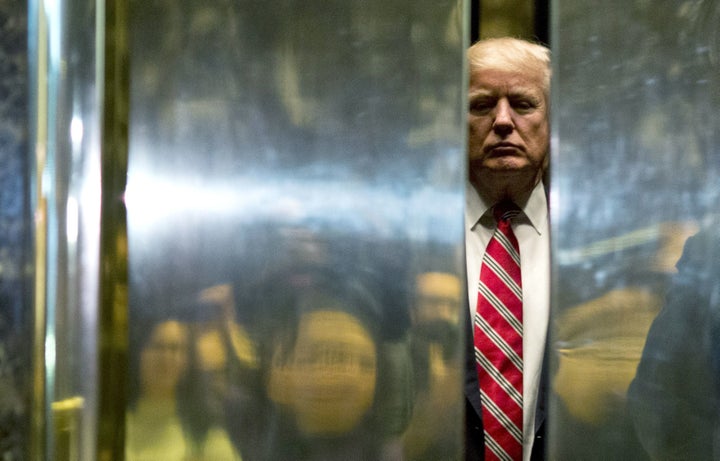 There it was, some 1,500 words into a story published in the Daily Beast: the infamous Donald Trump elevator tape. Well, not the tape itself, but the first reference in a mainstream publication to the possible existence of a "bombshell tape of Trump in an elevator in Trump Tower."
For months, reporters at various media outlets around the country — The New York Times, The Wall Street Journal, The Associated Press and others — had chased a videotape that may not even exist. They had talked to people in the know and people close to the know and people like Tom Arnold, the actor, who on certain days seems to be within the know.
And now here was someone speeding to the front of the pack in their peculiar little derby ― a reporter named Lachlan Cartwright, a veteran of the tabloid scene. His May 28 story for the Daily Beast was broadly about the "cozy relationship" between TMZ founder Harvey Levin and Trump, and it contained a number of important little revelations. That Trump and Levin talked regularly on the phone during the 2016 presidential campaign. That Levin would joke about becoming press secretary. That he had even "made it a mission for days to discredit" one of Trump's many accusers, Jessica Leeds.
But for a certain contingent of journalists who'd spent months searching for something worth publishing, all that really mattered was the formal unveiling of the tape rumor to the general public.
"The elevator tape," tweeted Christina Wilkie, a former HuffPost reporter who now covers the White House for CNBC.com. "Every Trump reporter's White Whale."
On the particulars of the video, the Beast story is lawyerishly coy. But it's not as if there are many hard details to be had. The rumors vary from journalist to journalist, but the common understanding is that somewhere out there, a tape might exist of Trump doing something in an elevator, though exactly where that somewhere is and what that something might be, no one in media can say. That's because no one in media seems to have seen the tape — or is even confident it exists.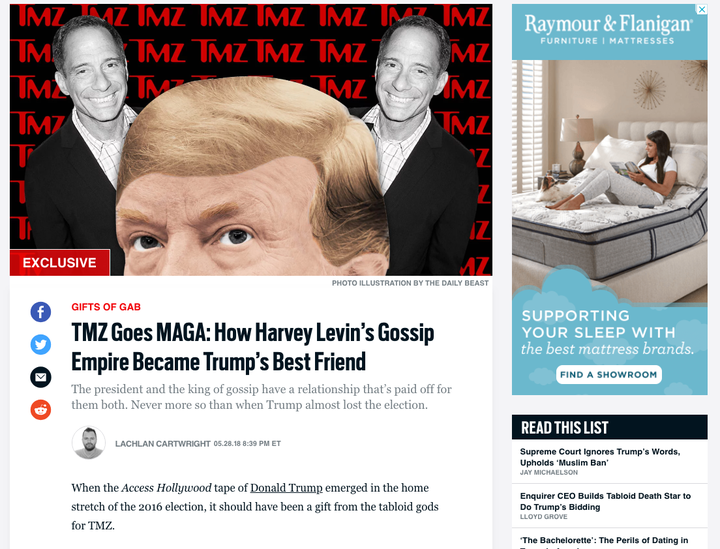 One person working outside of the traditional legal confines of the media has been more explicit. Over Thanksgiving weekend of last year, Tom Arnold used Twitter to describe the rumored contents of the tape in more detail than anyone else has before or since. (We'd quote him here, but HuffPost's legal team advised against it.) Speaking of the purported tape again a day later, Arnold wrote cryptically: "Gotta give TMZ their props. At least they tried."
Arnold had already carved out something of a niche for himself within that subsector of the internet searching for that one thing, whatever it was, that would finally take down Trump. Over the previous year, the comedian had made reference to supposed "outtakes" from "The Apprentice" that he claimed could have "changed the results of the election," challenged "gamers" to obtain Trump's tax returns, and proclaimed that former NBC executive Chuck LaBella had "all the dirt" on Trump.
Arnold's tweets about the elevator tape last November created an understandable buzz on Twitter and raised more than a few questions. Chief among them: What is that guy from "The Best Damn Sports Show Period" talking about? Does it have any basis in reality? And why would Tom freakin' Arnold, of all people, know anything about anything of national significance? Isn't this all a bit like Cheech and Chong leading an investigation into the 18-minute gap in the Nixon tapes?
"Arnold's tweets raised more than a few questions. Chief among them: What is that guy from "The Best Damn Sports Show Period" talking about?"
Then again, why not Arnold? Long represented by the powerful Hollywood attorney Marty Singer, he has firsthand experience with the milieu that created and sustained the modern Trump phenomenon: the deal-cutting, story-killing, sign-here-and-never-speak-of-this-again media-celebrity complex. If you wanted to understand Ronald Reagan, it helped to know something about Hollywood during the blacklist. If you wanted to understand George H.W. Bush, it helped to know Kennebunkport, Maine, and Midland, Texas. If you want to understand Trump, it helps to know TMZ.
Since last Thanksgiving, Arnold has seemed to make it his personal mission to find the elevator tape and other allegedly incriminating videos, tweeting about them incessantly. In May, Viceland announced it would give Arnold an entire show dedicated to the search for that rumored tape and others like it: "The Hunt for the Trump Tapes with Tom Arnold." A trailer for the show makes clear what sort of things he hopes to find: "The N-Word Tape," "The Pee-Pee Tape" and the like.
The show has yet to air, but it's already caused some commotion. Arnold has spoken with people like celebrity gossip maestro A.J. Benza, professional potty-mouth Anthony Scaramucci and HuffPost's very own Ashley Feinberg. Last month, a jittery Arnold made national news when he joined CNN's Poppy Harlow to discuss the show.
"Do you have any tapes of the president that the public is not already aware of?" Harlow asked.
Arnold's quest might seem utterly preposterous. But his initial interest in the alleged elevator tape didn't emerge out of thin air. It developed only after numerous journalists ― "legit big" ones, as he described them to me ― reached out to him to ask about the tape. Since he had publicly discussed the alleged unseen "Apprentice" footage, some figured they might as well check if he knew something about the other supposed tapes as well, he said.
Arnold told me that a journalist would reach out and tell him what he or she knew, hoping to get information out of the comedian in return. "Then the next journalist would come along and pick up the trail," Arnold said. Then another, and another, and another. Months passed and no story ever came out. But over time, Arnold became an unlikely authority on what other journalists knew — "I kept all their intel," he said — and a collector of what original info he could get as well. Source and seeker alike, Arnold found himself simultaneously outside and inside the story.
And for all the conspiracy-minded rumors surrounding the tape, it turned out there were some facts, which Cartwright locked down in his piece for the Daily Beast.
Chief among them is that TMZ did go hunting for a tape of Trump in an elevator in 2016. Soon after the release of the infamous "Access Hollywood" video, Beverly Hills-based lawyer Melissa Dagodag reached out to TMZ, according to Cartwright. Dagodag, who normally deals in trademark and copyright matters, claimed to represent a client who possessed "another bombshell tape of Trump in an elevator in Trump Tower."
The tip quickly set off a chain of events within the newsroom. Mike Walters ― a longtime top employee at TMZ who has since left to start his own media company ― spoke with Dagodag, then to Levin, who quickly and uncharacteristically took over the investigation into the tip. "Harvey took us out of it very quickly. To be removed from it like that was very weird," one top former employee at TMZ told the Daily Beast.
Levin reportedly contacted Jason Beckerman (the site's head of legal affairs), Warner Bros. (TMZ's parent company) and Time Warner (the parent company of Warner Bros. that has since been renamed WarnerMedia). Soon after, Cartwright's sources said, Time Warner's then-CEO, Jeff Bewkes, gave Levin approval to spend what one source described as "a fuck load of money" to buy the purported tape.
Levin and Beckerman reportedly agreed to meet Dagodag at night. But Beckerman told the Daily Beast that on the way to the meeting, "the source called and said the person who has the tape wasn't going to show" and that they should meet the next day instead.
"The next morning," Beckerman told the Daily Beast, "the source said the tape was no longer for sale and it was insinuated that it had been bought by someone else. Then the source went completely dark." Levin reportedly told his employees that he had also "made a call to Trump's camp alerting them to the tip."
And that was it. If a tape exists, according to Cartwright's reporting, the TMZ newsroom never so much as glimpsed it.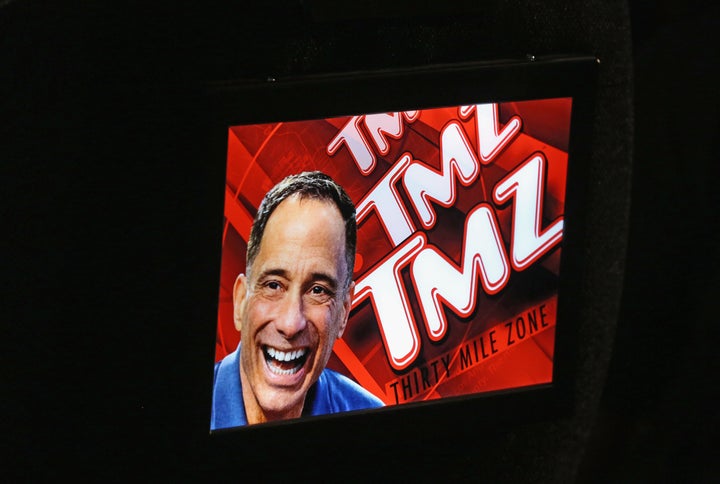 On May 31, a few days after the Daily Beast published its story, Dylan Howard, the chief content officer of the tabloid empire American Media Inc., which owns brands including the National Enquirer and Radar Online, published the latest episode of his podcast. Joining him was Benza, the longtime celebrity gossip columnist, to discuss both the Daily Beast's story and the longtime rumors surrounding the purported tape.
Howard and Benza have both found themselves unwittingly wrapped up in unsubstantiated rumors that they "conspired to take this tape off the market," as Howard put it. Much of that is Arnold's doing. Just days after Arnold first made reference to the elevator tape, the comedian suggested that "AMI share [the] mysteries of" the tape. He also insinuated that Benza ― a well-connected former New York Daily News gossip columnist who says he has dated the same women as Trump ― had information as well.
"Let's be clear: There is zero proof that this tape exists," Howard said on his podcast.
It would make some sense that the top levels of AMI might know something about a scandalous Trump-related tape. David Pecker, the chairman and CEO of AMI, considers Trump a "personal friend." And as former AMI spokesman Stu Zakim put it to CNN earlier this year, Pecker likes to help out his personal friends when he can.
"AMI has often paid for stories to take them off the market ― i.e., no one else can print it ― to protect David's friends. Trump is one of his close friends, so take the leap," Zakim said. (AMI vigorously disputes this allegation.)
But Arnold admitted to me that he had no real information connecting AMI to the elevator tape when he made the leap over Twitter. He just wondered whether shouting about it might convince Pecker to help him.
"My thinking is, if he didn't make the deal [for the tape], he's heard about it. Because these fucking guys have to hear about everything" Arnold said.
In February, Arnold, Benza and Howard ― as well as the New Yorker's Ronan Farrow ― all ended up at the Beverly Hills Hotel. The hotel is a landmark for Trump scandal chasers; it was there that Trump allegedly had sex with former Playboy model Karen McDougal, and it was there that he allegedly groped a former "Apprentice" contestant named Summer Zervos.
According to tweets posted by Benza, it was insinuated during the unlikely summit at the hotel that Pecker, the CEO of AMI, was considering suing the comedian "should [Arnold] persist with the lies." Arnold similarly said over Twitter that same day that he "got threatened with another devastating lawsuit if I didn't keep quiet," though he told me Howard later insisted there had been no threat.
On his podcast, a frustrated Howard claimed he had not wanted to discuss the rumor of the elevator tape in public, but felt compelled to do so now that the Daily Beast had put it out there. He said he'd had lunch with Arnold to convince him that the purported tape wasn't real, labeling it a complete "conspiracy theory."
The equally skeptical Benza said he hadn't heard of such a tape until Arnold tweeted about it last fall, soon after which Howard called him to ask about the tweets, he said.
"Really, it's Tom Arnold inventing this and hoping against hope that this is true and somebody will produce it if he talks loud enough," Benza said.
But in truth, reporters were digging around for the tape months before Arnold ever tweeted about it. One reporter, Michael Rothfeld of The Wall Street Journal, was making calls about the tape as early as June 2017, a source told HuffPost.
Later that summer, BuzzFeed reached out to TMZ to ask them about the gossip blog's unsuccessful search for the elevator tape, making it the first outlet to do so, according to Beckerman, TMZ's head of legal affairs. When I spoke with him, Beckerman estimated that 8-10 media outlets in total had reached out about the exact same story over the past year, a list that also included the Journal, The Washington Post, Bloomberg, CBS News, Vanity Fair, the AP and the Daily Beast.
Arnold named names, saying Joe Palazzolo, a Journal reporter who reported intensively on Stormy Daniels, AMI and the like, also looked around for the tape, as did BuzzFeed's Anthony Cormier and Bloomberg's David Kocieniewski ― both Pulitzer Prize-winning reporters. Jeff Horwitz of the AP and Farrow of the New Yorker dug particularly deep as well, said Arnold.
"Those are two guys who were on a quest," he said.
Last December, I spoke with a different source who said they'd already talked to reporters from the Journal, the New Yorker, Vanity Fair, the AP and BuzzFeed about the tape. At some point, The New York Times apparently reached out, too. It seemed as if everyone had heard the same general storyline Cartwright detailed, the source said.
On his podcast, Howard said that the Journal, the Times, BuzzFeed and Bloomberg had all called him to ask about the rumor that "somebody paid $20 million to take this supposed tape off the market." Howard was resolute that even if a tape of Trump in an elevator existed ― and he doubts that it does ― it was not AMI that bought it. Benza said he had no involvement, either.
The Daily Beast, for its part, never uncovered any evidence that the tape is real, as Cartwright noted in his piece. Neither has anyone else, it seems.
"No one has been able to identify the buyer," a well-establish source within the tabloid industry told me. "No one has seen the tape." Neither has Michael Avenatti, the omnipresent attorney for Stormy Daniels. "I have heard from multiple sources that it exists but we have not yet confirmed it," he told me over email.
In this way, the Daily Beast's report is of a piece with a New Yorker story by Farrow published in April ― likewise about an incident that may or may not have happened and how money may or may not have been used to keep people from inquiring further. Farrow reported that in 2015, AMI paid $30,000 to a former Trump Tower doorman for the exclusive rights to his tip that Trump "may have fathered a child with a former employee" in the 1980s ― another rumor that has never been confirmed.
It's very possible that the original tip about an elevator tape was bad, that Arnold and a long list of reporters ― this one included ― wasted months searching for a video that doesn't exist.
But just about three months ago, I emailed Dagodag, the lawyer who had contacted TMZ about the tape, asking her if we could speak "about a tape I've heard a lot about."
The Daily Beast said in its story that the outlet had left multiple messages with the lawyer and visited her home and office, all to no avail.
But I got a reply. Two minutes after I sent my email, she responded with three words.
"Nothing to say," she wrote.
And then, two more: "Good luck."
Do you have information you want to share with HuffPost? Here's how. You can reach me at maxwell@huffpost.com and 347-788-0919. If you use the secure email service ProtonMail, I'm also available at maxwellhuffpost@protonmail.com.
Support HuffPost
The Stakes Have Never Been Higher
Related
Popular in the Community