But, it's not all bad. For every missed opportunity at the international level, there are countries, states, cities and individuals stepping up to do more. So, instead of huddling and crying in a corner like I did last year, I'm giving #climatethanks for some of the moments and movements that give me hope for our climate future:
1. Ontario giving up on coal: The Premier of Canada's largest province is looking to ban coal-fired electricity generation by the end of 2014. If the legislation passes, it will save the province $4.4 billion and be the single largest act of CO2 emission reduction in North America to date.
3. The Arctic 30: All acts of disobedience are done with the knowledge that they may end in arrest. But very few end with three months in a Russian jail. 29 members of Greenpeace's Arctic 30 are now out on bail, pending trial for hooliganism after attempting to board a Russian oil drilling platform in the Arctic. Whatever happens next year, their sacrifice and passion deserve our thanks and admiration right now.
4. Every country, province, state or region who banned or upheld moratoriums on fracking this year: Thank you France, Bulgaria, Germany, the Netherlands, the Czech Republic, Vermont, New Jersey, Quebec, Cantabria in Spain and the island of Hawaii.
5. Solar-powered Schools: Today thousands of students across the UK will go to class in schools powered in part by solar energy -- with panels they fundraised for themselves. So far 11 UK schools have successfully funded their solar installations and dozens more are in progress. There are similar programs across the U.S., too.
7. Climate scientists: Being a climate scientist is one of the most thankless jobs in the world. And yet, despite the endless attacks from deniers, they work long hours for little pay over some of the most depressing statistics imaginable to create reports like the IPCC's massive 5th Assessment report. Don't wait until June 12 of next year -- hug a climate scientist today.
8. The Divestment Movement: In the late 1980s, political and economic pressure to divest from South African government-held investments is credited with helping to end apartheid. Now, a youth-led movement is calling on universities, faith organizations and companies to do the same thing to the oil and gas industry. Already the United Church of Christ, Seattle, San Francisco and Rabobank in the Netherlands have pledged to divest. Who'll be next? (Looking your way, Harvard)
9. The Hyperloop: It's been a long time since North America talked about high-speed sustainable mass transit. Then electric car-innovator and possible Iron Man-inspirer Elon Musk shared his vision for the 'Hyperloop.' In his own words, the Hyperloop is used to connect cities between 900 and 1,500 kilometers apart viaan elevated, reduced-pressure tube that contains pressurized capsules driven within the tube by a number of linear electric motors. Musk wasn't planning on making the Hyperloop any time soon, but his idea sparked and now engineers are working on a prototype for 2015.
10. Executive orders: Let's face it -- Congress can barely keep the lights on, let alone pass any legislation that might protect or benefit the environment. That's why President Obama has started to use Executive Orders to advance his agenda on climate change. Starting in Fall 2014, all new power plants will be subject to strict rules on how much CO2 they can produce -- a move that puts the U.S. well on its way to meeting its current emission reduction targets for 2020. That said, all of this may seem less impactful when he issues his most anticipated executive order -- whether or not he'll approve the KXL pipeline -- sometime next year.
Now it's your turn -- what are you giving #climatethanks for this year?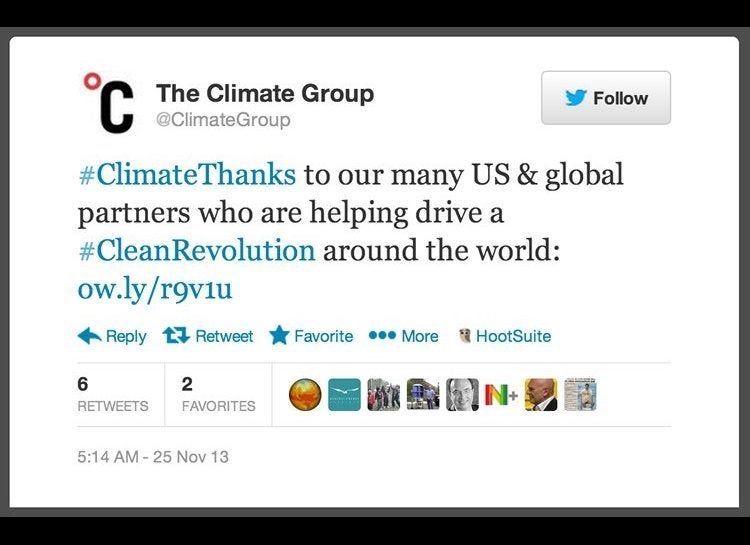 Twitter users share what they're giving #climatethanks for
Popular in the Community