The Internet went wild this week with a mixture of joy and fear over a Boston-area Craigslist ad posted by a man offering services as a "living elf on the shelf."
"For $100/hour I will come to your holiday party dressed as the Elf on the Shelf and sit in any location you assign me while I stare emptily at your guests for the duration of the event," the ad reads. "I specialize in holiday themed events, either yours or an un-expecting friend's, but I also offer contracted private investigation and babysitting services."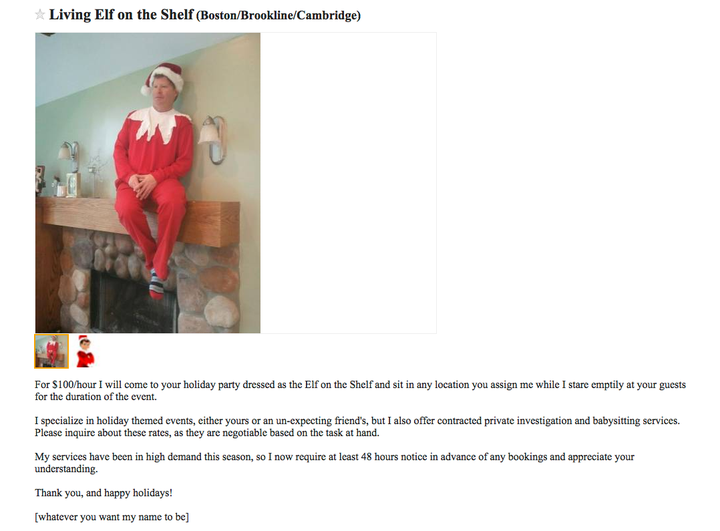 But the true identity of our Christmas nightmares personified has remained shrouded in mystery ... until now.
Jesse Brower, 28, revealed his true name to The Huffington Post in an exclusive interview Thursday, noting that he never expected to become an Internet sensation.
Brower told HuffPost that he posted the ad as a joke -- at first.
"I was thinking about how funny it would be to hire a really creepy guy to sit around … to just weird everyone out," he said.
Brower actually totally forgot about the ad until Wednesday, when it spiked to the top of Reddit and requests for his services came pouring in.
Now, he said, he's beginning to realize that he may have stumbled on a serious business opportunity -- the public seems more than willing to pay top-dollar to have a random, motionless stranger gaze on their party guests. Brower didn't share any solid future plans, however.
He added that previous interviews he's given in character as "Chris N. Kringle" should not be taken seriously, and that the man in the Craigslist photo -- which he says he found via a Google search -- is not him.
UPDATE 12 -19 - 2015: The man in the photo Brower used has been identified as comedian Jim Clark.
Popular in the Community