Like the Christmas season wasn't elfing stressful enough. Now, there's a magical elf in the house that supposedly reports to Santa every gosh darn night in December -- or at least most nights -- and changes places upon its return.
What an elfing awesome idea! Thanks so much to the magical creators from the North Pole who came up with this challenging addition to our holiday routine. We really needed this wake-up call, this extra check on our attentiveness, this daily reminder that we are far from the parents we set out to be.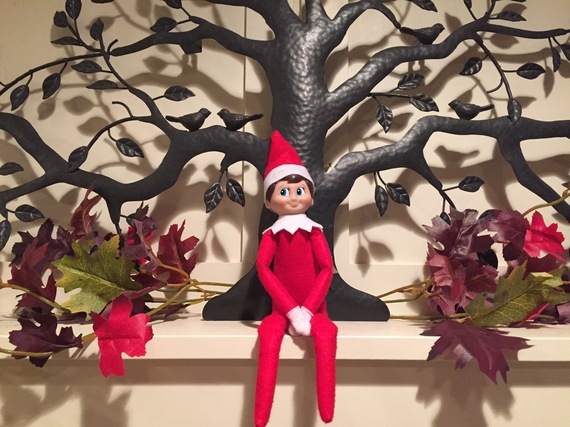 For the record, our family resisted this elfing movement for many years. We did. Then last year, as the kiddos exchanged their traditional Christmas Eve Secret Santa gifts, one sibling got the other a brand spanking new Elf on the Shelf. So, our introduction to Elf-on-the-Shelfdom officially happened on December 24, 2014. The elf's arrival initially set off a bit of family squabbling over whether to name him Abraham or Stanley. Why either name was the choice, I have no idea. A compromise was reached, and he was promptly named "Abraham Stanley."
That very night, Santa came to our house and picked up Abraham Stanley and took him back to the North Pole, as the legend goes, until the next holiday season. (And by legend I mean the instructions in the box he came in).
From last Christmas until this December, Abraham Stanley hasn't caused us any trouble, spending the better part of the year with his friends and colleagues at Santa's Workshop. Then, on December 1st of this year, he magically arrived on a shelf in our once happy home. Now each morning begins with a frantic kid-led search for our little yuletide spy. That search is often preceded by a frantic parental moment when one of us asks the other, Did the elf move? It's amazing how this little question -- which I had never asked before this year -- can now shake me to my parental core.
Despite our united focus on this nightly task, and the Google calendar alert set to 5:00 a.m. each day that simply reads, "Elf," our little Abraham Stanley doesn't always move. He's something of a slacker, really. And that has left the kids a bit perplexed.
Apparently, he's also not the most creative elf in the world. The kids regularly come home from school with stories of how other elves in the neighborhood always do funny things, having tea with dinosaurs and toilet-papering the dollhouse. Ours just sits on shelves and atop rather predictable bookcases.
"Why is Abraham Stanley so boring?" one of them asked me the other morning. Dagger.
Like I said, the only thing our elf does consistently is serve as a daily reminder that we are just hanging on as parents.
Not to deflect the criticism, but I think I know why he's such a slacker. Let's face it, any elf worth his or her salt spends December working on a serious toy production deadline. This whole Elf of the Shelf mass arrival is really just Santa's (or someone else's) plan to clean out the elf riffraff. Personally, I'd like to send all these little red interlopers straight back to the North Pole.
Oh no. I think my frustration with Abraham Stanley has led me to go full Trump on these holiday helpers.
But honestly, we really don't need their help. The mere threat that "Santa is watching" has worked to keep our kids on the straight and narrow -- for a few weeks, anyway -- for as long as we've had kids. Having a physical presence on the premises only moves the good behavior needle a fraction, while overall causing more grief than anything. Our Elf on the Shelf is just not worth the hassle.
I know darn well there are many parents who've complained about these magical little additions to the Christmas rigmarole before. And maybe we can't just deport all the elves currently in homes across the nation. But something needs to be done.
Because we simply don't need more elfing stress this time of year. So, here's my message to all the parents who have yet to go down the Elf on the Shelf rabbit hole: resist it. This is one new tradition that just isn't sustainable. To the parents who go over-the-top with your elf-written poems and hilarious antics: please tone it down a bit. I shouldn't have to resort to Pinterest to figure out which crazy predicament Abraham Stanley is going to be found in tomorrow morning. And, to all the Elves on Shelves and the institutions pushing them on overstressed families everywhere: "Elf Off!"
I sure hope Abraham Stanley doesn't read this.