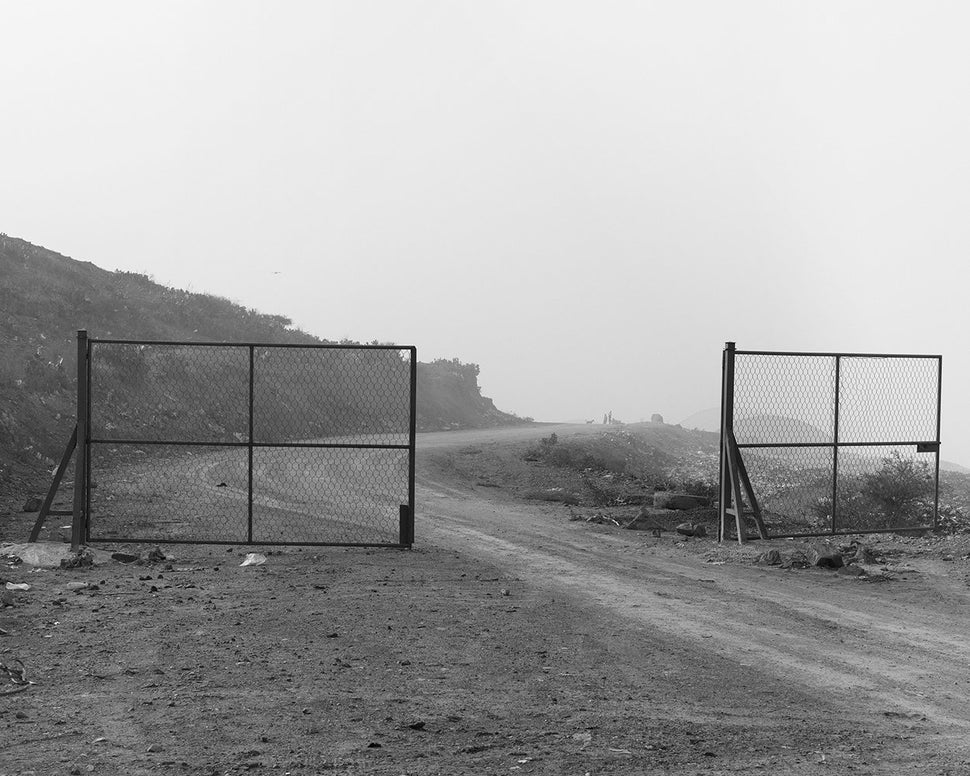 "How do you photograph something that you are not allowed to see?" photographer Eli Durst asked in an interview with The Huffington Post. This was his central question when traveling to the East African city of Asmara, camera in tow. 
Specifically, Durst was referring to the human rights abuses that plague Eritrea's capital city, home to around 560,000 people, many of whom are desperate to leave. According to a 2014 report from The New York Times, almost 4,000 Eritreans flee the totalitarian-ruled country each month. 
Eritrea was colonized by the Ottomans, the Egyptians, the Italians and the British before finally winning independence from Ethiopia in 1991. There has not yet been a single national election since independence was gained. The president has remained Isaias Afewerki, a man one Asmara teacher accused of "isolating [the] country so that nobody can see what happens here."
From the outside, Durst explained, the city's tyrannical order is invisible, though not imperceptible. Protestors and criminals are imprisoned without trial and subjected to conditions that can only be described as torturous. An ominous veil of enforced calm blankets the streets. "A lot of people say it's the safest city in Africa," Durst said, "which in some senses is true because people are too afraid to commit crimes."
Durst, who recently graduated with an MFA in photography from Yale, became interested in Asmara while volunteering at Casa Marianella, an emergency homeless shelter in East Austin, Texas, which provides shelter and legal advice for refugees seeking political asylum. Helping out his mom Sarah Woelk, an immigration lawyer, Durst took identification portraits for the applicants, getting to know many of them during the process.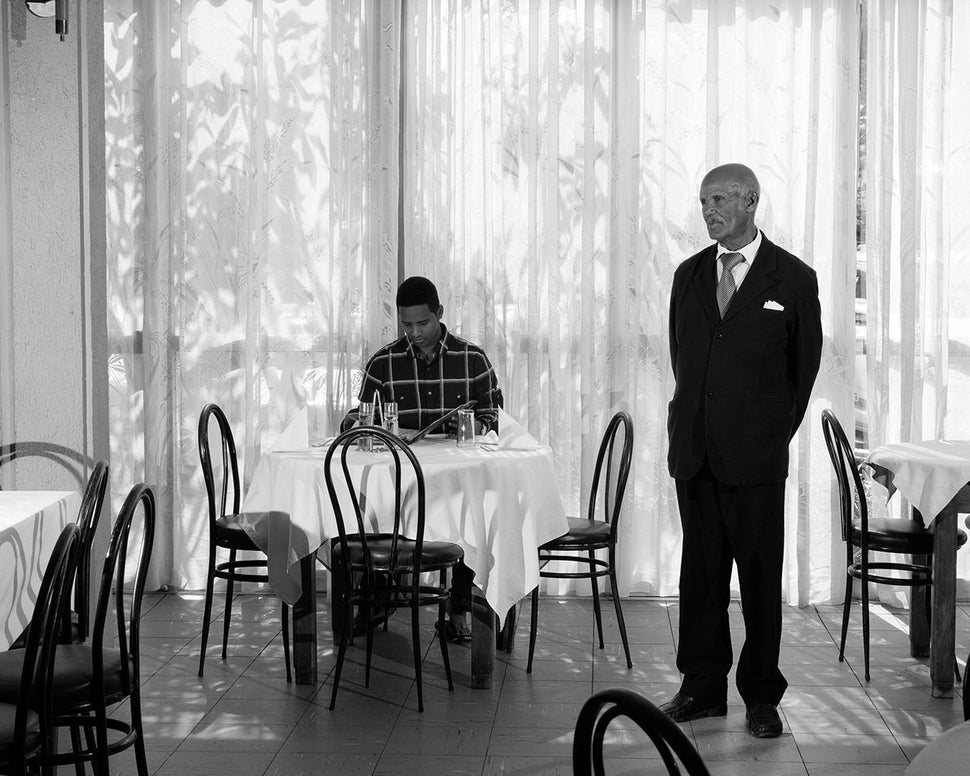 Many of the immigrants Durst worked with came from Eritrea. Time and again, when they found out he was a photographer, they urged him to visit their homeland, a place that remains so largely unseen. "They would all say, 'You should photograph Asmara,'" Durst said. "I kept hearing it over and over again." Durst was intrigued by the antithetical nostalgia attributed to a place people were simultaneously so desperate to leave. 
There is one crucial detail that helps account for the widespread reverence regarding the politically oppressive city: Its architecture. Most of Asmara's structures were built under the Italian colonial rule of Benito Mussolini in the early 20th century, before Britain took control of the city in 1941. The city, which still retains the nickname "Africa's little Rome," is a peculiar sort of time capsule, full of art deco buildings that are otherwise only visible in classic Italian films, the stuff of Fellini.
In the summer of 2015, Durst received a grant to photograph the city of Asmara; he was there for 15 days. Although he embarked upon the project with no clear-cut idea of what he'd end up with, Durst was certainly seduced by idea of the architecture he'd heard so much about.
"These buildings were meant to be symbols of a fascist utopia," he said. "They serve as visual symbols for the current autocratic state."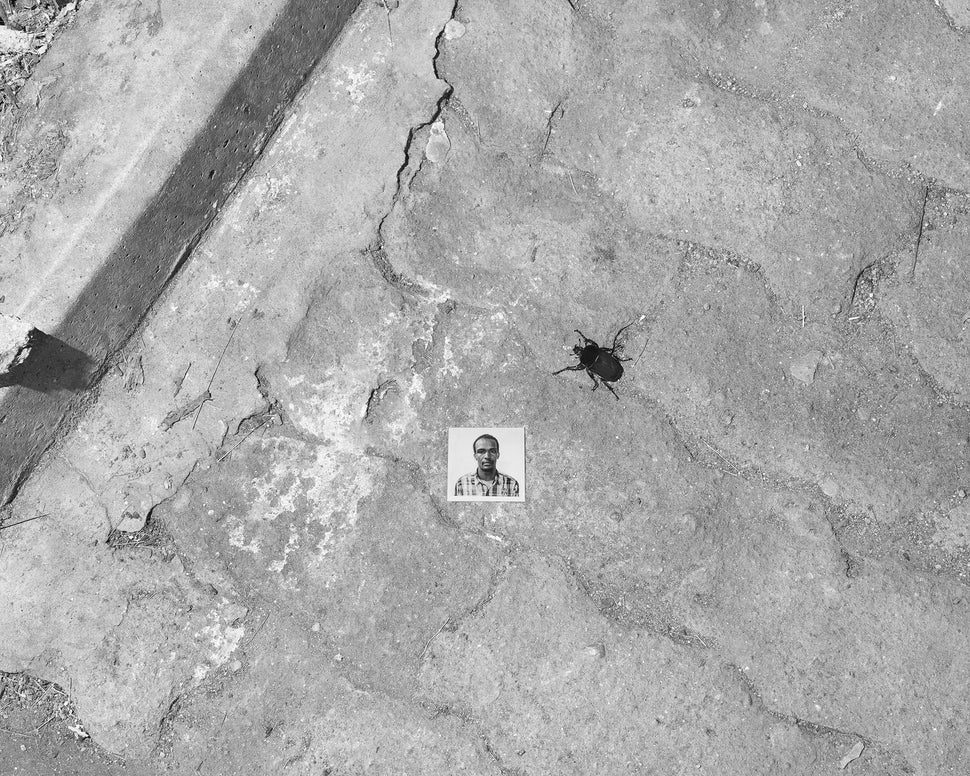 And yet, when he arrived, Durst found many of the structures he'd intended to document were either strictly off limits or in a state of decay. "There was this gorgeous, art deco pool all painted green," Durst recalled. "I was so pumped to photograph it, but it was locked up and in total disrepair. It had been closed for 10 years."
Durst was ignorant to the neglect, in part because Eritrea has no free press, and so little information about it reaches beyond its borders. "This building had just been closed for years and no one knew."
During his stay, Durst was forbidden from photographing government buildings, and furtively followed by government handlers to ensure he complied. The photographer found himself in a position that, for Eritreans, was all too familiar. How do you convey what cannot be explicitly shown? As Durst put it: "How do you get at that underlying trauma or paranoia of the place?"
Durst found his answer in the cinematic quality of the architecture. Specifically, Durst felt a kinship between his environment and the films of Michelangelo Antonioni ― both characterized by a looming tension and anxiety ― palpable yet out of sight. 
The photographs in Durst's "In Asmara" series operate similarly. At first glance, they're mundane, yet something about them feels off, eerie, frustratingly unresolved ― a small scab that compels you to keep picking.
In one image, "Portrait with Beetle," an identification photo rests on an empty street, accompanied only by a beetle wandering by. Shot from above, the image positions the viewer as a stranger strolling by, pausing momentarily to peer down at the abandoned, anonymous ID photo, incongruously juxtaposed with the bug twice its size. Durst's time taking ID photos for escaped refugees comes to mind, though the image resists absolute resolution, as staunchly indeterminate as the snapshot within it.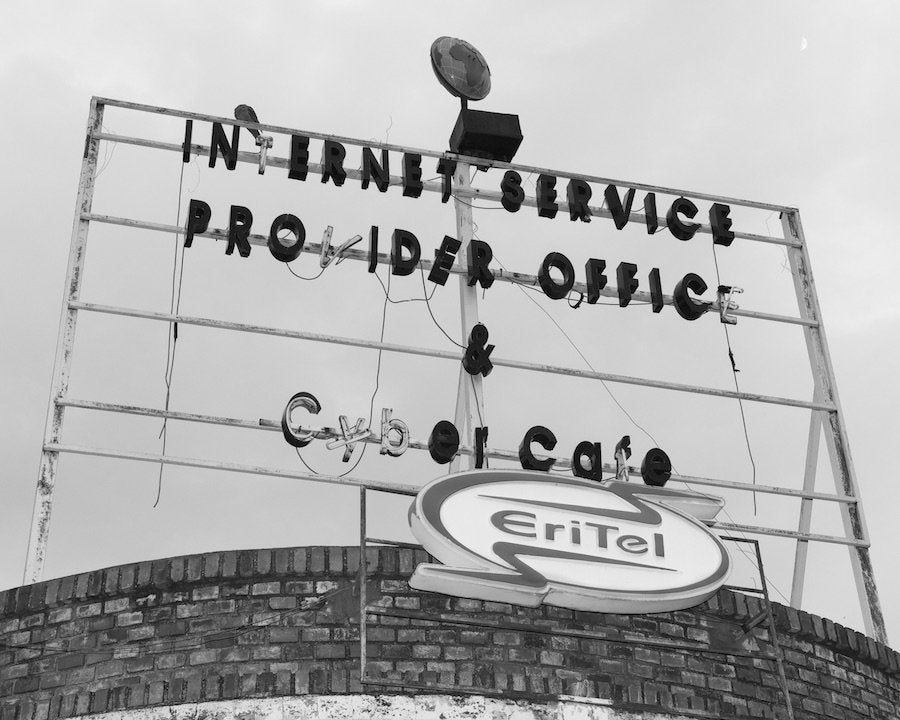 Another, "Eritel," depicts the derelict sign of a cyber cafe, many of the letters teetering off balance or missing their casing. The neglected marquee speaks to the corresponding scarcity of what the internet allows and represents ― free speech, information, visibility, and communication. 
All of Durst's photos imbue banal scenarios with cinematic intensity, capturing the anxious underbelly of a city through gesture, contrast, and atmosphere, mimicking the lack of access, transparency and dissent that constitutes Eritrean life. 
When Durst returned to Austin, he showed many of the immigrants the photos he took abroad, describing the experience as bittersweet. "There is a real, deep connection to this place," Durst said, "a place they were desperate to leave. That is the paradox that first attracted me. A lot of people said, 'Wow, it looks so much worse than when I was there.' There is a sadness that nothing is being maintained. A deep sadness."
Durst's "In Asmara" won the 2016 Aperture Portfolio Prize. The work will be on view at Aperture Gallery in New York from Dec. 10, 2016, until Feb. 4, 2017.
Calling all HuffPost superfans!
Sign up for membership to become a founding member and help shape HuffPost's next chapter
BEFORE YOU GO
PHOTO GALLERY
The Architecture Of Zaha Hadid