It is hard to imagine what could've brought about the current state of Eli Manning and the 0-6 New York Giants. A winner of two Super Bowls, Manning's tenure with Big Blue has been defined by late-game heroics. Statistically, he is one of the league's all-time greatest in fourth-quarter wins. The 2013 season, however, is an ongoing catastrophe of epic proportions. Virtually unprotected by an old, patchwork offensive line, Manning has thrown a shocking 15 interceptions already this season, worst in the league.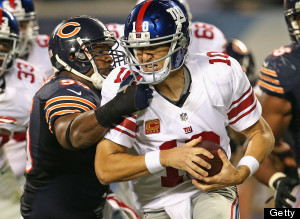 Manning has been sacked 16 times this season, which is tied for the third-most in the league. (Getty Images)
Despite how poorly he and his team have played thus far, Manning has proven that he can put a team on his back and win. Thursday night in Chicago, he had yet another chance to salvage the season, down six but driving late. Instead, the 32-year-old tossed an errant pass high to tight end Brandon Myers and was picked off. Game over. It was the epitome of their season.
"I feel like we're about to drive and win a game," Manning said after the 27-21 loss to the Bears. "And, you know, I make a mistake."'
Head coach Tom Coughlin said, "We're all sick of the losing." The 67-year-old has won two titles in seven years, so one expects that he is not taking it lightly that the Giants have started 0-6 for the first time in nearly four decades. That said, things couldn't look much worse.
The harsh reality for the Giants is that the season is over. At best, this is a four-win team the rest of the way. But no one should put it all on Eli, either. New York has neither a proven, long-term running back nor the shutdown defense it thought it had. What happened to defensive end Jason Pierre-Paul, who has gone from truly dominant to truly ordinary? What happened to the G-Men's lethal pass rush, which helped to win the Super Bowl just 20 months ago?
That quizzical look on Manning's face is starting to become a permanent fixture this season -- but he still remains a big-time quarterback who can win games. For the time being, he has three weapons on the perimeter in Victor Cruz, Reuben Randle and Hakeem Nicks, although Nicks could very likely leave in free agency after the season. The supremely gifted but mistake-prone second-year running back David Wilson has been struggling with a bout of fumble-itis, but is too talented to write off. From an offensive standpoint, the Giants have the personnel at the skill positions.
The offensive line, though, is one of the oldest in the league, and is in need of an overhaul. Rookie right tackle Justin Pugh has been inconsistent, but has shown improvement. Everyone else, including stalwarts like 30-somethings Chris Snee (out for the season) and Dave Diehl, are simply no longer adequate. Manning is tied for third in the league in sacks, with 16. He may not be as mobile in the pocket as Russell Wilson or Colin Kaepernick, but no quarterback who is pressured with such alarming frequency could expect to be consistently successful.
This is a league of tremendous parity, where 2-win teams like the Kansas City Chiefs can start the next year 5-0. It is a league where losses are the reward for complacency.
And complacency seems to have felled the Giants.
Email me at jordan.schultz@huffingtonpost.com or ask me questions about anything sports-related at @Schultz_Report. Also, be sure and catch my NBC Sports Radio show, Kup and Schultz, which airs Sunday mornings from 9-12 ET, right here.
REAL LIFE. REAL NEWS. REAL VOICES.
Help us tell more of the stories that matter from voices that too often remain unheard.