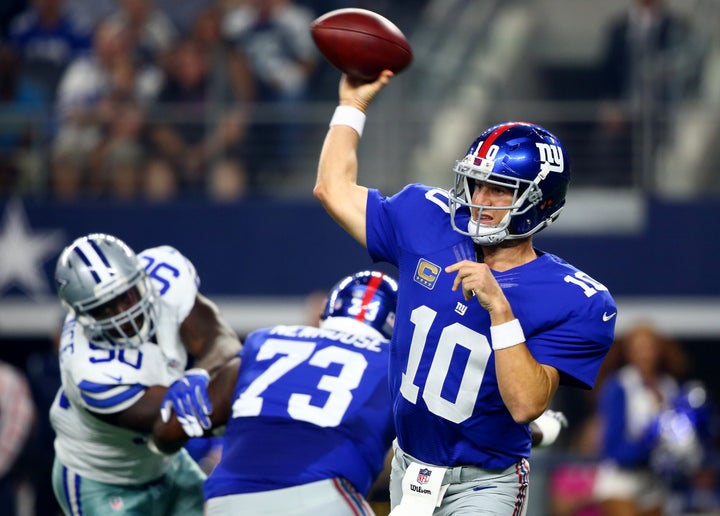 There has never been a worse or more inopportune time to be an immobile quarterback with a shaky offensive line than in today's NFL. Pass rushers are too good, too quick, too athletic. And defenses are too aggressive not to tee off. 
Two games into what will likely become an arduous season for the New York Giants, it becomes apparent that their quarterback, the two-time Super Bowl winner Eli Manning, probably has a particularly challenging season ahead. 
Manning looked ancient playing against Dallas in Week 1, moving at a glacial speed in his progressions -- and perhaps more importantly, in the fast-closing pocket. Unable to move the ball all night -- the culmination of a putrid 20-36 for fewer than 200 yards -- was an utterly absurd play-call to roll him out and throw on the Cowboys' 1-yard line in the game's waning moments. Should he have taken a sack? Yes. But it's hard to fault a quarterback who's trying to ice the game in Week 1 for that. Then, in a Week 2 loss to Atlanta, Manning inexplicably fumbled the ball inside the Falcons' 10-yard line. The Giants became the first team in league history to blow double-digit fourth-quarter leads to open the season.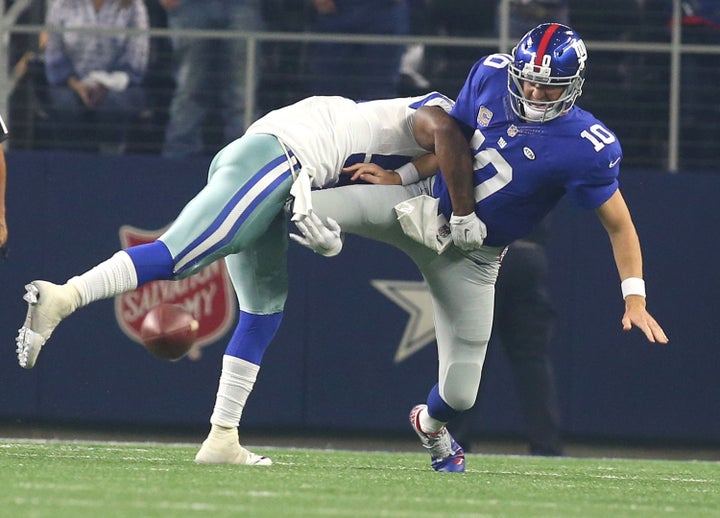 The fault isn't all on Manning, to be sure. It should also be directed toward head coach Tom Coughlin and offensive coordinator, Ben McAdoo, for designing an offense around one of the league's idle statues in the pocket. The irony is that McAdoo is a fine offensive mind with innovative ideas about how to both move the ball and score points at this level. During his previous tenure with the Green Bay Packers, he employed the same principles. It worked extremely well because Aaron Rodgers is not merely an elite quarterback, but an elite athlete as well. McAdoo's offense is predicated off of this: Get him a guy who can consistently move the pocket as well as make solid pre-snap decisions, and his offense will put up a ton of points.
Manning, like his coach, is headed to the Hall of Fame, but he's also 34 years old without the support of a running game or a sound line to protect him. The Giants, to be sure, are a woeful collection of has-beens and never-weres, and not all of the blame goes to the quarterback or the coaches. General Manager Jerry Reese has won two Super Bowls, but that seems like an eternity ago after the collection of talent he's assembled ever since. Aside from Odell Beckham Jr., there isn't a single upper-echelon skill position player on the roster, because we really don't have the slightest inkling what Victor Cruz will look like after his knee surgery. One of Reese's marquee signings of a year ago, Rashad Jennings, is a plodding running back who has managed to average a measly 3.8 yards per carry since joining the team. His offensive line has been in shambles for several years now. Oh, and the same can be said about his entire defense.
The NFL is arguably the hardest league to stay competitive on an annual basis. We have come to expect this. The other main professional leagues in North America (NBA, MLB, NHL) have crowned more champions since 1984. The Giants have won two Super Bowls with Coughlin, Reese and Manning at the helm, but have also managed to miss the playoffs for three straight years. There no indication that this won't be the fourth.
Manning may not be finished -- the organization just extended his contract an additional four years -- but he is nowhere near the stellar quarterback we've seen in previous seasons. Whether Coughlin is the same coach he once was may be up for debate, but a third consecutive losing season should spell out his fate. And the same should be said about Reese. One of the game's proudest organizations losing at this level cannot be tolerated any longer.
CORRECTION: A previous version of this article stated that Victor Cruz had surgery because he had damaged his ACL. He had actually torn his patellar tendon.  
Calling all HuffPost superfans!
Sign up for membership to become a founding member and help shape HuffPost's next chapter