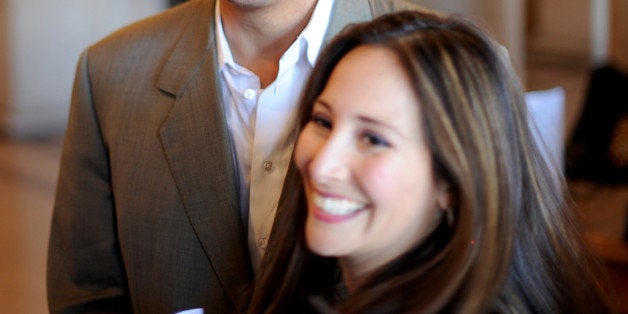 SAN FRANCISCO, May 27 (Reuters) - The wife of the San Francisco sheriff convicted of domestic abuse in a scandal that rocked the department is set to star in a one-woman play that allows her to tell the story as she saw it.
Venezuelan soap opera actress Eliana Lopez is scheduled to debut her production, "Cuál es el Escándalo?" ("What is the Scandal?") on Friday at San Francisco's Mission Cultural Center for Latino Arts.
Lopez is married to Ross Mirkarimi, who was charged in January 2012 with misdemeanor domestic violence and child endangerment counts just five days after his installation as sheriff following a New Year's Eve quarrel that turned violent.
In a cellphone video a neighbor recorded the day after the argument, a tearful Lopez pointed to a bruise on her arm and said her husband had grabbed it with such force that he left it black and blue.
Lopez testified before a city ethics panel that the neighbor convinced her to document the bruise in case she and Mirkarimi separated. Lopez said she feared her status as an immigrant could cost her custody of her son if they separated.
Lopez refused to testify against her husband in court and stood by him throughout the proceedings, a position she aims to reinforce on the stage.
"I made this play because I need to do it," Lopez told local public broadcasting station KQED in March. "I need to say my side of the story."
She told KQED that the political firestorm that swirled around her as the controversy grew was overwhelming, but the performance will also have lighter elements.
"It's like, we are going to be laughing about a painful experience. We are going to be reflecting the ironies and the big contradictions that I felt in that moment," she said.
Mirkarimi, a co-founder of California's Green Party, struck a deal with prosecutors to plead guilty to a lesser charge and was sentenced to a day in jail and three years of probation.
He was suspended as sheriff by Mayor Ed Lee, but was later reinstated and remains in the post.
Lopez is set to perform the play six times over its two week run, according to the cultural center's website. (Reporting by Curtis Skinner; Editing by Tom Heneghan)
Calling all HuffPost superfans!
Sign up for membership to become a founding member and help shape HuffPost's next chapter