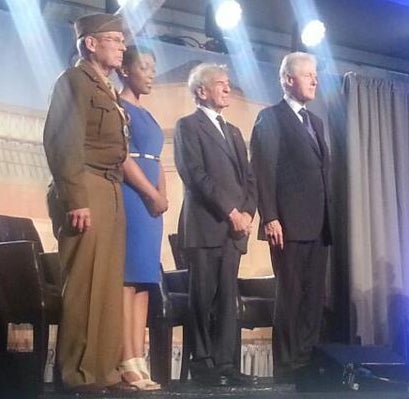 The United States Holocaust Memorial Museum's 20th Anniversary Tribute, held on April 28 and 29, 2013, was attended by 843 Holocaust survivors and 130 World War II veterans. Hosted in a massive outdoor tent, it was a weekend of life and perseverance, but mostly, of reaffirming the Museum's archival and educational mission.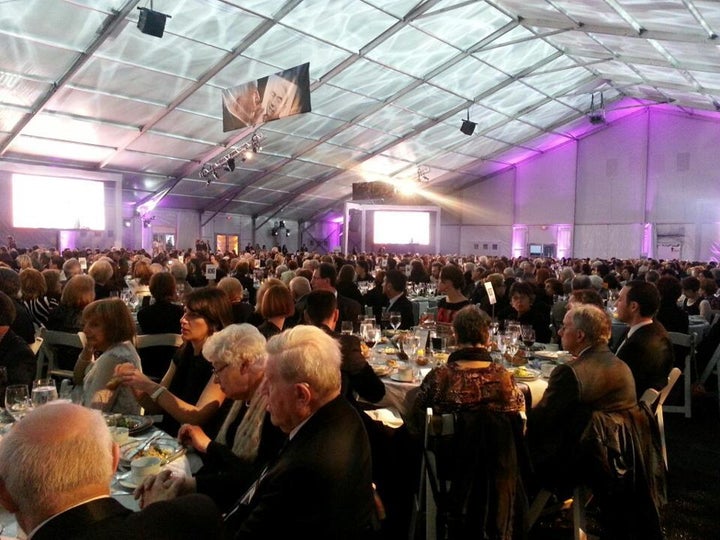 I was part of a 49-person contingent from Boston that attended the events, arranged by the American Association of Jewish Holocaust Survivors of Greater Boston, Generations After (an organization for children of Holocaust survivors, or 2Gs), and Boston 3G.
AAJHS President Janet Stein termed the trip the fulfillment of a community effort to attend a milestone program. "Our survivors, 2Gs and 3Gs brought great significance to the anniversary observance of the USHMM, a memorial that arose from the heartache of these survivors and from the heritage stolen from their progeny," she said.
Videotaped remarks by President Obama began the two-day tribute.
The museum's director, Sara Bloomfield, said that the museum's core mission is to educate, but also to help prevent future genocides.
The keynote speakers were two men who had addressed USHMM's 1993 inaugural ceremony: President Bill Clinton and USHMM Founding Chairman Elie Wiesel, who was introduced by Bloomfield.
The following is a transcript of Wiesel's remarks:
"I really believe that life is not made of years, but of moments," Wiesel began. "Moments that define our lives. And one of them is to have so many of you here tonight.
"We know how it happened. This museum, with its tens of thousands of documents, tells us how. But we don't know why.
"What kind of sins could our grandparents have committed to warrant such punishment? If there is an answer, then hope must be part of it.
"Those who would condemn an entire race of people to extinction and men and women to prisons.... What can we tell our students and teachers? We can't say 'just forget it.' That is to admit defeat. It hurts, so it hurts.
"We learn that unfortunately, everything is possible. Every one who committed those crimes had a choice, and they committed those crimes. Their punishment is our memory, as long as we remember what they did.
"How can we tell such sad stories, but how can we not tell them?
"I come from a very religious background – my grandparents were Hasidic. Do I have the right to say to them, who are no longer here, you were wrong?
"One pair of tefillin was smuggled into the camp. My father and I, why did we do that? There are some laws in Judaism that you should do even if it risks your life, but this was not one of those.
"After the war, I wanted to say to the Master of the Universe that in spite of it, I don't give up. It is the easiest thing to give up, to say the world is not worthy of our pain, but we don't give up. Each testimony matters.
"Even in the midst of extraordinary suffering and death, it is given to every one of us to maintain dignity.
"We had the right to say 'from now on, leave me alone, I don't want to hear about it anymore – I want to have a good life, with wine, and to find somebody to love.'
"But now it is our duty to help others, instead of us saying 'we paid the price, don't talk to me anymore about racism and hatred.'
"To anarchists and nihilists, we say, 'We actually choose the life of devotion and to help each other.'
"We are stronger than our passion. We still believe that all human beings are a sacred presence to each other. We still believe.
"When we are all here, not only does it bring joy, but we never imagined that this event would have such a dimension of goodness and hope.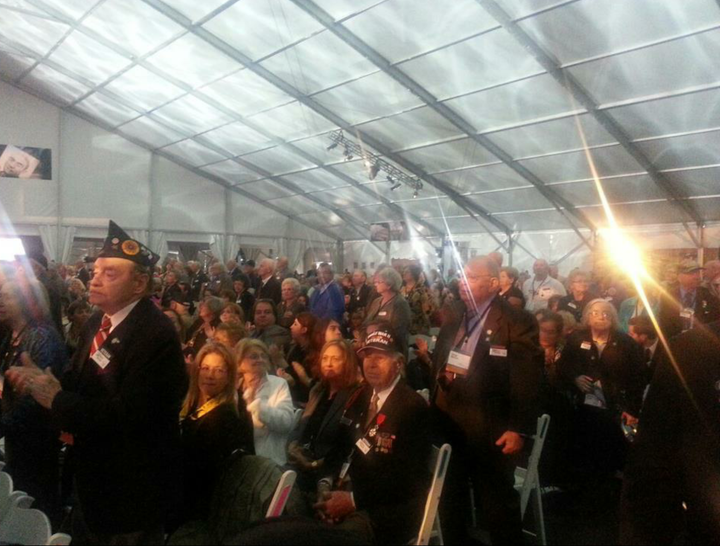 "We speak about pain and persecution, but it is not the end of the story. The end is written by us, and not by destiny. I believe that we tell these stories so that people will help each other, and we hope that political leaders will make better decisions.
"Oh yes, shed tears, but tears may not always be tears of sadness. Look toward each other to see what we all have together.
"It has been 20 years – and I really believe that there are miracles in the world. Human miracles. So I owe you all a debt of gratitude for believing in our own miracles."
Those of us who heard Elie Wiesel speak that evening are equally grateful. Let's continue to create miracles.
Follow Susie Davidson on Twitter: @SusieDavidsonMA