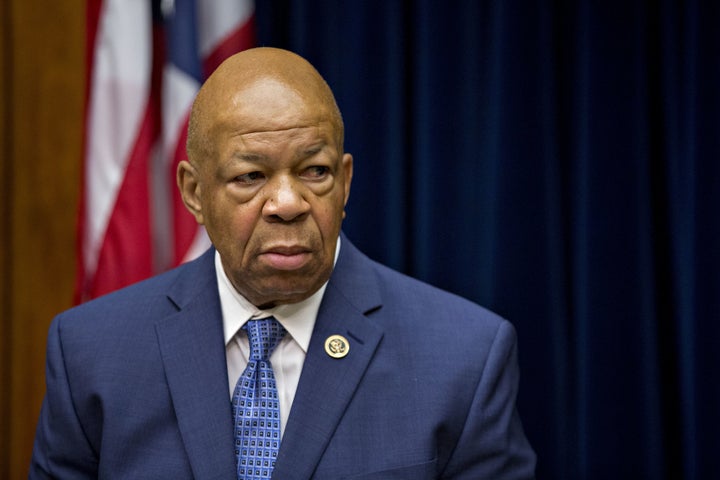 WASHINGTON ― Five hours into a hearing with FBI director James Comey about Hillary Clinton's emails, Rep. Elijah Cummings (D-Md.) changed the subject to something a bit more important: black people being killed by police officers.
Cummings, who is black, all but begged Comey to do something to help break the pattern of unarmed black people being killed by police. Just this week, Alton Sterling was shot dead in Baton Rouge, Louisiana, while selling CDs outside of a convenience store, and Philando Castile was shot and killed near St. Paul, Minnesota, after being pulled over for a busted tail light.
"Mr. Director, if you do nothing else in your 2,000-plus days left, you have to go help us get a hold of this issue," Cummings said. "It is so painful. I can't even begin to tell you."
The Maryland Democrat said he woke up Thursday morning "to my wife literally crying" while watching a video of Sterling being shot. Then she watched the video of Castile bleeding out in his car.
"I hope you watch them," he told Comey. "There's something wrong with this picture."
Cummings, who represents the majority of the mostly black neighborhoods of Baltimore, said he's fortunate he's never been harmed by police. Still, he said he's been pulled over "50 million times" for no clear reason, and it's all connected to people of color being targeted by law enforcement.
"As an African American man in this country, 66 years old, moving toward the twilight of my life, we cannot allow black men to continue being slaughtered," he said.
Comey sat quietly as Cummings spoke, but didn't respond.
Watch Cummings' full remarks below:
Popular in the Community