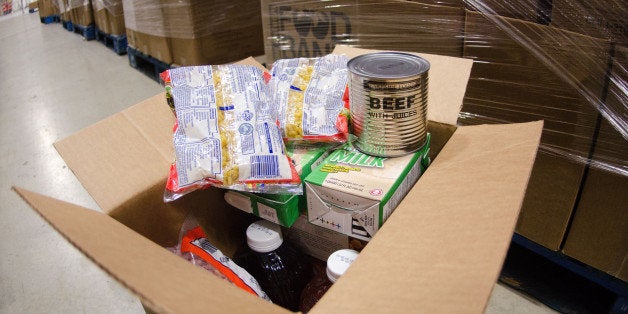 In cooperation with our longstanding partner Crowdrise, The Huffington Post is celebrating its 10 year anniversary by focusing on the promise of the next 10 years. We're highlighting causes that are near and dear to our ethos -- causes where we believe meaningful progress can be made in the coming decade -- and empowering readers to act and take part. Join us!
When Neelam Sharma moved with her family to South Los Angeles from London in 1996, the lack of access to healthy foods was a personal problem: She had two young kids to feed and not a Ralphs or Wegmans supermarket in sight.

Sharma began volunteering at Community Services Unlimited, an organization that provides low-cost healthy foods to the underserved community of South Los Angeles, which sits in a county with the highest rate of food insecurity in the country. She now works as the organization's executive director, expanding its reach through funding from government and private sector programs.

Like many organizations of its kind, CSU is working working to eliminate "food deserts" -- mostly poor areas where fresh, whole foods are hard to find. The problem of food deserts may seem to have a simple solution: open more stores. And, indeed, there are many organizations and government programs to help incentivize grocery stores to open in underserved areas. But for-profit stores struggle to stay open.

One reason food stores proliferate in the suburbs and struggle in urban areas has to do with zoning codes: Supermarkets are usually required to provide parking lots based on store square footage, nearly doubling the parcel of land required to open up shop -- an expensive or logistically complicated proposition in many urban areas. What's more, small grocery stores often require higher markups to make them profitable. Add to that a lack of competition to keep pricing down, and you've got a store with prices unsuitable for the local population.

"Just living in the neighborhood, I noticed there's such high turnover," Sharma explained. "These stores stay open for six months or a year and then close. There's a lot of monetary incentive for stores to open in a neighborhood -- reinvestment money and tax breaks available. But what's the incentive to stay?"
One example of this phenomenon is the British grocery giant Tesco. The company entered the U.S. market in 2007 with a plan to open stores under its Fresh & Easy brand, with the express purpose of selling healthier fare in small convenience stores. By 2013, Fresh & Easy had filed for bankruptcy, and was sold to a second parent company. Last month, the chain's new management announced the closing of 50 of the 167 stores currently in operation -- including a location that served a food desert in South Los Angeles.
By contrast, organizations like CSU are committed to staying a part of the community. Sharma said the organization gets grant money from several sources, including both the U.S. Department of Health & Human Services and Kellogg's charitable arm, to fulfill this purpose.
CSU and organizations like it also benefit from a changing landscape. As of 2011, the HHS offered $400 million a year in grants to businesses and projects that are aimed at increasing healthy, affordable food to poor populations. The stick to HHS' carrot: a provision of the 2014 Farm Bill requires retailers who accept SNAP benefits to provide at least seven types of whole, "staple" ingredients, meaning protein, fruits and vegetables, or dairy products, and at least three different categories of perishable food at all times.
CSU was just able to purchase its first location after decades of renting in South LA's Paul Robeson building. Sharma says the organization even beat out a last-minute cash offer from Whole Foods, which is attempting to expand to smaller, more affordable markets. That's a sign to Sharma that attitudes are changing, and that small NGOs like hers are seen as a sustainable option.
Whole Foods declined to comment on whether it was exploring sites in South Los Angeles, but Robin Rehfield Kelly, a representative for the company, did say that healthy food access was a core value and mission for the supermarket chain, which has a 501(c)(3) foundation dedicated to this very issue. She pointed out that stores in similarly disadvantaged communities in Detroit and Chicago were thriving.
As nonprofit organizations, for-profit companies and government initiatives sharpen their focus on food insecure neighbors, a healthier landscape may emerge across the country.
"In the past few years, a variety of public and private sector initiatives have cropped up to address issues of access and affordability when it comes to healthy foods, particularly among disadvantaged populations," said Sara Bleich, associate professor of human nutrition and health, behavior and society at the Johns Hopkins Bloomberg School of Public Health.
"Taken together, if these efforts are successful, then in 10 years more Americans will have access to affordable and healthy food near their homes."
This page contains materials from The Huffington Post and/or other third party writers. PricewaterhouseCoopers LLP ("PwC") has not selected or reviewed such third party content and it does not necessarily reflect the views of PwC. PwC does not endorse and is not affiliated with any such third party. The materials are provided for general information purposes only, should not be used as a substitute for consultation with professional advisors, and PwC shall have no liability or responsibility in connection therewith.