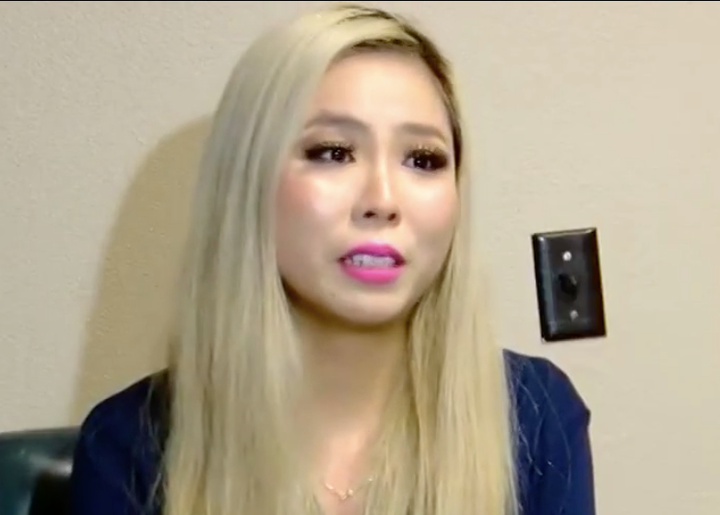 For years, Elina Blackstock dreamed of being a Hooters Girl ― even when she was growing up in Tokyo.
"To me, my goal was to become a server, but I wasn't confident," the 22-year-old Blackstock told HuffPost. "I heard some good things about Hooters from a friend in Arizona and wanted to work there."
Blackstock moved to Wichita Falls, Texas, two years ago and finally got her chance to live the dream when the wing chain opened a location in her new hometown.
But she says things took a turn Sunday afternoon after a customer wrote a racial slur on a $70 receipt.
The note on the receipt read, "Get a different job," and included the word, "jandice," which Blackstock assumed was a misspelling of "jaundice," a condition associated with a yellow discoloration of the skin.
"I think some people don't understand what the word 'jaundice' means, but it's a racial slur for Asians," she said.
In addition, the customer only gave a 1 percent tip.
Blackstock said the customer in question was part of a family whose members were rude and made fun of her for being Asian.
The experience left her in tears, and she posted about it on Facebook under the name Elina Blackstone.
Still, some people haven't been sympathetic.
"Some people think I was overreacting, and I need to get over it," she told the paper.
She told HuffPost some people accused her of reverse racism because she described the customers as "white," but she disagrees, because unlike "jandice" or "jaundice," "white" is a term used in government documents. 
Blackstock was so devastated by the experience that she quit her job, deciding she no longer wanted to be a Hooters Girl or a server at any restaurant at all.
"I was so sad," Blackstock told local news outlet TexomasHomepage.com. "I was so speechless honestly because this sort of thing never happened to me before."
Although Blackstock quit after complaining to managers, she said they supported her, as did people in the Hooters corporate offices.
The restaurant chain's chief legal officer, Claudia Levitas, released a statement on Monday to local radio station KNIN condemning the incident.
We were deeply troubled to learn of this customer's disgraceful language and the offensive note directed at Elina. It is sad that this type of behavior still exists. As soon as our managers found out about it yesterday, they comforted Elina and told her that we would ban the customers if they tried to return.

Additionally, Hooters' CEO Terry Marks called Elina today to express his full support and to assure her that we don't tolerate that type of behavior.
HuffPost reached out to the restaurant to see if the family was really banned. The on-duty manager deferred questions to Hooters' corporate offices, which did not immediately return phone calls.
Although Blackstock is no longer working at Hooters and the family is presumably banned there, she worries about future incidents with them.
"This is a small town and I might see them on the street," she told HuffPost. "They're probably enjoying all the attention."
Blackstock discusses the incident with the Times Record News in the video below
Calling all HuffPost superfans!
Sign up for membership to become a founding member and help shape HuffPost's next chapter
BEFORE YOU GO
PHOTO GALLERY
Outrageous Receipts (EXPLICIT LANGUAGE)