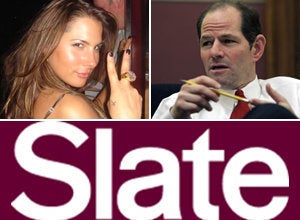 Spitzer's wife, Silda, helps edit his columns for Slate, according to a tipster for New York magazine's Daily Intel blog:
Newly christened Slate columnist Eliot Spitzer is really warming up to his new role as a media professional. Last night, while he was "mingling extensively" at the Website's holiday party, an Intel tipster overheard him actually discussing his process: "I feel like I'm better at expressing my self through writing than speaking," he said. "I usually take about an hour to write [a column] and then send it to my wife to edit." He has not yet adopted the slovenly dress code popular among his peers, however. "I guess I'm the only one here wearing a suit," another eavesdropper heard him remarking.
If Eliot Spitzer were to choose a venue at which to make his re-entry into society, he would presumably not have selected a former massage parlour in Chinatown on the Lower East Side of Manhattan.

But Mr. Spitzer, who resigned as governor of New York state after getting caught up in a call girl scandal this spring, did not get the choice. Happy Ending, the former parlour in question, is now a sleek bar and it is where Slate, the online magazine was holding its seasonal drinks party.

Mr. Spitzer this month started to write a column for Slate as part of his comeback - he wrote last week about the Detroit bail-out - and so he showed up at the Slate party to be sociable.

...

I went over afterwards to ask him how he was enjoying life as a columnist. "It sucks," he said with a grin. "I used to be governor of New York".
Last month, as the financial crisis and the government rescue plan dominated headlines, almost everyone overlooked a news item that could have enormous long-term impact: GE Capital announced the acquisition of five mid-size airplanes--with an option to buy 20 more--produced by CACC, a new, Chinese-government-sponsored airline manufacturer.

Why is that so significant? Two reasons: First, just as small steps signaled the Asian entry into our now essentially bankrupt auto sector 50 years ago, so the GE acquisition signals Asia's entry into one of our few remaining dominant manufacturing sectors. Boeing is still the world's leading commercial aviation company. CACC's emergence--and its particular advantage selling to Asian markets--means that Boeing now faces the rigors of an entirely new competitive playing field and that our commercial airplane sector is likely to suffer enormously over the coming decades.